Isolasi Bakteri Penghasil Biosurfaktan Menggunakan Media yang Mengandung Pestisida Karbosulfan
Isolation of Biosurfactant-Producing Bacteria Using Medium Containing Carbosulfan Pesticide
Keywords:
bioremediasi, biosurfaktan, karbosulfan, pestisida
Abstract
Penggunaan pestisida sintetik yang tidak terkontrol dapat menyebabkan pencemaran lingkungan karena meningggalkan senyawa pestisida di tanah dan perairan. Bioremediasi adalah salah satu cara untuk mengurangi cemaran senyawa kimia berbahaya di lingkungan dengan menggunakan mikroorganisme. Tujuan penelitian ini ialah untuk memperoleh isolat bakteri potensial  penghasil biosurfaktan dari laut Belawan Sumatera Utara dan untuk mengetahui aktivitas biosurfaktannya. Isolasi bakteri dilakukan dengan menggunakan media selektif Bushnell-Hass Agar (BHA) yang mengandung 12 ppm pestisida berbahan aktif karbosulfan sebagai sumber karbon. Aktivitas biosurfaktan dilakukan dengan metode Drop collapsing test dan konsentrasi biosurfaktan dilakukan dengan metose orsinol yang dimodifikasi. Hasil penelitian menunjukkan 9 isolat berhasil diisolasi dan mampu tumbuh pada media yang mengandung karbosulfan. Aktivitas biosurfaktan tertinggi dihasilkan oleh isolat FB6 yang ditandai dengan pembentukan emulsi sebesar 5,627 mL dan produksi biosurfaktan tertinggi ditunjukkan oleh isolat FB7 dengan konsentrasi 54,6 ppm.
Downloads
Download data is not yet available.
References
A. Arif, "Pengaruh Bahan Kimia Terhadap Penggunaan Pestisida Lingkungan," J. Chem. Inf. Model., vol. 53, no. 9, pp. 1689–1699, 2013.
N. S. Damanik, "Isolasi dan Uji Potensi Bakteri Tanah Pertanian Berastagi Sumatera Utara dalam Mendegradasi Insektisida Marshal Berbahan Aktif Karbosulfan," Universitas Sumatera Utara, 2013.
D. J. Puspita and Khaeruddin, "Kajian Bioremediasi Pada Tanah Tercemar Pestisida," Kovalen, vol. 2, no. 3, pp. 98–106, 2016.
T. H. Kurniati, I. Rusmana, A. Suryani, and N. R. Mubarik, "Degradation of Polycyclic Aromatic Hydrocarbon Pyrene by Biosurfactant-Producing Bacteria Gordonia cholesterolivorans AMP 10," Biosaintifika J. Biol. Biol. Educ., vol. 8, no. 3, p. 336, 2016.
R. Tecon and J. R. Van Der Meer, "Effect of two types of biosurfactants on phenanthrene availability to the bacterial bioreporter Burkholderia sartisoli strain RP037," Appl. Microbiol. Biotechnol., vol. 85, no. 4, pp. 1131–1139, 2010.
S. Shekhar, A. Sundaramanickam, and T. Balasubramanian, "Biosurfactant producing microbes and their potential applications: A review," Crit. Rev. Environ. Sci. Technol., vol. 45, no. 14, pp. 1522–1554, 2015.
R. Batool, S. Ayub, and I. Akbar, "Isolation of biosurfactant producing bacteria from petroleum contaminated sites and their characterization," Soil Environ., vol. 36, no. 1, pp. 35–44, 2017.
Y. Yunita, "Potensi Bakteri Penghasil Biosurfaktan Asal Laut Belawan Sumatera utara dalam mendegradasi Glifosat," Universitas Sumatera Utara, 2012.
D. K. Jain, D. L. Collins-Thompson, H. Lee, and J. T. Trevors, "A drop-collapsing test for screening surfactant-producing microorganisms," J. Microbiol. Methods, vol. 13, no. 4, pp. 271–279, 1991.
N. Priyani, E. Munir, I. W. Panjaitan, and K. Warsito, "the Potency of Local Isolates From North Sumatera in the Degradation of Naphtalene," in The 3rd International Conference on Biological Science 2013, 2015, vol. 2, no. 1, pp. 466–471.
D. Utami, N. Priyani, and E. Munir, "Isolasi Dan Uji Potensi Bakteri Tanah Pertanian Berastagi Sumatera Utara Dalam Mendegradasi Fungisida Antracol Berbahan Aktif Propineb," Saintia Biol., vol. 1, no. 2, pp. 8–14, 2013.
T. Budsabun, "Isolation of Biosurfactant Producing Bacteria from Petroleum Contaminated Terrestrial Samples that Collected in Bangkok, Thailand," Procedia - Soc. Behav. Sci., vol. 197, no. February, pp. 1363–1366, 2015.
B. Lay, Analisis Mikroba di Laboratorium. Jakarta: PT. Radja Grafindo Perkasa, 1994.
M. Pacwa-P?ociniczak, G. A. P?aza, Z. Piotrowska-Seget, and S. S. Cameotra, "Environmental applications of biosurfactants: Recent advances," Int. J. Mol. Sci., vol. 12, no. 1, pp. 633–654, 2011.
A. M. Elazzazy, "Isolation and characterization of biosurfactant production under extreme environmental conditions by alkali-halo-thermophilic bacteria from Saudi Arabia," Saudi J. Biol. Sci., vol. 22, no. 4, pp. 466–475, 2015.
K. K. Gautam and V. K. Tyagi, "Microbial Surfactants: A Review," J. Oleo Sci., vol. 55, no. 4, pp. 155–166, 2006.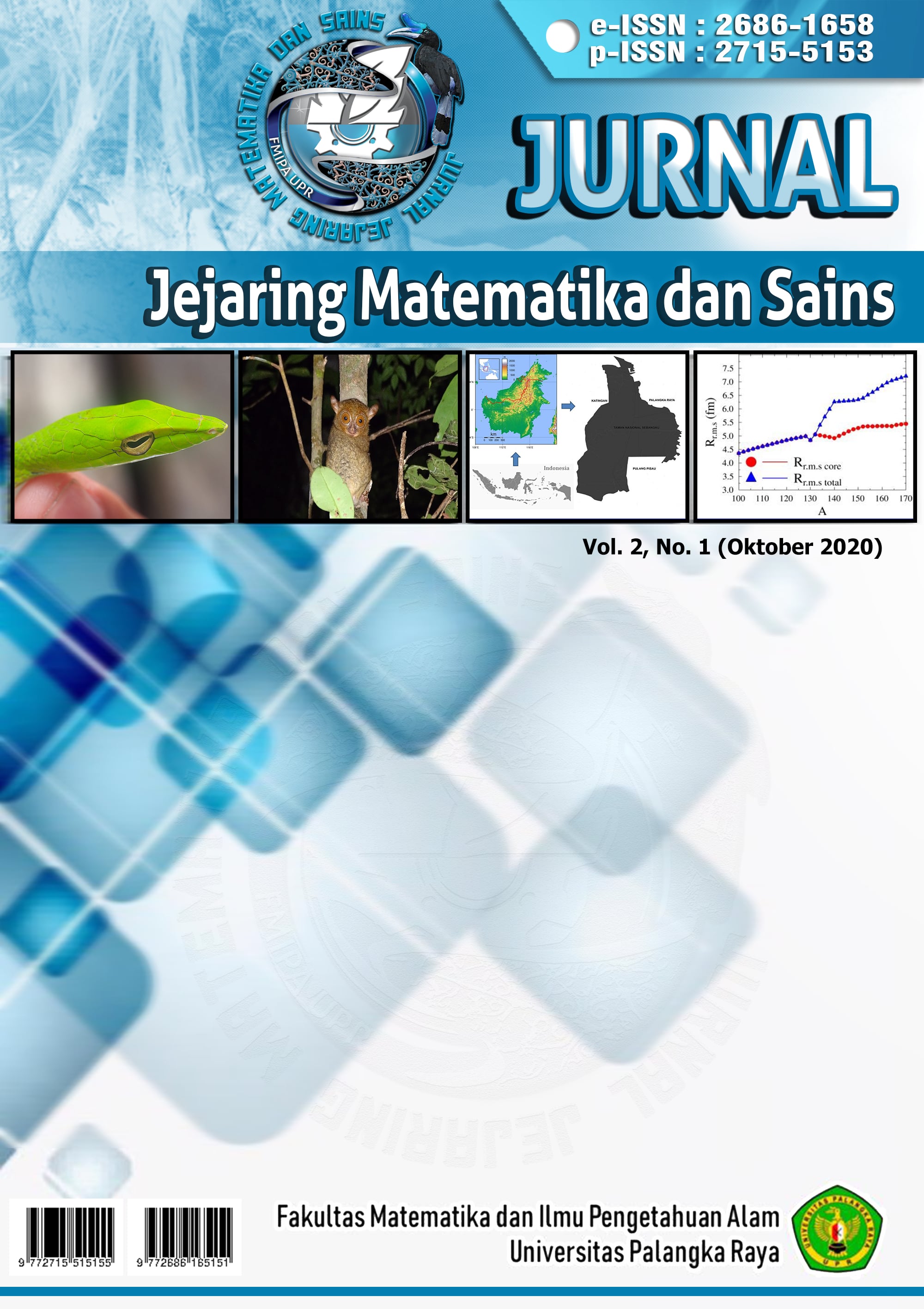 Downloads
How to Cite
[1]
F. G. Naibaho, N. . Priyani, E. . Munir, and N. S. . Damanik, "Isolasi Bakteri Penghasil Biosurfaktan Menggunakan Media yang Mengandung Pestisida Karbosulfan: Isolation of Biosurfactant-Producing Bacteria Using Medium Containing Carbosulfan Pesticide ", JJMS, vol. 2, no. 1, pp. 21–24, Oct. 2020.
License
This work is licensed under a Creative Commons Attribution-ShareAlike 4.0 International License.