Characterization of Citra Beach Sand Sukamara Regency Using XRF and XRD
Keywords:
citra beach sand, XRF, XRD, SiO2
Abstract
Analysis of the elemental, oxide compounds, and phases composition of Citra beach sand, Sukamara Regency, was successfully carried out. The identification process of elemental and oxide compounds composition used XRF, while the phase identification used XRD analysis. XRF analysis shows that Si and SiO2 dominate the elemental and oxide compound composition by 95,6% and 98,1%, respectively. In addition, the qualitative analysis of the XRD pattern shows that the SiO2 in the Citra beach sand is quartz. These results provide information that Citra beach sand has excellent potential as SiO2 sources.
Downloads
Download data is not yet available.
References
A. Ismail, L. N. M. Z. Saputri, A. A. Dwiatmoko, B. H. Susanto, dan M. Nasikin, "A facile approach to synthesis of silica nanoparticles from silica sand and their application as superhydrophobic material," Journal of Asian Ceramic Societies, vol. 9, no. 2, hlm. 665–672, Apr 2021, doi: 10.1080/21870764.2021.1911057.
A. P. P., D. K. Nayak, B. Sangoju, R. Kumar, dan V. Kumar, "Effect of nano-silica in concrete; a review," Construction and Building Materials, vol. 278, hlm. 122347, Apr 2021, doi: 10.1016/j.conbuildmat.2021.122347.
M. Sayehi, H. Tounsi, G. Garbarino, P. Riani, dan G. Busca, "Reutilization of silicon- and aluminum- containing wastes in the perspective of the preparation of SiO2-Al2O3 based porous materials for adsorbents and catalysts," Waste Management, vol. 103, hlm. 146–158, Feb 2020, doi: 10.1016/j.wasman.2019.12.013.
S. Prabha, D. Durgalakshmi, S. Rajendran, dan E. Lichtfouse, "Plant-derived silica nanoparticles and composites for biosensors, bioimaging, drug delivery and supercapacitors: a review," Environ Chem Lett, vol. 19, no. 2, hlm. 1667–1691, Apr 2021, doi: 10.1007/s10311-020-01123-5.
Munasir, Triwikantoro, M. Zainuri, dan Darminto, "Synthesis of SiO2 nanopowders containing quartz and cristobalite phases from silica sands," Materials Science-Poland, vol. 33, no. 1, hlm. 47–55, Mar 2015, doi: 10.1515/msp-2015-0008.
S. Salamah, W. Trisunaryanti, I. Kartini, dan S. Purwono, "Synthesis and characterization of mesoporous silica from beach sands as silica source," IOP Conf. Ser.: Mater. Sci. Eng., vol. 1053, no. 1, hlm. 012027, Feb 2021, doi: 10.1088/1757-899X/1053/1/012027.
U. Nurbaiti, F. A. Suud, Darminto, Triwikantoro, M. Zainuri, dan S. Pratapa, "Synthesis of nano-forsterite powder by making use of natural silica sand," Bandung, Indonesia, 2016, hlm. 030037. doi: 10.1063/1.4941503.
A. Ismail, I. Akbar Alamsyah, M. Kholil, B. Heru Susanto, dan M. Nasikin, "The Effect of Milling Time on the Size of Silica Particles from Silica Sand," MSF, vol. 917, hlm. 162–166, Mar 2018, doi: 10.4028/www.scientific.net/MSF.917.162.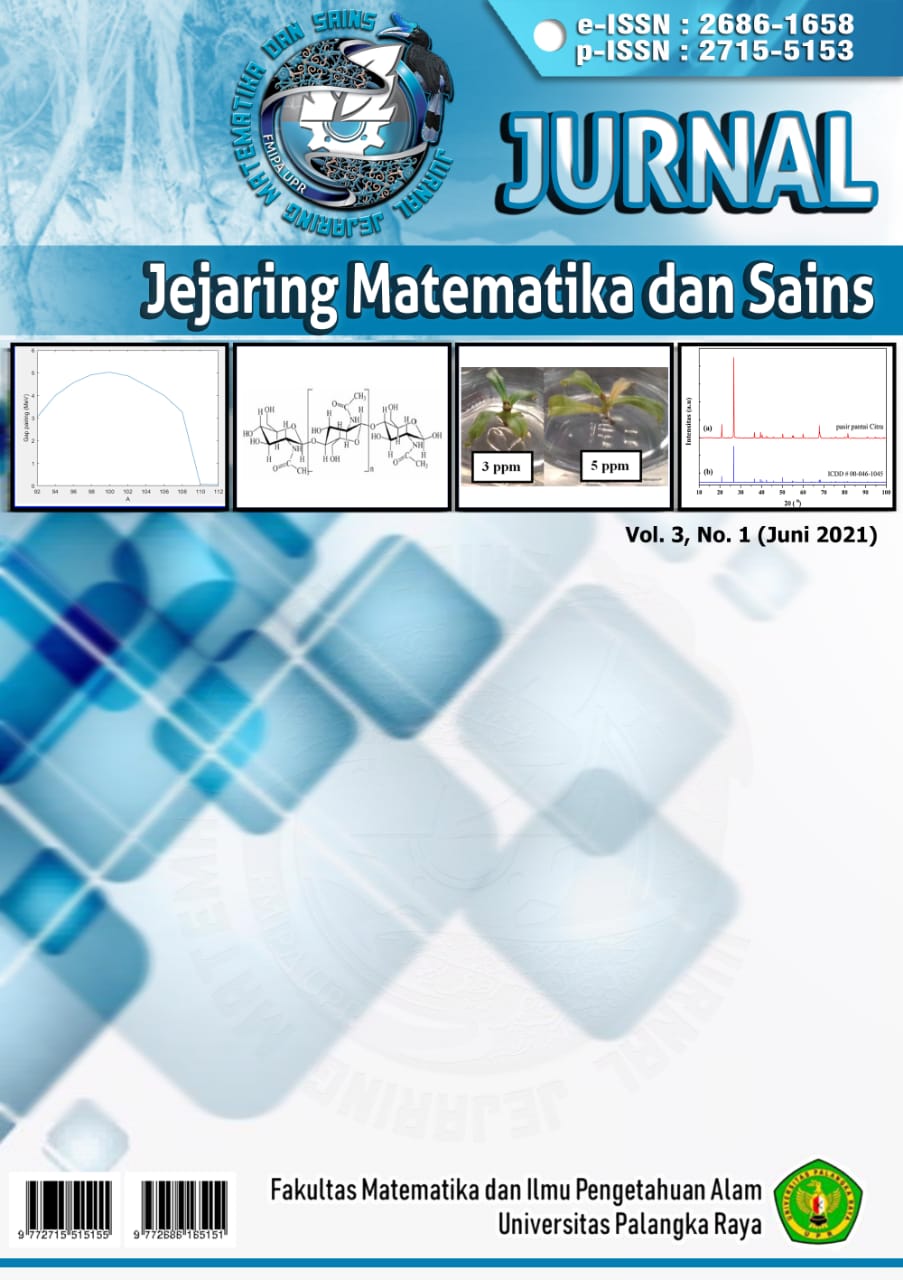 Downloads
How to Cite
[1]
B. Hariyanto, L. . M. Panggabean, and L. Hakim, "Characterization of Citra Beach Sand Sukamara Regency Using XRF and XRD", JJMS, vol. 3, no. 1, pp. 11–14, Jun. 2021.
License
Copyright (c) 2021 Jurnal Jejaring Matematika dan Sains
This work is licensed under a Creative Commons Attribution-NonCommercial-ShareAlike 4.0 International License.