Evaluasi Kelayakan Berdasarkan Aspek Geologi Lingkungan Untuk Penentuan TPA Kota Palangka Raya
Keywords:
Feasibility evaluation, environmental geology, landfill, GIS, suitability zone, Palangka Raya
Abstract
Regional feasibility analysis of landfill locations based on the environmental geology point is the initial selection in the planning of landfill sites. This research aims to assess the regional feasibility zones for landfill site in Palangka Raya city based on the environmental aspects. Observational examination and spatial analysis using geographic information system (GIS) were applied to ascertain the determination and limitation factors. The result shows that Palangka Raya could be categorized into 3 (three) zones in terms of its feasibility for the landfill area. Unsuitable zone covering an area of 165,936.69 hectares or 58.12% of total area, followed by a moderately suitable zone of 782.25 hectares (32.85%), and least suitable zone of 25,788.88 hectares (9.03%). The infeasible ones are located in districts of Sebangau and Pahandut, and some parts of Jekan Raya.
Downloads
Download data is not yet available.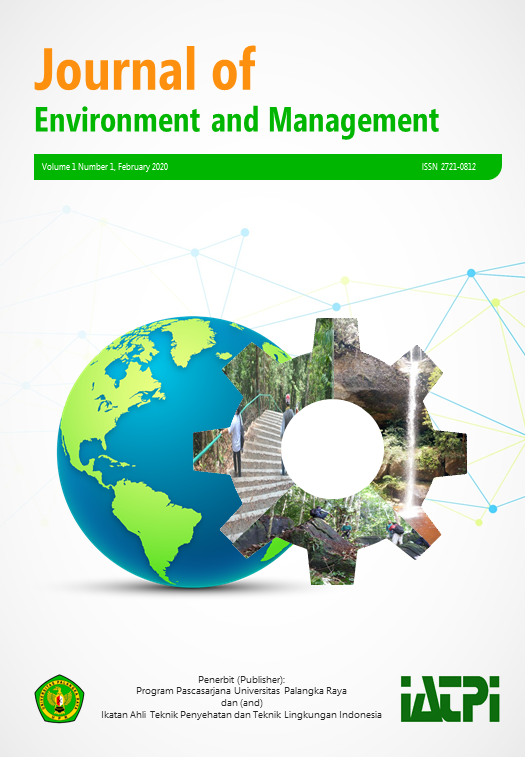 How to Cite
Endah Kartika Susanti, Salampak, & Hendrik Segah. (2020). Evaluasi Kelayakan Berdasarkan Aspek Geologi Lingkungan Untuk Penentuan TPA Kota Palangka Raya. Journal of Environment and Management, 1(1), 57-68. https://doi.org/10.37304/jem.v1i1.1206