THE INFLUENCE OF LEARNING MODEL COOPERATIVE SCRIPT TYPE ON STUDENT LEARNING OUTCOMES IN THE MATERIAL OF IDENTIFYING THE TILE FLOOR AND WALL CONSTRUCTION ENGINEERING GRADE XI STONE AND CONCRETE (TKBB) SMKN 1 PALANGKA RAYA ACADEMIC YEAR 2014/2015
Keywords:
Cooperative Script, learning outcomes
Abstract
Based on observation on the Field Experience Practice and dialogue with subject teachers of Finishing Buildingof SMK-1 Palangkar Raya, it is obtained information that the majority of student learning outcomes is still lack as well as lack of learning tools, guidance and input from teachers and common learning model is unusual because usually only describe the learning is still common that students are less effective and less active in learning. Based on these problems, this study applied a model Cooperative Script in hope of making a better student learning outcomes and the students learn more effectively and actively during the learning process in the study of building finishing subject with material identifying the type of floor and wall tiles. This study uses quantitative research as this research aims to do research on quantitative variables X and Y by using a sample of the population with the conclusions drawn by statistical analysis. The subjects of the research were students of grade XI Stone and Concrete Construction Engineering SMK-1 Palangka Raya which consists of 26 students. This research was conducted in December 2013 - January 2014. The data is taken from pretest and posttest (performed prior to treatment and after the script models), which is obtained through the evaluation test with multiple choice questions as many as 20 questions, and learning outcome data were obtained from the results of the test, it ends with t-test. The results showed that cooperative learning model Scripts can improve student learning outcomes. This increase is shown from the data about the test results of pretest and posttest before treatment and after being given treatment, its normality and its reliability with the results of the analysis tcalculated is 24.5 and ttable is 2.06 (tcalculated>ttable) so the conclusion is average score of pretest prior to treatment is 33.2 and an average score of 77.3 after treatment. Thus cooperative learning model Scripts can improve learning outcomes of students significantly and can be developed more in the future.
Downloads
Download data is not yet available.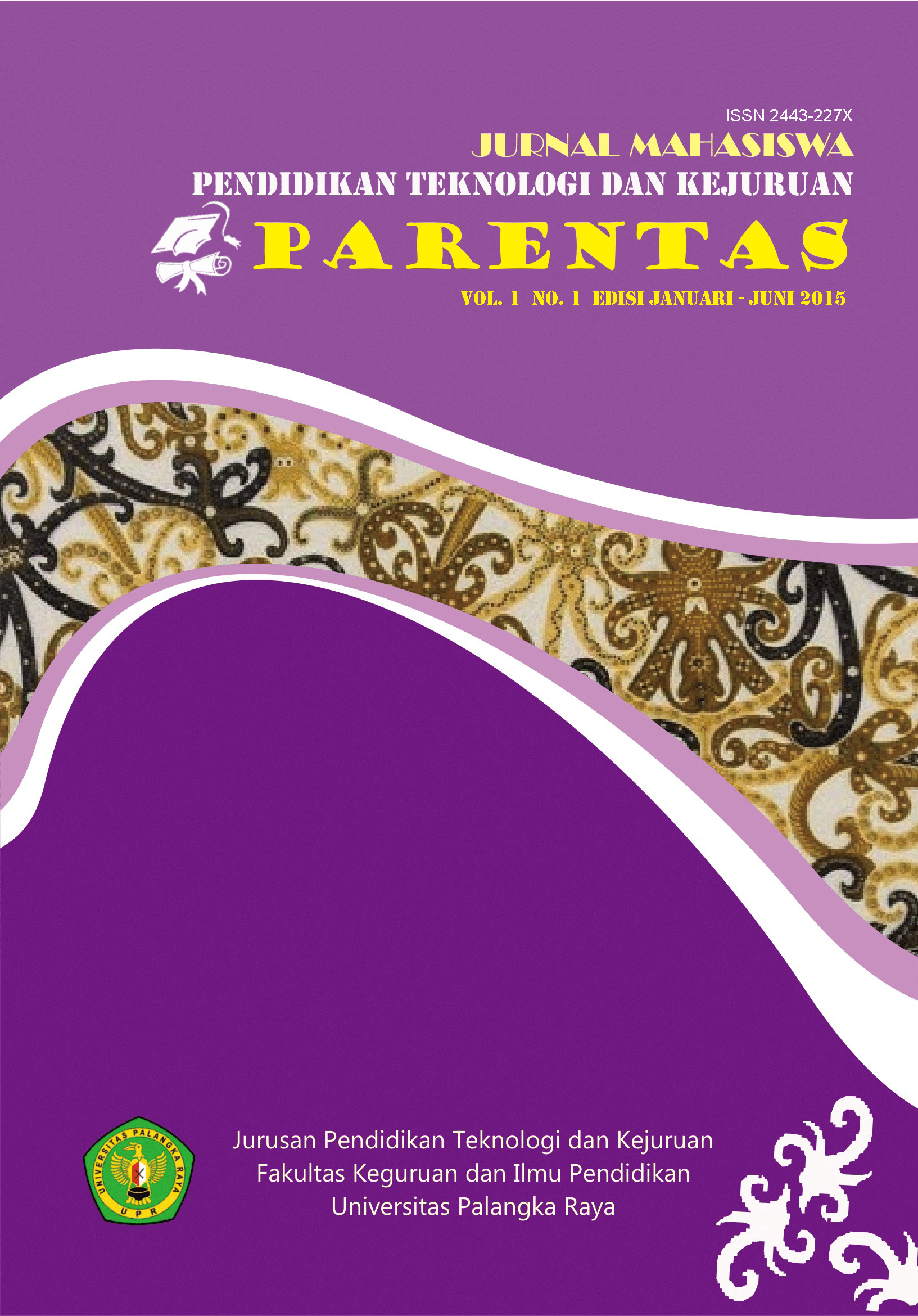 Downloads
License
Copyright (c) 2015 PARENTAS: Jurnal Mahasiswa Pendidikan Teknologi dan Kejuruan
This work is licensed under a Creative Commons Attribution-NonCommercial 4.0 International License.