THE EFFECT OF WORD SQUARE LEARNING MODEL TOTHE STUDENT'S LEARNING OUTCOME IN EXPLAINATION OF ENERGY CONVERSION MACHINES FOR CLASS X IN SMK NEGERI 1 PALANGKARAYA 2015/2016 ACADEMIC YEAR
Keywords:
Learning Obstacles in Classroom, Learning Model Word Square, Exchange Ideas and Information To Classmates
Abstract
In the learning process, the teachers still rely on conventional learning model without making the variation more interesting thus the classroom atmosphere being more conducive and pleasant. Teachers think that students understand the material that has been taught, without trying to repeat or to connect with the students' understanding of the material. This makes the active role of students in learning is not visible, and students tend to be passive in the learning process at school. With these activities, the value of students during the learning to use the lecture method is very low below the average value is 68.45. While the minimum completeness criteria 70 there should be an improvement in the learning activities that increase students' grades. That is by using Word Square student learning model can be active and focus on learning also noticed that students can exchange ideas and information to classmates. The purpose of this study to determine whether there is influence between the learning of students taught by conventional methods in materials Processes Describing Energy Conversion Machines in class X TKR SMK 1 Palangkaraya. Sampling was conducted using random sampling techniques. Samples were first involved 32 students in class TKR as a class experiment using model Word Square and the second sample involved 31 students in class as a class TSM control using conventional learning models that are lectures and research is a kind of experiment. In the present study, the instrument in the form of multiple-choice tests is to collect data of student learning outcomes. Data was analyzed with normality test, homogeneity, and the t-test, the normality test for the Post Test Experiment class is x²hitung <x²tablel, namely 8.61 <11.070. Post Test Normality test grade control x²hitung <x²tablel, namely 8.61 <11.070, to obtain homogeneity test of F = (1.18) <F table (2.53), and otherwise homogeneous. And can we conclude t-test obtained t = 6.4> TTable = 2.000 then Ho and H1 are rejected. H1 = influences of student learning outcomes significantly between learning models that use Word Square, by the use of conventional learning models in class X SMK Negeri 1 Palangkaraya in Academic Year 2015/2016.
Downloads
Download data is not yet available.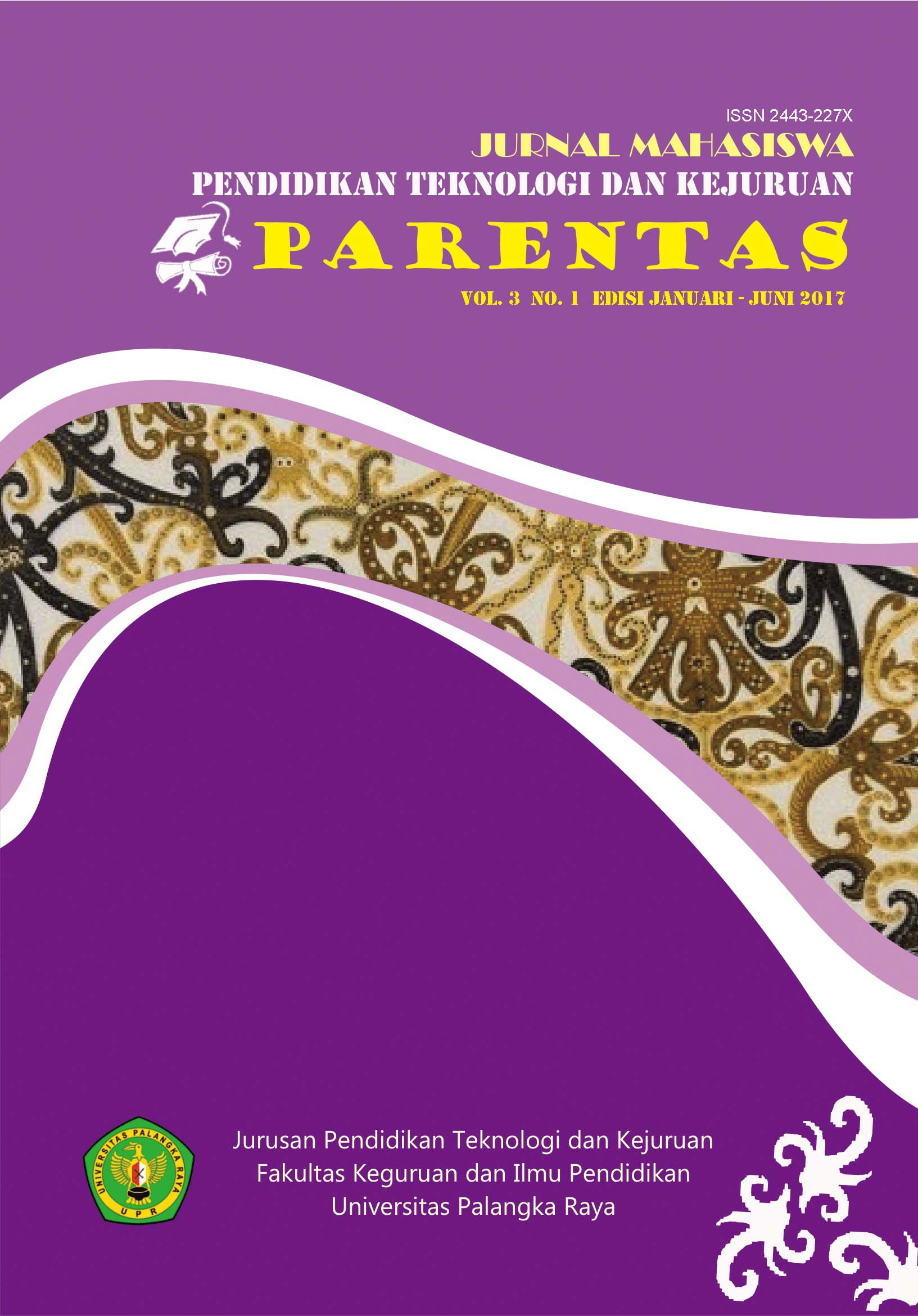 Downloads
License
This work is licensed under a Creative Commons Attribution-NonCommercial 4.0 International License.