RELATIONSHIP OF ENTREPRENEURSHIP INTEREST IN THE FIELD OF CARE AND REPAIR OF THE LEARNING OUTCOMES OF MOTORCYCLE COURSES FOR COLLECT STUDENTS OF SEMESTER V (FIVE) OF MECHANICAL ENGINEERING EDUCATION PROGRAM AT UNIVERSITY OF PALANGKA RAYA
Keywords:
The Role of Education, Contribution of Student Interest, Entrepreneurship
Abstract
The role of education today is required to develop both personal and group businesses thus there is harmony between the field of education with public, job or employment. The purpose of this research is to know how much contribution of student interest to entrepreneur in the field of motorcycle maintenance and repair service to the value achieved by every student in motorcycle course. In measuring the correlation between two variables, it is used the product moment and correlation technique. The positive indication of the relationship can be interpreted that the high interest of the entrepreneur in the field of maintenance and repair services (X). It will have a positive effect on Motorcycle Course (Y) or even increasing of interest of the entrepreneur in the field of maintenance and repair services. It has showed the value at about 0.795 with a constant of 14,479. This significant correlation is based on the result of correlation and coefficient analysis which is obtained at 0.526 with rtable at significant 5% of 0.28. In addition, it can be seen that the large contribution of interest for students of semester V (5) in Mechanical Engineering Education of Program University of Palangka Raya on academic year 2016/2017 of 13%, while 87% is determined by other factors. Based on the results of the study there is a positive and significant relationship between interest in entrepreneurship in the field of maintenance services and improvements to the value of motorcycle courses for semester V (5) Mechanical Engineering Education Program University of Palangka Raya academic year at 2016/2017.
Downloads
Download data is not yet available.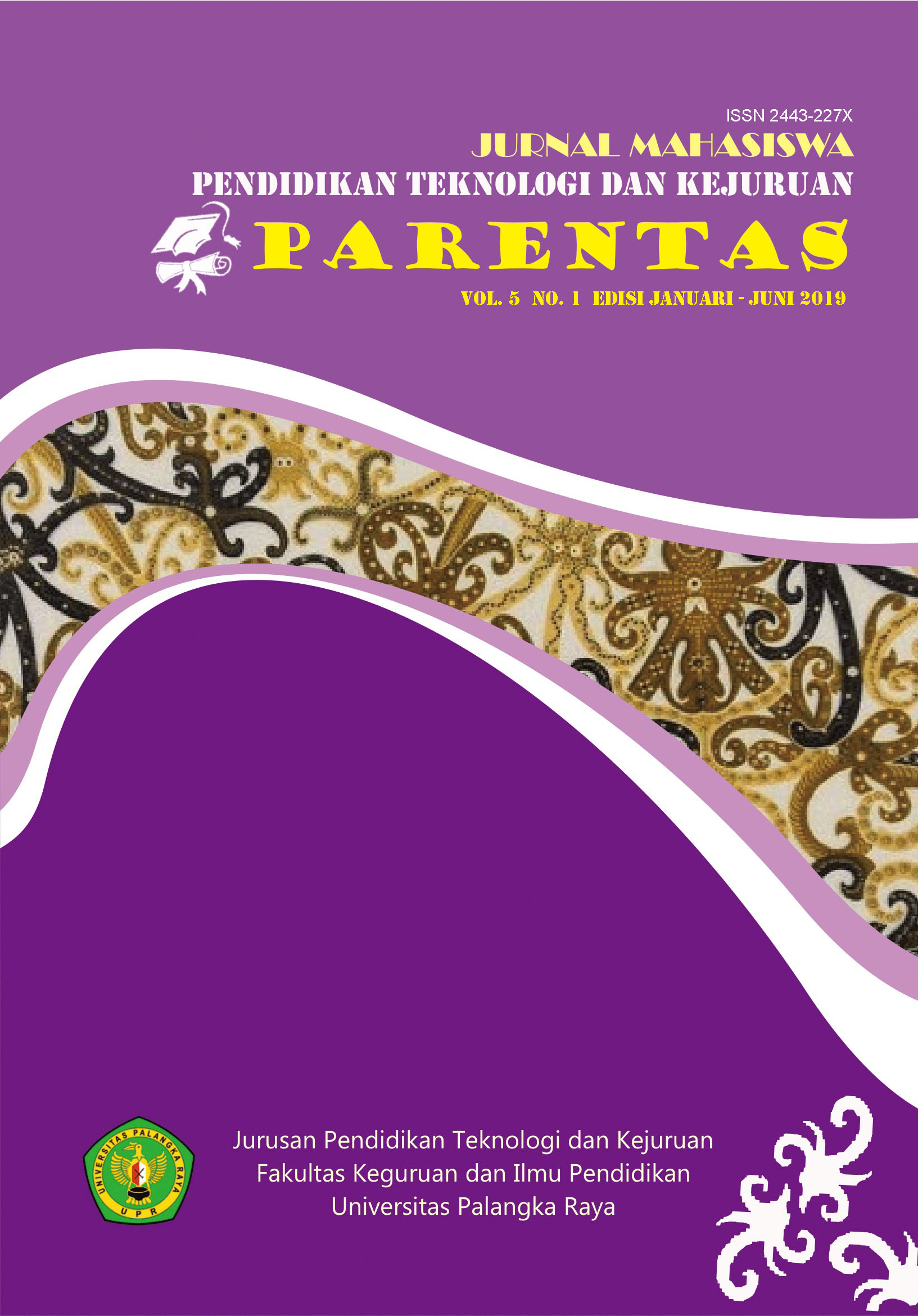 Copyright (c) 2019 PARENTAS: Jurnal Mahasiswa Pendidikan Teknologi dan Kejuruan
This work is licensed under a Creative Commons Attribution-NonCommercial 4.0 International License.