USE OF COCONUT SHELL CHEMICAL ADDED AS THE AGGREGATE ROUGH MIX CONCRETE COMPRESSIVE STRENGTH OF CONCRETE
Keywords:
Coconut shell, The Impact Of Environmental Pollution, Optimum Concrete Compressive Strength
Abstract
Coconut shell is an organic waste (waste processing) of household or industrial use of coconut as the main raw material. Most usage of coconut shell is merely as a firewood which is a challenge to be able to take advantage of coconut shell optimally, when coconut shells can be proved technically as material / aggregate for concrete. It is expected to reduce the impact of environmental pollution then having alternative economic value for community. The study aims to determine what the optimum compressive strength of concrete resulting from the addition of coconut shell in the concrete mix. In this study, the coconut shell is broken down into fragments that are up to 20 mm used as an addition to the coarse aggregate mixed with fine aggregate, water and PPC cement type I of coarse sand brands. Percentage variation coconut shell applied in this study were 0%, 5%, 10%, 15% and 20%. Concrete mix design was using SNI 03-2834-2000. The test used a cylindrical specimen with a height of 30 cm, 15cm diameter with a sample of 10 cylinders for each variation of the addition of coconut shell, thus the total of 50 cylindrical specimen. Tests carried out at 14 and 28 days in the Laboratory of Building Engineering Study Program of the Faculty of Education University of Palangkaraya. The results showed the highest compressive strength of concrete that uses a mixture of 5% coconut shell in the amount of 23.66 MPa, while the compressive strength of normal concrete was resulting in the addition of 23.63 MPa compressive strength of concrete of 0.12% of normal concrete. The compressive strength of concrete on the coconut shell mixture of 10% was amounting to 19.72 MPa with a decrease of 16.54% of the compressive strength of normal concrete, shells 15% ie a decrease of 12.11 MPa to 48.75% of the compressive strength of normal concrete, shells 20% and amounting to 12.51 MPa to 47.05 decline of normal compressive strength of concrete with compressive strength forecast 28 days. The addition of coconut shell was opposite to the concrete mix increasing the strength of concrete for the addition of 5% by weight of coconut shell coconut. Shell addition of coarse aggregate in excess (over 5%) was causing the compressive strength of concrete will decrease.
Downloads
Download data is not yet available.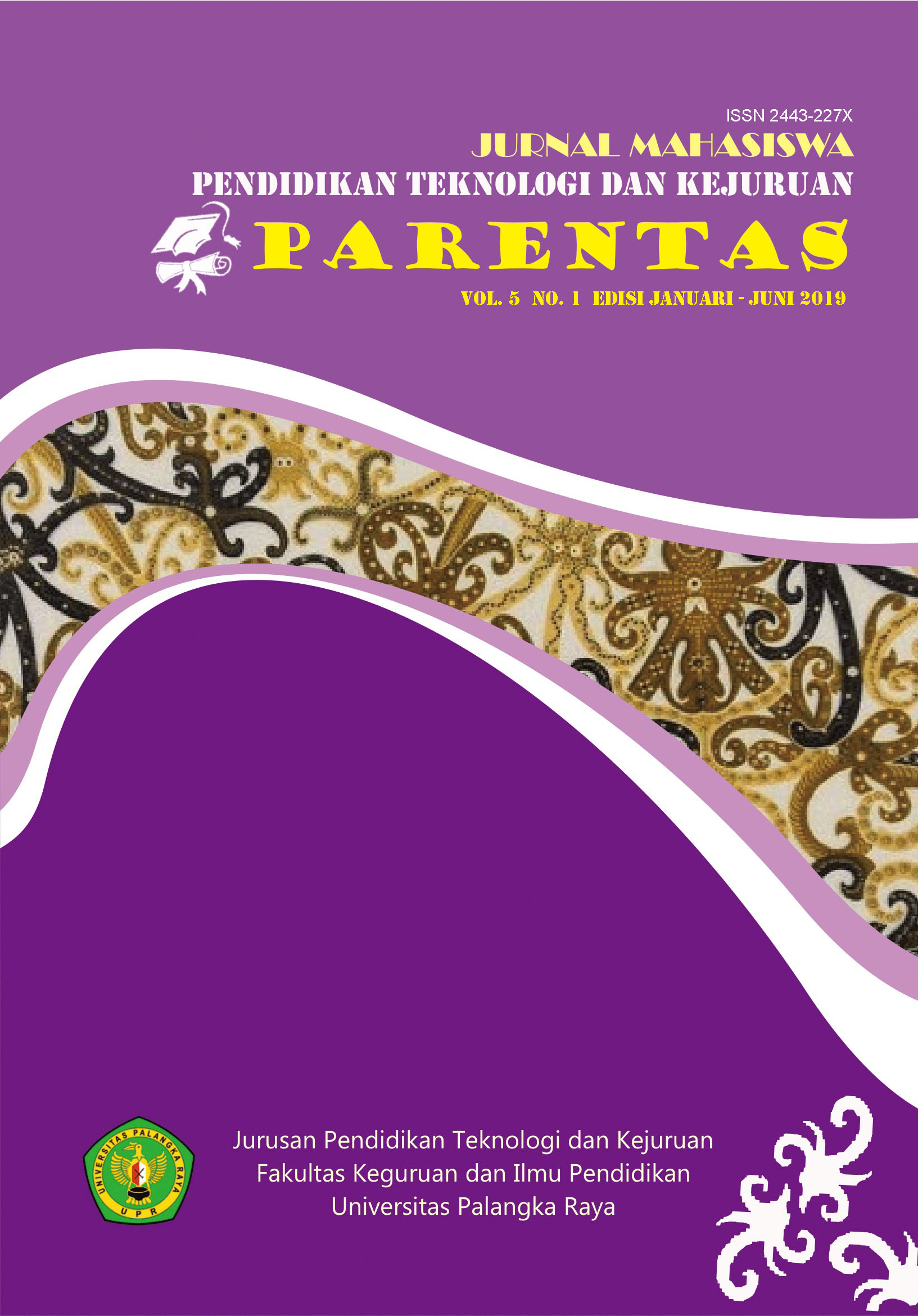 Copyright (c) 2019 PARENTAS: Jurnal Mahasiswa Pendidikan Teknologi dan Kejuruan
This work is licensed under a Creative Commons Attribution-NonCommercial 4.0 International License.