ANALYSIS FACTORS AFFECTING USER SATISFACTION PALANGKA RAYA DAMRI BUS TRANSPORTATION SERVICES (STUDY, ROUTE. PALANGKA RAYA – BUNTOK)
Keywords:
Kondisi Fisik Armada Bus, Kualitas Pelayanan, Harga/Biaya Tiket, Lokasi, Kepuasan Pengguna
Abstract
The increasing number of passengers every year, even during the pandemic, the number of passengers is still said to be normal in using the Palangkaraya Damri bus transportation services, with an increase in the number of passengers every year, the expectations of customers will also increase for the availability of better physical condition of the bus fleet, better service. good prices, appropriate prices and strategic locations, this aims to increase customer satisfaction in using Damri bus services. Research method this use method quantitative. And for taking sample that is taken as many as 80 respondents user service damri bus transportation barrier highway. The sampling technique used is accidental sampling, the type of data used for study this namely primary data. For technique data collection that is use questionnaire. Data analysis techniques used in study this that is multiple linear regression, from multiple linear statistical analysis it was found that the value of the regression coefficient on each variable is Y = 0.410 + 0.214 X1 + 0.196 X2 + 0.365 X3 + 0.356 X4, is a positive coefficient dimension where the value of all variables increases affecting the satisfaction of users of the Palangkaraya Damri bus transportation service. from _ partial test results obtained for the service quality variable, ticket price/cost and location for the T count > T table with a T table value of (1.990) which means that there is a positive and significant influence on the variable satisfaction of damri bus transportation service users, and for the variable physical condition of the bus fleet. T count < T table which has no positive and significant effect on satisfaction. from ri results testing by simultaneous that from calculation F count (25.957) > F table (2.49) so H 1 is accepted and H 0 is rejected. And the amount of influence contribution variable Condition Physical Bus Fleet, Services, Prices and Locations Satisfaction Damri Bus Transportation Service Users Palangka Raya is 58. 1% from results research.
Downloads
Download data is not yet available.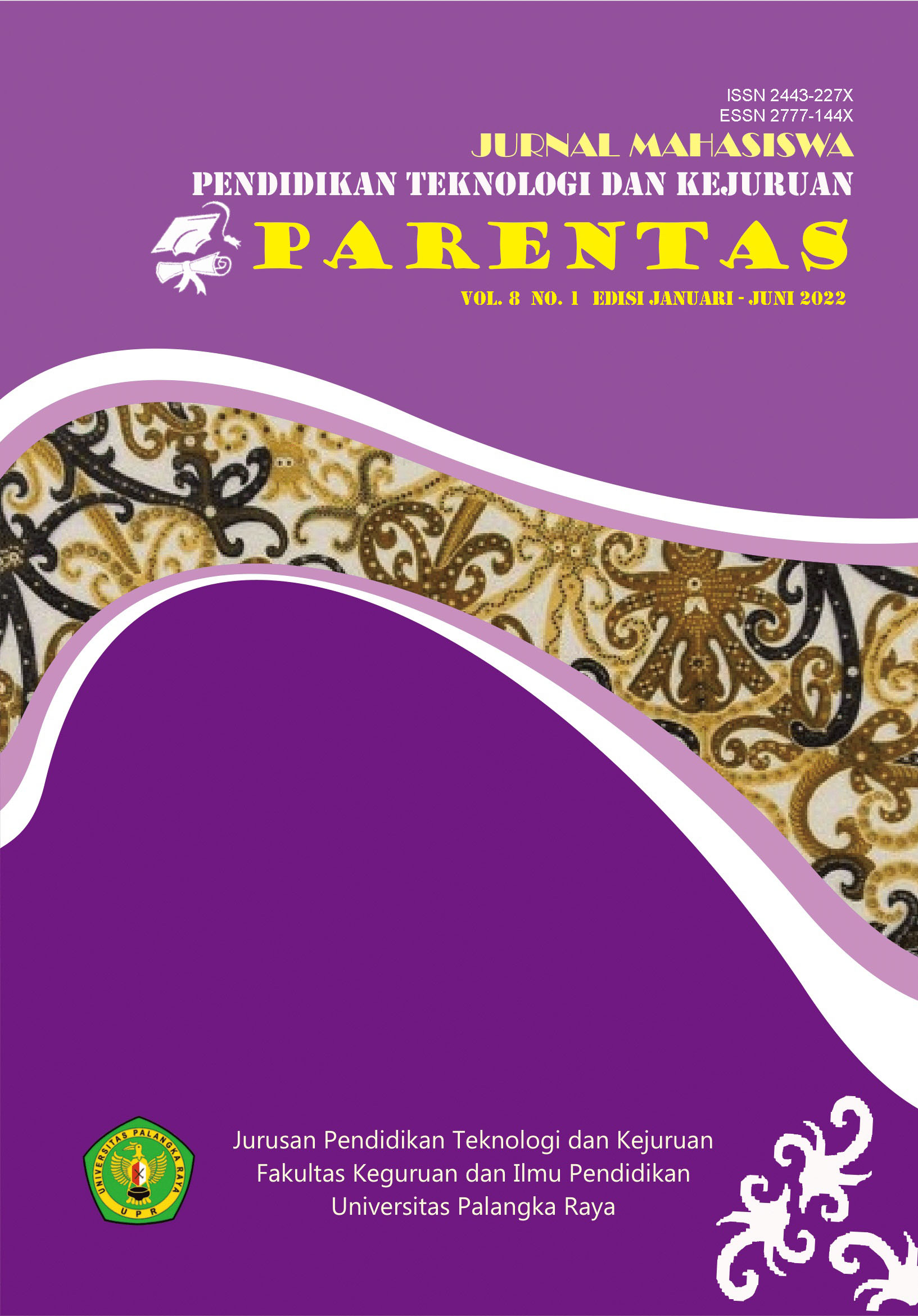 Downloads
License
Copyright (c) 2022 PARENTAS: Jurnal Mahasiswa Pendidikan Teknologi dan Kejuruan
This work is licensed under a Creative Commons Attribution-NonCommercial 4.0 International License.