NYANYIAN ADAT MASYARAKAT DAYAK MAANYAN: SUATU PENDEKATAN HERMENEUTIKA
Keywords:
Folksong, Maanyan, Hermeneutics
Abstract
The existence of folk singing in the Dayak Maanyan community is inseparable from its attachment to the implementation of customary ceremonies. In addition to being a means of entertainment, this song can also be used as a means to convey a moral message and also tell the history of their ancestors in the past. This research examines traditional singing by taking two songs entitled Tinga Janyawai and Laisomena using a hermeneutical approach. This research aims to transcribe, analyze the meaning and know the function of the song Tinga Janyawai and Laisomena. The method used is qualitative descriptive. After transcribing and analyzing the two songs, data on the use of formulas in the structure of the two songs is obtained in the form of vocabulary repetition patterns that contain synonymous meanings as well as repetition of the same vocabulary on the lines in the verses of the song. The use of these two songs is known to have differences because the song Tinga Janyawai is usually sung in various customary ceremonies and the ordinary people sing it as a means of entertainment. While the song Laisomena is a song sung by a balian dadas when performing a healing ritual. Even so, these two songs seem to have similarities, namely telling the story of the separation of Patih and Uria and their family members to their desired territory because the kingdom of Nansarunai has fallen into the hands of the enemy, known as the event of Nansarunai usak Java. In addition to the parting, Dayak Maanyan ancestors also parted ways with Dayak Maanyan relatives from Tane Punei Lului in the group there was Laisomena, who married Prince Engko, the fourth child of King Nansarunai. In addition, in this customary song contains values ??and moral teachings to always shoulder to shoulder helping fellow Maanyan people in accordance with the ability and position in society. The presence of these two songs in the Dayak Maanyan community, of course, has a function. In addition to serving as entertainment, this song can also be used as a means in inheriting the noble values ??of the Dayak Maanyan community. This inheritance is of course necessary to be able to be the knowledge of the younger generation, both cultural, moral, and historical knowledge. In addition, by introducing this song, it is hoped that the younger generation can know the meaning of the vocabulary used in the lyrics of the song so as to enrich the treasures of regional language knowledge.
Downloads
Download data is not yet available.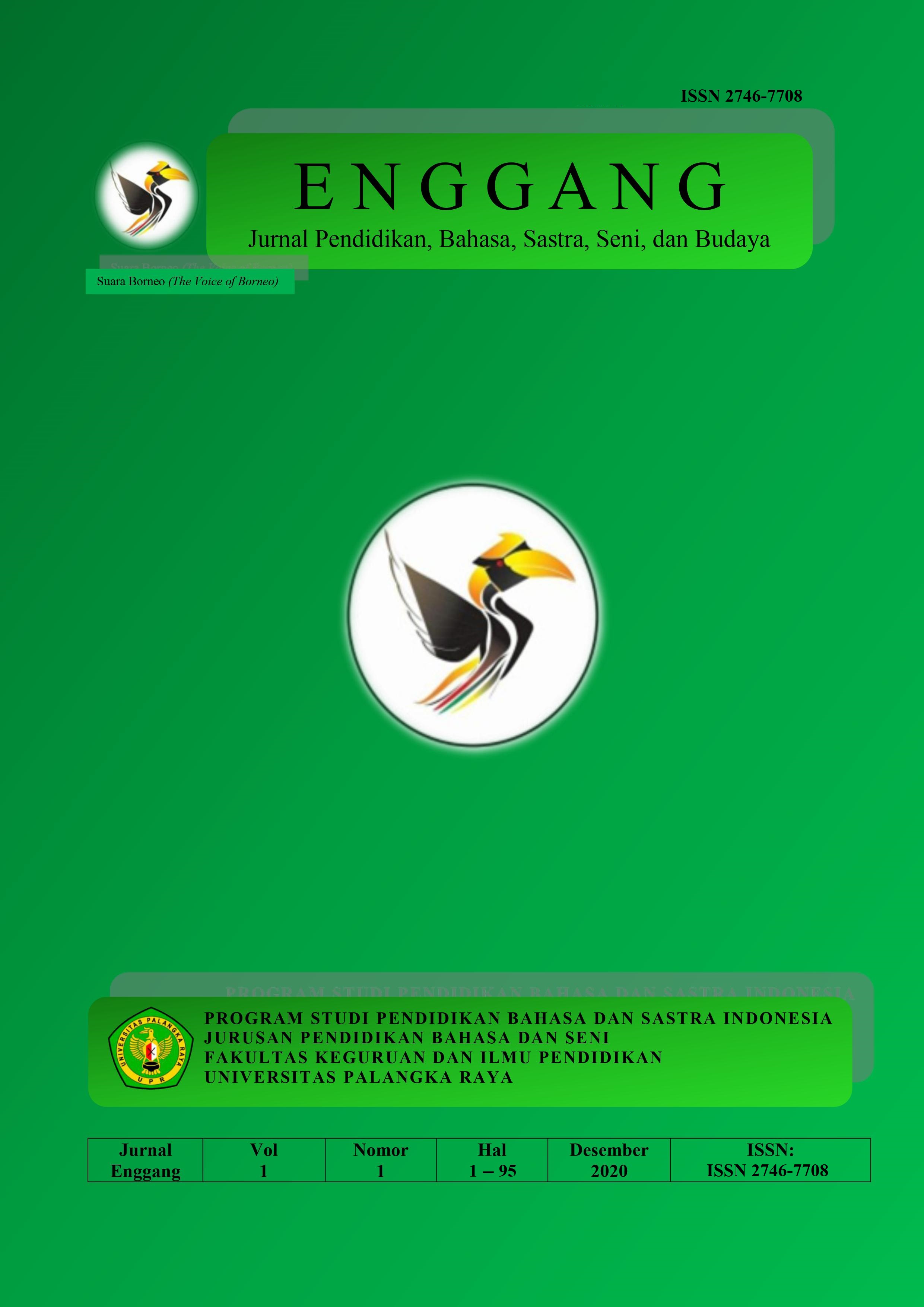 How to Cite
Diman, P. (2020). NYANYIAN ADAT MASYARAKAT DAYAK MAANYAN: SUATU PENDEKATAN HERMENEUTIKA. ENGGANG: Jurnal Pendidikan, Bahasa, Sastra, Seni, Dan Budaya, 1(1), 40-56. Retrieved from https://e-journal.upr.ac.id/index.php/enggang/article/view/2461