UJI VALIDITAS APLIKASI SI-BOOK MENGGUNAKAN SPSS DENGAN KOMBINASI METODE R-TABEL DAN COHEN'S KAPPA
Keywords:
Uji Validitas, SPSS, Si- Book
Abstract
Validity is a measure to show the level of validity or validity of an instrument. An instrument is said to be valid if it is able to measure what the user wants and is able to obtain the right data from the variables studied. Validity is the accuracy or accuracy of an instrument to measure what is to be measured. The researcher used SPSS with the R-Table method and Cohen's Kappa for testing the validity of the software. In testing data collection instruments, validity can be divided into 2, namely item validity and factor validity. The measurement of factor validity correlates the item scores with the total item scores. In validity testing, 30 people will collect sample data, then the data will be processed using SPSS by applying the R-Table method, while Cohen's Kappa is used to measure the degree of agreement of two raters in classifying objects into groups / groups and Measuring agreement on alternative new methods with existing methods
Downloads
Download data is not yet available.
References
Tabularasa, J., & Unimed, P. (n.d.). VALIDITAS DAN RELIABILITAS SUATU INSTRUMEN PENELITIAN
(Vol. 6, Issue 1).
Miftahul Janna, N., & Pembimbing, D. (n.d.). KONSEP UJI VALIDITAS DAN RELIABILITAS DENGAN
MENGGUNAKAN SPSS.
Cahyani, N. M., Indriyanto, E., & Masripah, S. (2016). Uji Validitas dan Reabilitas Terhadap Implementasi
Aplikasi Penjualan dan Pembelian. INFORMATION SYSTEM FOR EDUCATORS AND PROFESSIONALS,
(1), 21–34.
Rizqy Riyono, M., Dwi Churniawan Program Studi, A., & Sistem Informasi STIKOM Surabaya STIMIK
STIKOM Surabaya Jl Raya Kedung Baruk, J. (2016). ANALISIS PENGARUH WEBSITE STIKOM
INSTITUTIONAL REPOSITORIES (SIR) PADA INSTITUT BISNIS DAN INFORMATIKA STIKOM
SURABAYA. In Tahun 2016 JSIKA (Vol. 5, Issue 12).
Napitupulu, D. (n.d.). STUDI VALIDITAS DAN REALIBILITAS FAKTOR SUKSES
IMPLEMENTASI E-GOVERNMENT BERDASARKAN PENDEKATAN KAPPA.
Napitupulu, D. (n.d.). STUDI VALIDITAS DAN REALIBILITAS FAKTOR SUKSES IMPLEMENTASI EGOVERNMENT
BERDASARKAN PENDEKATAN KAPPA.
Faradiba., (n.d) PENGGUNAAN APLIKASI SPSS UNTUK ANALISIS STATISTIKA.
Xie, Z., Gadepalli, C., & Cheetham, B. M. G. (2017). REFORMULATION AND GENERALISATION
OF THE COHEN AND FLEISS KAPPAS. LIFE: International Journal of Health and Life-Sciences,
(3), 1–1
Mahamod, Z., & Ishak, N. Hj. M. (2003). Analisis Cohen Kappa Dalam Penyelidikan Bahasa: Satu
Pengalaman. Seminar Penyelidikan Pendidikan Guru Peringkat Kebangsaan, 1–7.
Cibulka, M. T., & Strube, M. J. (2021). The conundrum of kappa and why some musculoskeletal tests
appear unreliable despite high agreement: A comparison of cohen kappa and gwet ac to assess observer
agreement when using nominal and ordinal data. Physical Therapy, 101(9).
Dewara, N., & Azhar, M. (2019). Validitas dan Praktikalitas Modul Larutan Penyangga Berbasis Guided
Discovery dengan Mengunakan Tiga Level Representasi Kimia untuk Kelas XI SMA. Edukimia, 1(1),
–22.
Erida, M. (2021). Uji Validitas dan Uji Reliabilitas Instrumen Motivasi Pengidap HIV/AIDS. Jurnal
Ilmiah Bina Edukasi, 1(1), 10–21.
Hasyyati, R. W., & Winarno, M. E. (2021). Korelasi kekuatan otot lengan, power, dan koordinasi
terhadap pukulan atlet pencak silat. Jurnal Olahraga Pendidikan Indonesia (JOPI), 1(1), 96–107.
Erica, D., & Lasmono, I. D. (2019). Pengaruh Bimbingan Belajar Terhadap Prestasi Belajar Siswa (Studi
Kasus SMA Mulia Buana Parung Panjang). NUSANTARA : Jurnal Ilmu Pengetahuan Sosial, 6(1), 51.
Aftoni, A., Susila, I. W., Sutiadiningsih, A., & Hidayatulloh, M. K. Y. (2021). Plan-Do-Review-Share-
Happy (Plandoresh) strategy as an effort of developing vocational high school students' independent
learning. Jurnal Pendidikan Vokasi, 11(1).
Zein, S., Yasyifa, L., Ghozi, R., Harahap, E., Badruzzaman, F., & Darmawan, D. (2019). Pengolahan
dan Analisis Data Kuantitatif Menggunakan Aplikasi SPSS. Jurnal Teknologi Pendidikan
Basuki, A. T. (2015). Analisis Statistik Dengan SPSS. Analisis Statistik Ekonomi dan Bisnis Dengan
SPSS (pp. 100–105). Danisa Media.
Watkins, M. W. (2021). SPSS Software. In A Step-by-Step Guide to Exploratory Factor Analysis with
SPSS (pp. 13–20). Routledge.
Janna, N. M. (2020). Konsep Uji Validitas dan Reliabilitas dengan Menggunakan SPSS. Artikel :
Sekolah Tinggi Agama Islam (STAI) Darul Dakwah Wal-Irsyad (DDI) Kota Makassar, (18210047), 1–
Yeager, K. (2022). LibGuides: SPSS Tutorials: Pearson Correlation. SPSS TUTORIALS: PEARSON
CORRELATION. Retrieved from.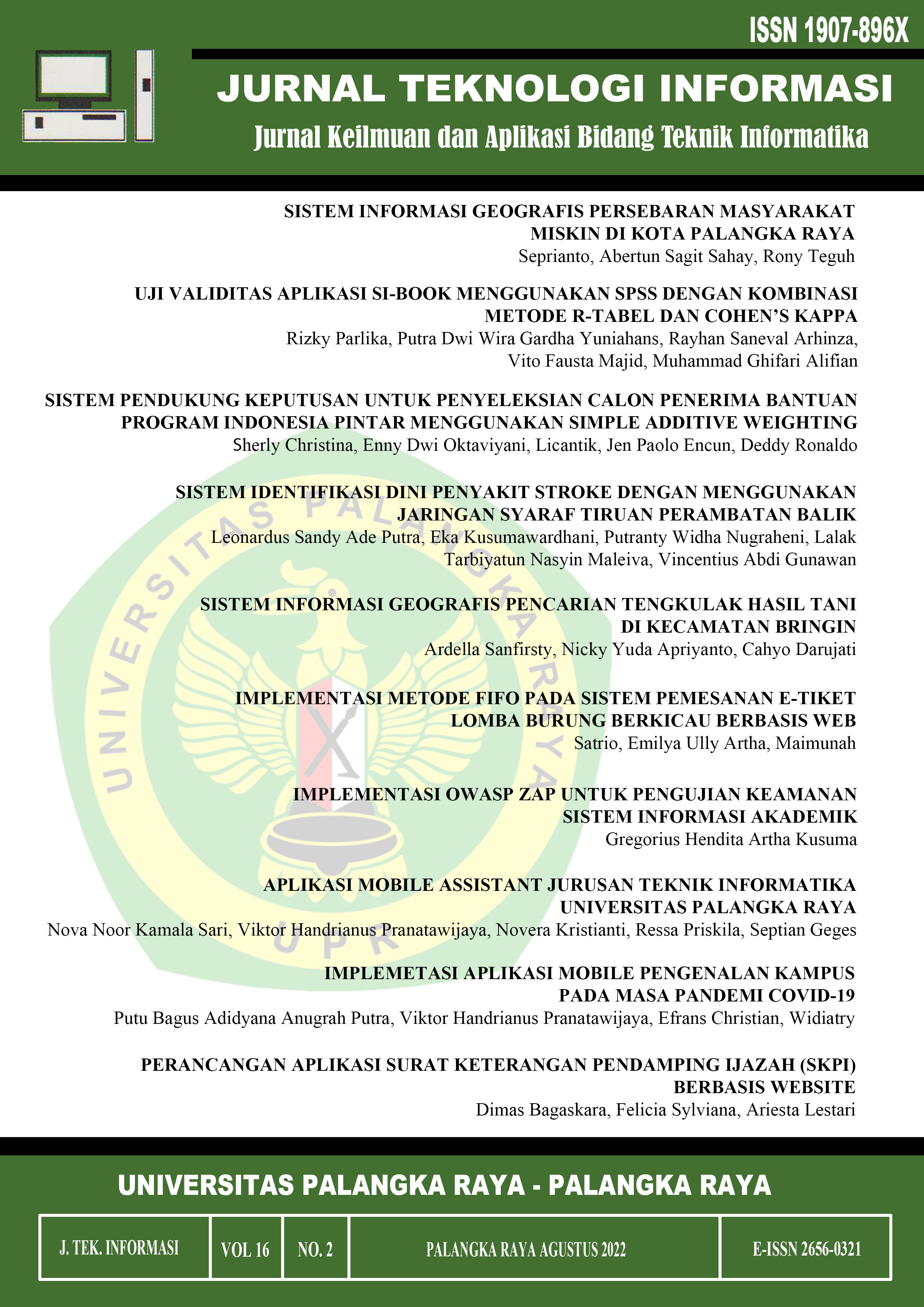 Downloads