SISTEM INFORMASI GEOGRAFIS PERSEBARAN MASYARAKAT MISKIN DI KOTA PALANGKA RAYA
Keywords:
Geographic Information System, SAW, Blackbox
Abstract
The Palangka Raya City as Capital of Central Kalimanta, has the second
lowest of amount poor people (3.75%) after Sukamara (3.73%) (Central
Kalimantan BPS, 2017).
In desig and build the system use the Simple Additive Weight (SAW)
method as a decision support system and apply in Geographic
Information System to the visualization of data. In this research
methodology using systematic implementation process to illustrate,
calculate and evaluate data. In this reserch use the methodology through
several stages, likely research design, database design, interface design,
coding and system testing.
The Testing of this system use Blackbox test system. The results of test
with the Blackbox system indicate the system create to running
according to the researcher expectation.
Downloads
Download data is not yet available.
References
Setiawan Didik. 2017. Buku Sakti Pemrograman Web: HTML, CSS, PHP, MySQL & Javascript. Yokyakarta:
START UP.
Hendrajaya, I. 2019. Sistem Informasi Geografis Pemetaan Masyarakat Penerima Bantuan Sosial Tepat
Sasaran Pada Desa Sulangai Berbasis Web. Denpasar, Bali: STIMIK Primakara. Tersedia dari
Jurnal.undhirabali.ac.id.
Bagye, Wire. 2019. Sistem Informasi Geografis Persebaran Masyarakat Miskin (Damaskin) Di Desa Monggas
Berbasis Web. Lombok: STIMIK Lombok. Tersedia dari e-jurnal.stimiklombok.ac.id.
Safitri, Mulia. 2021. Implementasi Metode Simple Additive Weighting Dalam Sistem Pendukung Keputusan
Penerima Bantuan. Skripsi. Palangka Raya: Universitas Palangka Raya.
Widodo, Prabowo Pudjo. Dkk. 2011. Menggunakan UML, Unified Modeling Language. Bandung: Penerbit
Informatika.
Rahmat Priyanto. 2012. Belajar Sendiri Menguasai MySQL 5. Jakarta: Penerbit PT Elex Media Komputindo.
Andi. 2009. Membuat Website dengan Adobe CS4, PHP, & MySQL. Yogyakarta: Penerbit MADCOMS.
Demma Amalia. 2020. SIG Sistem Informasi Geografis. Dari https://www.studiobelajar.com/sig-sisteminformasi-
geografis/. Diakses pada 22 januari 2021
Sitepu Anwar. 2012. Karakteristik Keluarga Menurut Peringkat Kemiskinan: Studi Pendahuluan Untuk
Perumusan Kriteria Fakir Miskin. Jakarta: Pusat Penelitian dan Pengembangan Kesejahteraan Sosial
Kementerian Sosial Republik Indonesia. Tersedia dari e-journal.kemensos.go.id.
Disdukcapil. 2020. Sekilas Pandang Nomor Induk Kependudukan (NIK). Artikel. Terdedia dari
disdukcapil.palangkaraya.go.id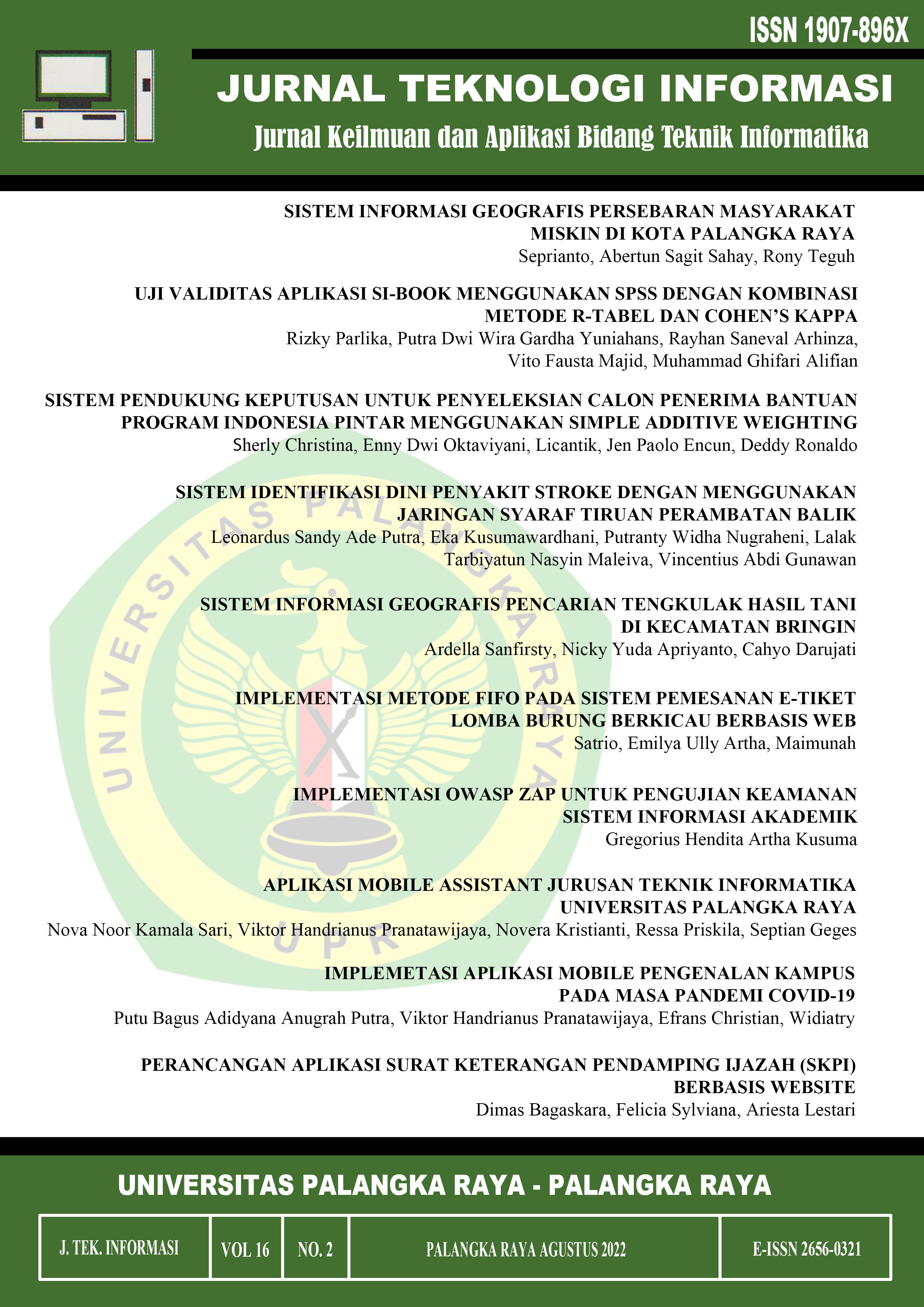 Downloads