PERANCANGAN VIRTUAL REALITY TOUR SEBAGAI MEDIA INFORMASI TATA LETAK GEDUNG KAMPUS II IAIN BUKITINGGI
Keywords:
Information Media, Virtual Reality Tour, Research and Development (R&D) methods
Abstract
The research was motivated by the problem of the number of students who did not recognize each campus building and sometimes some students were late for lectures because they did not know the location of the lecture hall. The method used is Research and Development (R&D). The development model applied by Luther Sutopo's that is Multimedia Development Life Cycle (MDLC) has 6 stages, the first is Concept, the second is Design, the third is Material Collection, the fourth is Assembly, the fifth is Testing, and the sixth is Distribution. The tests carried out in this study were product validity tests, product practicality tests, and product effectiveness tests. The results of the study are in the form of information media based on virtual reality tours as information media for IAIN Bukitinggi campus layout II that can be used by students wherever and whenever they have internet access
Downloads
Download data is not yet available.
References
R. Okra and Y. Novera, "Pengembangan Media Pembelajaran Digital IPA Di SMP N 3 Kecamatan Pangkalan," J. Educ. Stud., vol. 4, no. 2, pp. 100–121, 2019, doi: 10.30983/educative.v4i2.2340.
S. Derta, H. A. Musril, and C. Surya, "Teknologi Informasi : Sarana Pengawasan Ibadah Siswa," J. Jar. Sist. Inf. Robot., vol. 5, no. 2, pp. 38–46, 2021.
F. Fariyanto, S. Suaidah, and F. Ulum, "Perancangan Aplikasi Pemilihan Kepala Desa Dengan Metode Ux Design Thinking (Studi Kasus: Kampung Kuripan)," J. Teknol. dan Sist. Inf., vol. 2, no. 2, pp. 52–60, 2021.
N. Yona et al., "Perancangan Web Masjid Raudhatul Jannah Makassar," Data Manaj. dan Teknol. Inf., vol. 8, no. 3, pp. 167–173, 2017.
V. T. Goeinawan, L. Natadjaja, and D. K. Salamoon, "Perancangan Ulang Company Profile JawaPos.com Sebagai Media Informasi dan Promosi," J. DKV Adiwarna, vol. 1, no. 18, pp. 10–11, 2021.
S. Sarza, "Implementasi Virtual Tour 'Tour Pesisir' Sebagai Media Informasi Pariwisata Di Pesisir Selatan," Sekol. Tinggi Manaj. Inform. dan Komput. Amik Riau, 2022.
S. R. U. A. S. Bryant R. S. Ngongoloy, Yaulie D.Y. Rindengan, "Virtual Tour Instansi Pemerintahan Kabupaten Minahasa Tenggara," Tek. Inform., vol. 13, no. 1, pp. 1–6, 2018.
M. T. Sasmita, "Implementasi Virtual Tour Sederhana Dalam Pengenalan Kampus Politeknik Pariwisata Bali Di Masa Pandemi Covid-19," J. Kepariwisataan, vol. 20, no. 1, pp. 48–58, 2021, doi: 10.52352/jpar.v20i1.433.
R. Bastian, N. Budi, and M. B. Wenas, "Perancangan Virtual Tour Kampus I UKSW," Andharupa, vol. 4, no. 1, pp. 51–65, 2018.
F. A. A. Fauzan, M. E. Zakha, "Pengembangan Aplikasi Virtual Tour sebagai Media Pengenalan Lingkungan Kampus PENS berbasis Website," J. Teknol. Terpadu, vol. 7, no. 1, pp. 23–30, 2021, doi: 10.54914/jtt.v7i1.341.
S. Afrianti and H. A. Musril, "Perancangan Media Pembelajaran TIK Menggunakan Aplikasi Autoplay Media Studio 8 di SMA Muhammadiyah Padang Panjang," J. Inform. Upgris, vol. 6, no. 2, pp. 2–7, 2021, doi: 10.26877/jiu.v6i2.6471.
R. S. Samosir and N. Purwandari, "Aplikasi Literasi Digital Berbasis Web Dengan Metode R&D dan MDLC," Techno.Com, vol. 19, no. 2, pp. 157–167, 2020, doi: 10.33633/tc.v19i2.3318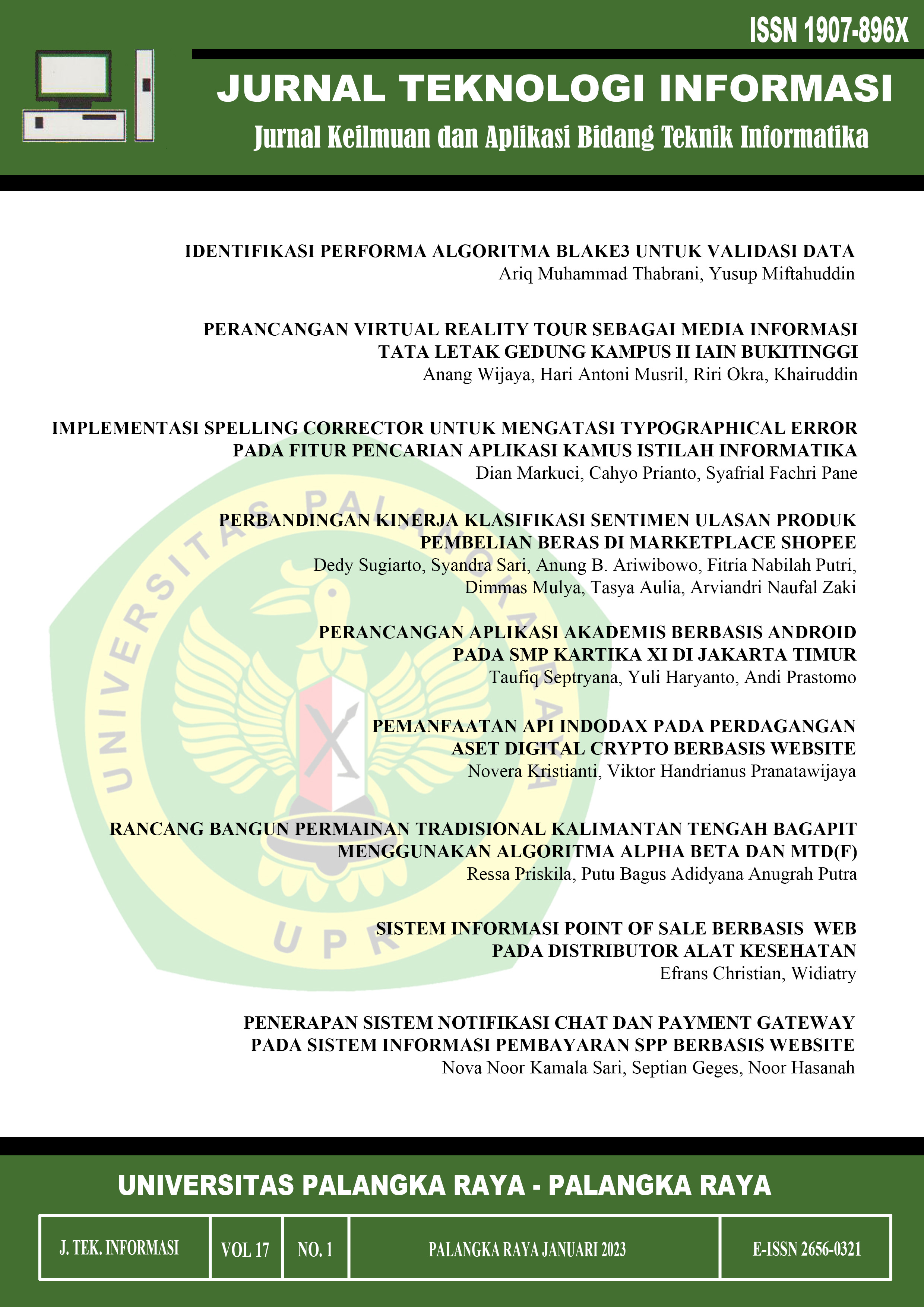 Downloads