PENERAPAN SISTEM NOTIFIKASI CHAT DAN PAYMENT GATEWAY PADA SISTEM INFORMASI PEMBAYARAN SPP BERBASIS WEBSITE
Keywords:
Whatsapp Gateway, Midtrans, Information Systems, Payment
Abstract
Along with today's rapid technological developments, the application of information systems to support business processes will be beneficial in operational activities within an institution. To be able to manage payment transactions for Education Development Contributions (SPP) better, it is necessary to build an Information System that can help manage data and transactions to be optimal. Therefore we need a payment information system that can facilitate SMA Negeri 1 Palangka Raya in dealing with the payment of tuition fees that are not yet optimal. In this study, a tuition payment information system was created that could be used for recording tuition data, cash, and non-cash payments, as well as informing parents/guardians of students about tuition payments and invoices. This study uses the Waterfall software development method which has stages of analysis, design, program code generation, testing, and maintenance. Non-cash payments and Whatsapp message delivery on applications use features on Midtrans and Whatsapp API. Unit testing is carried out using the Blackbox method. Based on the results of the research, it was found that this tuition payment information system could facilitate the school and students. The SPP Payment Information System is used as a means of managing SPP payment data for schools, non-cash SPP payments for parents, and information on SPP payments for both.
Downloads
Download data is not yet available.
References
Tim Kemdikbudristek, "Rencana Strategis Kementrian Pendidikan dan Kebudayaan 2020-2024," Kementeri. Pendidikan, Kebudayaan, Ris. dan Teknol., pp. 1–129, 2020, [Online]. Available: https://dikti.kemdikbud.go.id/
E. Astriyani and M. Mayang Sari, "PERANCANGAN SISTEM INFORMASI PEMBAYARAN SPP BERBASIS WEB MENGGUNAKAN NOTIFIKASI SMS GATEWAY (Studi Kasus : SMP Puspita Tangerang)," CERITA, vol. 6.
L. Hakim, S. Purnama Kristanto, M. Nur Shodiq, E. Amaliyah, T. Informatika, and P. Negeri Banyuwangi, "Aplikasi Penerimaan dan Pengeluaran Kas Berbasis Web dan WhatsApp Gateway," vol. 15, no. 1.
A. Anna, N. Nurmalasari, and A. E. Yusnita, "Rancang Bangun Sistem Informasi Akuntansi Penerimaan dan Pengeluaran Kas pada Kantor Camat Pontianak Timur," J. Khatulistiwa Inform., vol. 6, no. 2, pp. 107–118, 2018.
J. J. Robinson, "DIAGRAM: A Grammar for Dialogues," Commun. ACM, vol. 25, no. 1, pp. 27–47, 1982, doi: 10.1145/358315.358387.
S. Sandfreni, M. B. Ulum, and A. H. Azizah, "Analisis Perancangan Sistem Informasi Pusat Studi Pada Fakultas Ilmu Komputer Universitas Esa Unggul," Sebatik, vol. 25, no. 2, pp. 345–356, 2021, doi: 10.46984/sebatik.v25i2.1587.
P. Widodo and K. A. Wijayanti, "Perancangan Sistem Informasi Penjualan Besi Berbasis Web Pada CV. Mulya Jaya Yogyakarta," Bianglala Inform., vol. 8, no. 1, pp. 49–57, 2020, doi: 10.31294/bi.v8i1.8010.
O. Musa, "Sistem Informasi Kepegawaian Berbasis Website pada Dinas Pariwisata Dan Kebudayaan," J. Teknol. Inf. Indones., vol. 5, no. 2, pp. 9–15, 2020, doi: 10.30869/jtii.v5i2.641.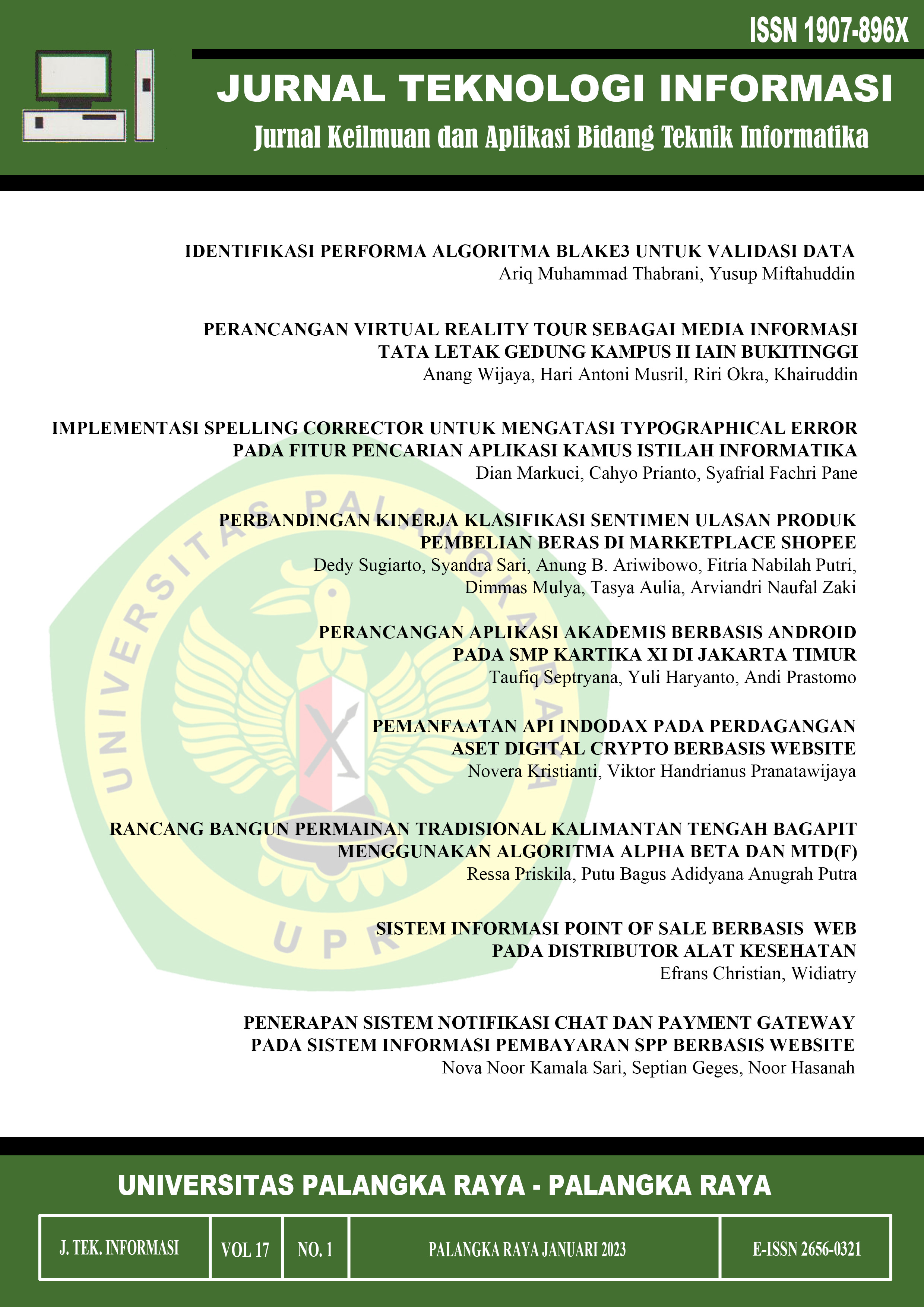 Downloads