https://doi.org/10.36873/agp.v20
PERSEPSI PETANI SAYURAN LAHAN GAMBUT TERHADAP PENGEMBANGAN SISTEM PERTANIAN BERKELANJUTAN DI KELURAHAN KALAMPANGAN KECAMATAN SABANGAU KOTA PALANGKA RAYA (Perception Of Peatland Vegetables Farmers On The Development Of Sustainable Agricultural Systems In K, Sunaryati, R.,1)
Keywords:
Perception, Development, Peatlands, Sustainable Agriculture
Abstract
ABSTRACT
The land in the Kalampangan sub-district of Sabangau District is land that is dominated by peat soils.
Peat binds to a relatively large amount of carbon that is formed in a long process and under watersaturated conditions. Water-saturated conditions cause the weathering process of organic matter to be
imperfect, so that the remains of organic matter such as litter, roots. The land in the Kalampangan
Village is a wetland with a layer of peat composed of organic material with a high C content that
exceeds carbon content in the terrestrial ecosystem. The aim of the study is to analyze the perceptions
of vegetable farmers towards the development of sustainable peatland agriculture. The study
population was all 164 vegetable farmers, the sample size was carried out by the Slovin technique
according to Sugiyono (2011) with a total sample of 35 people. Analysis of the data used in the form
of qualitative data and quantitative data. Sourced from primary data and secondary data. Using a
Likert scale which is translated into sub-variables then sub-variables are translated again into
measured indicators. The results of the research and analysis conducted on peatland vegetable farmers'
perceptions of the development of sustainable agriculture in the Village of Kalampangan are "agreed".
This perception is shown by the acquisition of a percentage score of 60%. Obtaining the percentage of
perception score of vegetable farmers for each sub-variable used is in the good or agreed category.
Keywords: Perception, Development, Peatlands, Sustainable Agriculture
Downloads
Download data is not yet available.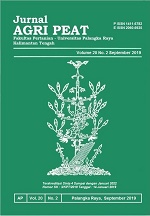 Downloads