DETEKSI DAN IDENTIFIKASI JAMUR PATOGEN TERBAWA BENIH VARIETAS PADI LOKAL DI KABUPATEN KAPUAS
(Detection and Identification of seedborne pathogenic fungi in Local Rice Varieties in Kapuas Regency)
Keywords:
Deteksi, identifikasi, patogen terbawa benih, varietas padi lokal, Kapuas
Abstract
This study was aimed to detect and identify seed-borne pathogenic fungi in six local rice varieties of Siam Unus, Karangdukuh, Mayang, Gumpal Kuning, Gumpal Putih, and Siam Arjuna in Kapuas Regency. In addition, the objective of this study was also to determine the effect of seed pathogens on the physiological quality and the percentage of infected seeds.
The research location was at the Agricultural Cultivation Laboratory, Faculty of Agriculture, University of Palangka Raya, and the study was carried out from September 2020 to February 2021. Seed health testing used the filter method (blotter test), isolation and identification of seed-borne pathogenic fungi using the agar method. The variables observed included macroscopic morphology of pathogens in petri dishes and microscopic evaluation using a compound microscope, seed germination, percentage of infected seeds, frequency of microorganism findings and pathogenicity tests on seed germination.
Based on the results of the study, the identified pathogenic fungi carried by local varieties of rice seeds in Kapuas district were Aspergillus spp., A. flavus, A. niger, Curvularia sp. and Oidium sp., however these pathogens did not affect seed germination. The highest numbers of microorganisms observed on the agar method was Aspergillus spp. (37.5%), followed by Curvularia sp. (29%), whereas in the blotter test method the frequency of the fungus Curvularia sp. only 5.6%. The frequency of finding A. flavus and A. niger on the agar method was lower at 21.8%, while the fungus Oidium sp. was detected in very low percentage for only 0.9%. The pathogenic fungus Oidium sp. showed the highest level of pathogenicity in seeds reaching 21.7%, while the pathogenic A. niger, Curvularia sp. and A. flavus showed a lower infection rate, at 13.9% to 17.8% respectively. These pathogenic fungi might cause the seeds to not germinate normally such as leading to necrosis of the hypocotyl and plumules, stunted germination growth, and death of seed germination.
Keywords: Detection, identification, seed-borne pathogens, local rice varieties, Kapuas
Downloads
Download data is not yet available.
References
Amteme, K. & Tefa, A. 2018. Identifikasi Cendawan Patogen pada Beberapa Varietas Benih Padi Sawah Berdasarkan Model Penyimpanan. Jurnal Pertanian Konservasi Lahan Kering. Savana Cendana 3(1): 4-7.
Astuti, D. Ilyas S, & Daryono D. 2009. Pengaruh matriconditioning plus fungisida nabati atau sintetis terhadap vigor dan kesehatan benih padi (Oryza sativa) yang terinfeksi Alternaria Padwickii. Bogor (ID): Makalah Seminar Departemen Agronomi dan Hortikultura Fakultas Pertanian Institut Pertanian Bogor.
Barnett, H.L. & B.B. Hunter. 1972. Illustrated Genera of Imperf ect Fungi. Third Edition. Burgess Publishing. Company.
Dinas Pertanian Kabupaten Kapuas. 2017. Panca kelola sumber daya lahan pertanian. (http://distan.kapuaskab.go.id). Di akses pada 8 Desember 2020.
Elfiani & Jakoni. 2015. Pengujian Daya Berkecambah Benih dan Evaluasi Struktur Kecambah. Jurnal Dinamika Pertanian, 30 (1) : 45-52
Harahap, A, S. Yuliani S. T. & Widodo. 2015. Deteksi dan Identifikasi Cendawan Terbawa Benih Brassicaceae. J Fitopatol Indones. 3 (11): 97–103.
Jaelani, A. Kirnadi J, A. & Mujiono B. 2013. Analisis Pendapatan Padi Lokal Varitas Karangdukuh (Oryza sativa L) Di Kecamatan Tamban Catur Kabupaten Kapuas. J. Ziraa'ah, Vol 38 (3): 33-43.
Justice, O.L & Bass L.N. 2002. Prinsip dan praktek penyimpanan benih (Ed.1). Penterjemah Rennie Roesli. Penerbit Raja Grafindo Persada. Jakarta. 446 hlm.
Mew TW & Gonzales P. 2002. A Handbook of Rice Seedborne Fungi. Science Publishers, Inc. New York (US).
Mustikawati, D.R. & Barus, J. 2005. Studi Serangan Penyakit Embun Tepung (Oidium sp.) pada Tanaman Padi Gogo. Makalah. Balai Pengkajian Teknologi Pertanian Lampung. 4 hlm.
Ningsih, R., Mukarlina, & Linda, R. 2012. Isolasi dan identifikasi jamur dari organ bergejala sakit pada tanaman jeruk siam (Citrus nobilis var. microcarpa). Probiont, 1(1), 1–7.
Nurdin M. 2003. Inventarisasi beberapa mikroorganisme terbawa benih padi yang berasal dari Talang Padang, Kabupaten Tanggamus, Lampung. Jurnal Hama dan Penyakit Tumbuhan Tropika. 3(2): 47-50.
Pakki, S. & Djaenuddin, N. 2013. Dinamika Patogen Terbawa Benih Aspergillus flavus pada Beberapa Varietas Jagung Komposit dan Hibrida. Makalah Seminar Nasional Serealia:403-410.
Pamekas T. 2013. Penyakit Pascapanen : Fisiologi, Patologi, dan Pengendalian. : Pertelon Media, Bengkulu.
Pamekas, T., Supanjani & Lumbantungkup, D.M. 2021. Identifikasi Cendawan Patogen Terbawa Benih Padi Di Propinsi Bengkulu. Prosiding Seminar Nasional dalam Rangka Dies Natalis ke-45 UNS Tahun 2021, 5 (1) : 1226-1234
PKTBKP (Pusat Karantina Tumbuhan Badan Karantina Pertanian). 2007. Pedoman Diaknosis Organisme Pengganggu Tumbuhan Karantina Golongan Cendawan. Badan Karantina Pertanian. Jakarta.
Pratiwi, N. W., Juliantari, E., & Napsiyah, L. K. 2016. Identifikasi Jamur Penyebab Penyakit Pascapanen pada Beberapa Komoditas Bahan Pangan. Jurnal Riau Biologia, 1(14), 86–94.
Putra, G. W. K., Y. Ramona. & Proborini, M.W. 2020. Eksplorasi dan Identifikasi Mikroba yang Diisolasi dari Rhizosfer Tanaman Stroberi (Fragaria x ananassa Dutch.) di Kawasan Pancasari Bedugul. Journal of Biological Sciences, 7(2):205-213
Ramdan, E.P. & Kalsum, U. 2017. Inventarisasi Cendawan Terbawa Benih Padi, Kedelai, dan Cabai , Jurnal Pertanian Presisi, 1 (1): 48-58.
Risnawaty, R, Masniawati A, Kuswinanti T, & Gobel R. B. 2013. Identifikasi Cendawan Terbawa pada Benih Padi Lokal Aromatik Pulu Mandoti, Pulu Pinjan, dan Pare Lambau asal Kabupaten Enrekang, Sulawesi Selatan. J. Manasir. 1 (1): 54-63.
Semangun, H. 2008. Penyakit-Penyakit Tanaman Pangan di Indonesia. Edisi Kedua. Yogyakarta. Gadjah Mada University Press.
Sobianti, S., Soesanto, L. & Hadi, S. 2020. Inventarisasi Jamur Patogen TularBenih Pada Lima Varietas Padi. Agricultural Journal, 3(1): 1-15.
Suryandari, L. & Ratnasari, E. 2019. Studi Analisis Pengujian Standar pada Komoditi Padi
(Oryza sativa L) di UPT. PSBTPH Dinas Pertanian Dan Ketahanan Pangan Jawa Timur.
Prodising Seminar Nasional Biologi 2019 : pp.269-275. ISBN: 978-602-0951-26-3 269
Tefa, A. 2017. Uji Viabilitas dan Vigor Benih Padi (Oryza sativa L.) selama Penyimpanan pada Tingkat Kadar Air yang Berbeda. Jurnal Pertanian Konservasi Lahan Kering, Savana Cendana 2 (3): 48-50
Watanabe T. 2002. Pictorial Atlas of Soil and Seed Fungi: Morphologies of Cultured Fungi and Key to Species. Ed ke-2. CRC Press LLC. Florida (US)
Zahara, N. & Pamekas, T. 2022. Karakteristik Cendawan Terbawa Benih Padi Asal Kota Bengkulu. Jurnal Cermin, 6 (1) : 80-85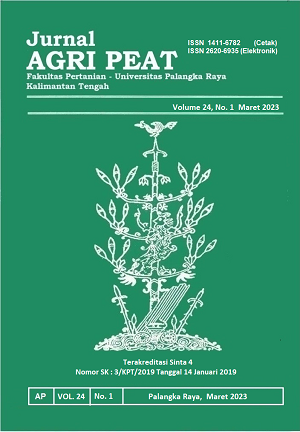 Downloads
License
Copyright (c) 2023 AgriPeat
This work is licensed under a Creative Commons Attribution-NonCommercial-ShareAlike 4.0 International License.