UJI KANDUNGAN SIFAT FISIK DAN KIMIA LAHAN GAMBUT DI KAWASAN HUTAN DENGAN TUJUAN KHUSUS MUNGKU BARU
Physical and chemical properties test of peatland : a special case study of Mungku Baru forest area
Keywords:
chemical properties, peatlands, physical properties
Abstract
According to law no.14 year 1999 about forestry, forest by its function divided into conservation forest, protected forest and production forest. Forest area with special purposed as education forest on permanent production forest at Palangkaraya, area 4,910 ha. Forest area with Special Purpose as Educational Forest in the Mungku Baru Forest Area is located at an altitude of about 60 above sea level with hilly topography and it has several tributaries and has a variety of forest types, namely peat swamp forest, heath forest around the Rakumpit watershed. and lowland dipterocarp forest. Based on the distribution area of ​​the peat area, researchers are interested in testing the physical properties of peatlands and sandy peat in the Mungku Baru KHDTK area, which previously conducted research on plant diversity in the Mungku Baru KHDTK area, Palangka Raya City. The purpose of this study was to determine the physical and chemical properties of peatlands in the KHDTK Mungku Baru area. The research method used is quantitative. Based on the results of the study, the physical properties of peatlands in three locations stated that the BD value was below 1, which had a value of 0.187 to 0.272. It means that the peat is formed from organic matter so it has a low BD  and the maturity of peatlands is classified as febrile. While the chemical properties in the three locations are the content of N-Total, C-orgagic, C/N, P2O5, K2O, dissolved Fe, pH, Ca-dd, Mg-dd, Na-dd, K-dd, CEC, and KB
Downloads
Download data is not yet available.
References
Agus, F., E. Surmaini dan N. Sutrisno. 2005. Teknologi Hemat Air dan Irigasi Suplemen dalam Adimihardja dan Mappaona (Eds.). Teknologi Pengelolaan Lahan Kering. Menuju Pertanian Produktif dan Ramah Lingkungan. Hlm : 223 – 245. Pusat Penelitian dan Pengembangan Tanah dan Agroklimat. Badan Litbang Pertanian. Departemen Pertanian.
Anda, M., Ritung, S., Suryani, E., Sukarman, Hikmat, M., Yatno, E., Mulyani, A., Subandiono, R. E., Suratman, & Husnain. (2021). Revisiting tropical peatlands in Indonesia: Semi-detailed mapping, extent and depth distribution assessment. Geoderma, 402(May), 115235. https://doi.org/10.1016/j.geoderma.2021.115235
Aryanti. E, Yulita, Annisava.A.R. . 2016. Pemberian Beberapa Amelioran Terhadap Perubahan Sifat Kimia Tanah Gambut. Jurnal Agroteknologi, Vol. 7 No. 1, Agustus 2016 : 19 – 26. Fakultas Pertanian dan Peternakan UIN Suska Riau. Diunduh pada: http://ejournal.uin-suska.ac.id/index.php/agroteknologi/article/view/2245/1456
Ritung,S. dan Sukarman. 2016. Kesesuaian Lahan Gambut Untuk Pertanian. Badan Penelitian dan Pengembangan Pertanian. Diunduh pada: https://www.researchgate.net/profile/SukarmanKartawisastra/publication/323476309_Kesesuaian_Lahan_Gambut_untuk_Pertanian/links/5a97cec245851535bcdf4807/Kesesuaian-Lahan-Gambut-untuk-Pertanian.pdf
Susandi,Oksana, dan Arminudin, A.T. 2015. Analisis sifat fisika tanah gambut pada hutan gambut di Kecamatan Tambang Kabupaten Kampar Provinsi Riau . Jurnal Agroteknologi 5(2), : 23-28. http://ejournal.uin-suska.ac.id/index.php/agroteknologi/article/view/1351/0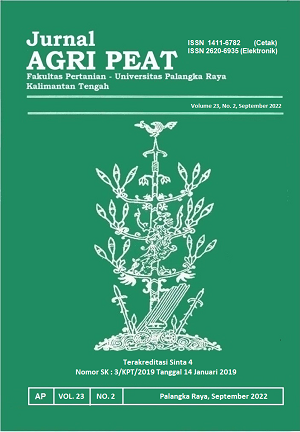 Downloads
License
Copyright (c) 2022 AgriPeat
This work is licensed under a Creative Commons Attribution-NonCommercial-ShareAlike 4.0 International License.