RESPONS TANAMAN KUBIS BUNGA (Brassica oleracea) TERHADAP PEMBERIAN PUPUK MULTI KP PADA ULTISOL
Response of Cauliflower (Brassica oleracea) to Multi KP Fertilizer on Ultisol
Keywords:
Cauliflower, Multi KP, ultisol, low fertility
Abstract
ABSTRACT
Cauliflower are very useful for humans, and have high economic value, but their production in Central Kalimantan is still low because they are grown on utisol soils with low fertility. Therefore, optimal management is needed in order to produce well. This study aims to determine the response of cauliflower plants to the application of Multi KP compound fertilizer and determine the optimal dose of fertilizer for growth and yield of flower cabbage plants. Using a completely randomized design with 5 treatments, namely the application of Multi KP fertilizer with doses of 0, 2, 4, 6 and 8 g plants. 1 . The results showed that the dose of Multi KP fertilizer was 4 g plant-1, the best growth and yield were obtained, namely the plants were able to grow taller, the number of leaves was more, and the cauliflower weight was 320 g per plant.
Downloads
Download data is not yet available.
References
Andayani & La Sarido. 2013. Uji empat jenis pupuk kandang terhadap pertumbuhan dan hasil tanaman cabai keriting (Capsicum annum L.) Jurnal Agrifor, 12(1), 22-29.
Badan Perencanaan Pembangunan Daerah. 2018. Profil Kota Palangka Raya 2017. Palangka Raya
Badan Pusat Statistik Provinsi Kalimantan Tengah. 2018. Produksi Kembang Kol (kuintal) 2017-2018. Palangka Raya
Badan Pusat Statistik Provinsi Kalimantan Tengah. 2020. Data BPS. Palangka Raya
Chairani, H. 2008. Teknik Budidaya Tanaman Jilid 3 untuk SMK. Jakarta. Direktorat Pembinaan Sekolah Menengah Kejuruan, Direktorat Jenderal Manajemen Pendidikan Dasar dan Menengah, Departemen Pendidikan Nasional, Jakarta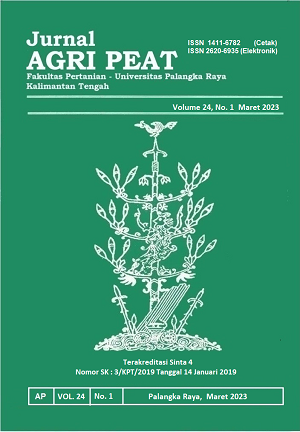 Downloads
License
Copyright (c) 2023 AgriPeat
This work is licensed under a Creative Commons Attribution-NonCommercial-ShareAlike 4.0 International License.