KARAKTERISTIK ARANG AKTIF AKASIA (ACACIA MANGIUM WILLD) YANG DIAPLIKASIKAN SEBAGAI BAHAN UNTUK MENINGKATKAN KUALITAS AIR
Kata Kunci:
Active Charcoal, Acacia, Trunk, Branches, Branches, Drilling Well Water
Abstrak
The production volume or amount of Acacia wood used is generally low compared to the volume of wood harvested. Not a few woods that are cut cause wood harvesting waste such as branches and twigs. One of the uses is processing the waste into activated charcoal. Activated charcoal is charcoal whose cavities or pores are cleaned from other compounds so that the adsorption power of liquids and gases increases. This research uses the Acacia wood of the stem, branches and twigs which is first through the carbonization process and then used as activated charcoal. The active charcoal tests
include yield, moisture content, volatile matter content, ash content, carbon bound content, absorption of benzene, absorption of iodine and absorption of methylene blue. Acacia quality test results of the stem, branches and twigs show that the activated charcoal of the stem has better quality than the active charcoal of branches and twigs. Overall the results of testing the quality of activated charcoal not all treatments meet the requirements of SNI 06-3730-1995, but when compared with the requirements of the quality of pharmaceutical chemistry, all tests for each treatment meet the quality standard requirements. The application of activated charcoal to drilled well water does not all improve water quality but still qualifies the drinking water quality standards Minister of Health Regulation No: 416/Menkes/Per/IX /1990.


Unduhan
Data unduhan belum tersedia.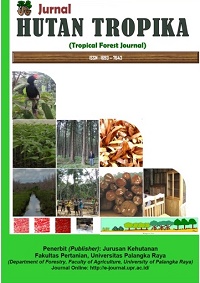 Unduhan
Diterbitkan
02-06-2020 — Diperbaharui pada 27-10-2022
Lisensi
Hak Cipta (c) 2019 HUTAN TROPIKA
Artikel ini berlisensi Creative Commons Attribution 4.0 International License.