IDENTIFIKASI PROBLEM PERENCANAAN PEMBANGUNAN MENJAGA KONSISTENSI PEMERINTAHAN DAERAH DALAM SEMANGAT OTONOMI
Keywords:
Development Planning, Regional Autonomy, Local Government
Abstract
Regional autonomy is the spirit of regional autonomy which has the aim of increasing the potential of regions in Indonesia and increasing regional development. Development planning is a process of formulating alternatives or decisions based on data and facts that will be used as material for carrying out a series of activities/activities. This study uses descriptive qualitative research methods, processing descriptive data, such as interviews and field observations. The purpose of this study is to identify and identify development planning problems in Pulang Pisau district, which is to maintain the consistency of local government in the spirit of regional autonomy. The current condition of improving the quality of planning implementation has not been significantly followed by an increase in the quality of planning products. This is due to several main challenges and problems, namely the not yet optimal coordination of regional development planning; and synchronization of processes, less than optimal community participation. Weak competence of planning personnel in SKPD. The provision and management of accurate development data is not yet optimal. Not yet optimal utilization of planning documents, Not yet optimal implementation of monitoring and evaluation of development programs associated with planning documents. The implementation of planning, control and use of space has not been optimal yet and the lack of supporting documents regarding. There is no synchronization of the planning documents prepared by the regional government and the private sector or other institutions, the implementation of development cooperation between regions is not yet optimal
Downloads
Download data is not yet available.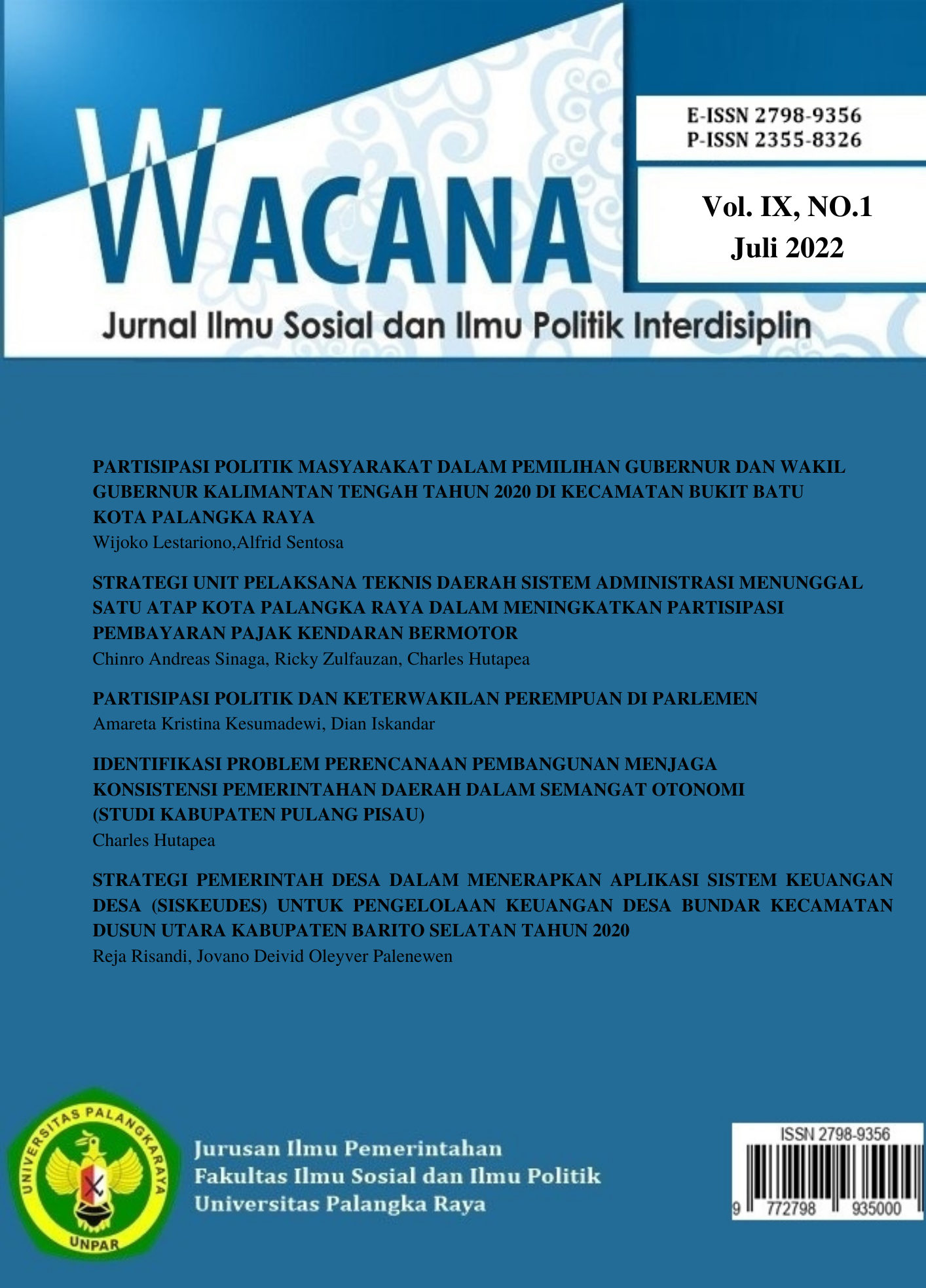 Downloads
How to Cite
Hutapea, C. . (2022). IDENTIFIKASI PROBLEM PERENCANAAN PEMBANGUNAN MENJAGA KONSISTENSI PEMERINTAHAN DAERAH DALAM SEMANGAT OTONOMI. Wacana: Jurnal Ilmu Sosial Dan Ilmu Politik Interdisiplin, 9(1), 396–406. Retrieved from https://e-journal.upr.ac.id/index.php/Jwcn/article/view/5084