STRATEGI PEMERINTAH DESA DALAM MENERAPKAN APLIKASI SISTEM KEUANGAN DESA (SISKEUDES) UNTUK PENGELOLAAN KEUANGAN DESA BUNDAR KECAMATAN DUSUN UTARA KABUPATEN BARITO SELATAN TAHUN 2020
Keywords:
Srtategic,Siskeudes, desa bundar
Abstract
This study aims to find out how the village government's strategy in implementing the Siskeudes application in village financial management, in Bundar Village, North Dusun District, South Barito Regency is centered on how the strategy is used to be able to implement the Siskeudes application in village financial management. Given that each village has advantages and disadvantages to support the application of the Siskeudes application. This study uses a qualitative research with a descriptive approach, using data collection techniques through interviews, and decomentation. By measuring the results of the study using the theory of Fred R David (2004). (1). Indicators for formulating strategies show that the goals and support of village government officials, both the BPD and the community, show a positive attitude to support the recommendations from the government in order to implement the Siskeudes application in village financial management. And don't forget the efforts of the Bundar village apparatus to always maintain good communication between the BPD and the community. (2). indicators implement the strategy, the Round Village has used the Siskeudes version 2.0 application which proves that behind the shortcomings faced by the Round village apparatus. There are also a number of initiatives given by the Bundar Village apparatus in dealing with these shortcomings, such as using social media or the internet as a forum to understand more deeply about operating the Siskeudes application. (3). indicators evaluate strategies, the implementation of the Siskeudes application that has been carried out by the Round Village government has a very good effect, especially helping the Round Village apparatus in village financial reporting
Downloads
Download data is not yet available.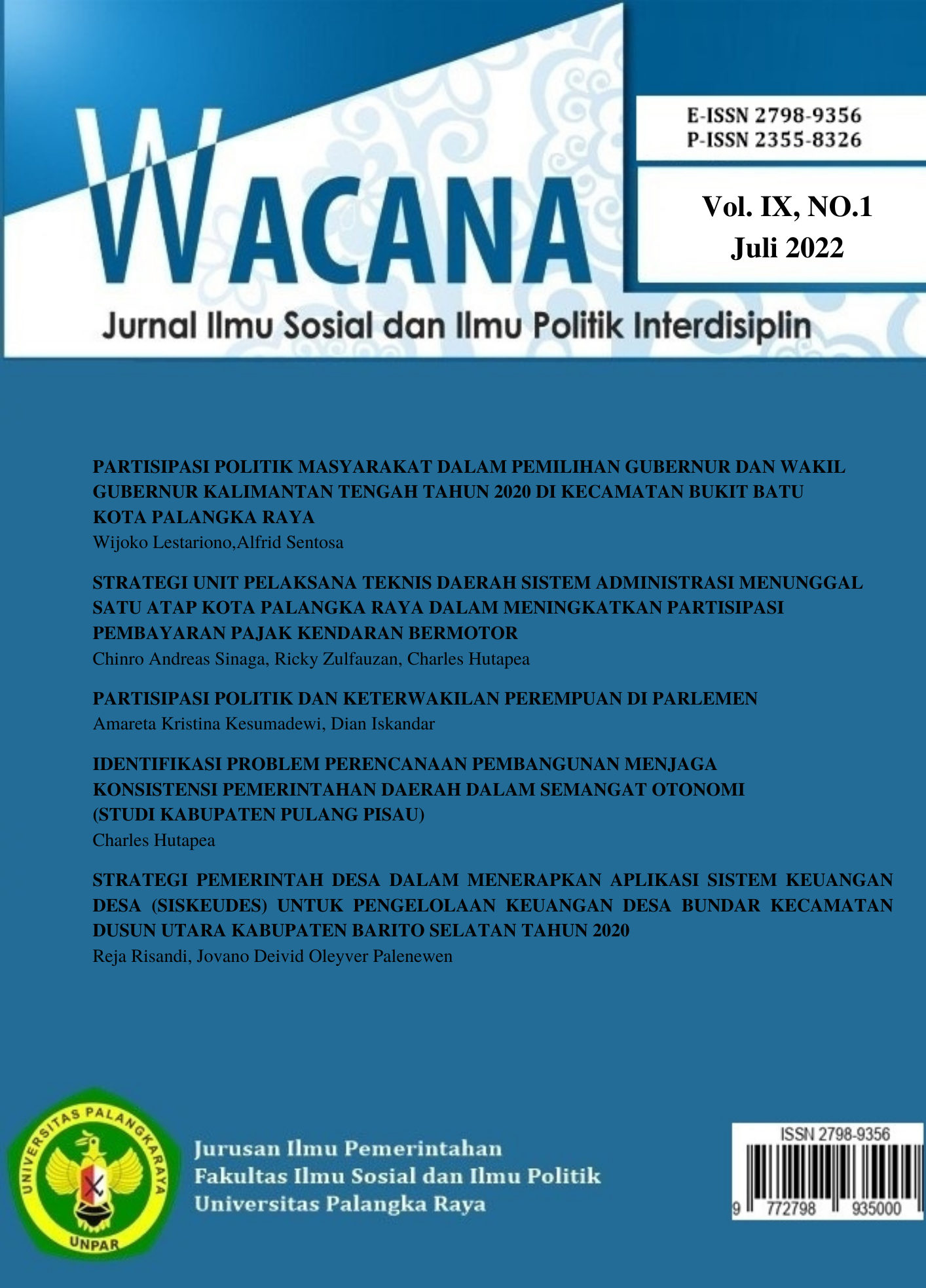 Downloads
How to Cite
Risandi, R. ., & Palenewen, J. D. O. . (2022). STRATEGI PEMERINTAH DESA DALAM MENERAPKAN APLIKASI SISTEM KEUANGAN DESA (SISKEUDES) UNTUK PENGELOLAAN KEUANGAN DESA BUNDAR KECAMATAN DUSUN UTARA KABUPATEN BARITO SELATAN TAHUN 2020. Wacana: Jurnal Ilmu Sosial Dan Ilmu Politik Interdisiplin, 9(1), 407–412. Retrieved from https://e-journal.upr.ac.id/index.php/Jwcn/article/view/5086