ANALISIS PROGRAM PENANGGULANGAN KEMISKINAN DAERAH KOTA PALANGKA RAYA STUDI PADA PROGRAM KELOMPOK USAHA BERSAMA (KUBE) MASYARAKAT MISKIN MELALUI USAHA SOSIAL
Abstract
Poverty is a situation where there is a shortage of things that are common to have such as food, clothing, shelter, and drinking water. Poverty sometimes also means that there is no access to education and jobs that are able to overcome the problem of poverty and get a proper honor as a citizen. The local government of Palangka Raya City through the Palangka Raya City Social Service has a joint business group program (KUBE) for the poor through social enterprises as an effort to reduce poverty in the Palangka Raya City area. Nur Lathifah (2021) states that the Joint Business Group (KUBE) is a group of poor families that was formed, grew, and developed on the initiative in carrying out productive economic business (UEP) to increase family income and social welfare.
          This study used qualitative research methods. This research model is usually used in social observation and research. The purpose of this study was to determine whether the Mawar joint business group (KUBE) program for the poor through social entrepreneurship in Kereng Bangkirai Village, Sebangau District was running according to the main aspects of the KUBE program, namely social aspects, economic aspects, educational aspects and market aspects. The results of this study indicate that the economic aspects of the Mawar joint business group (KUBE) have not been realized to the maximum. Meanwhile, the social, educational and market aspects have been implemented well
Downloads
Download data is not yet available.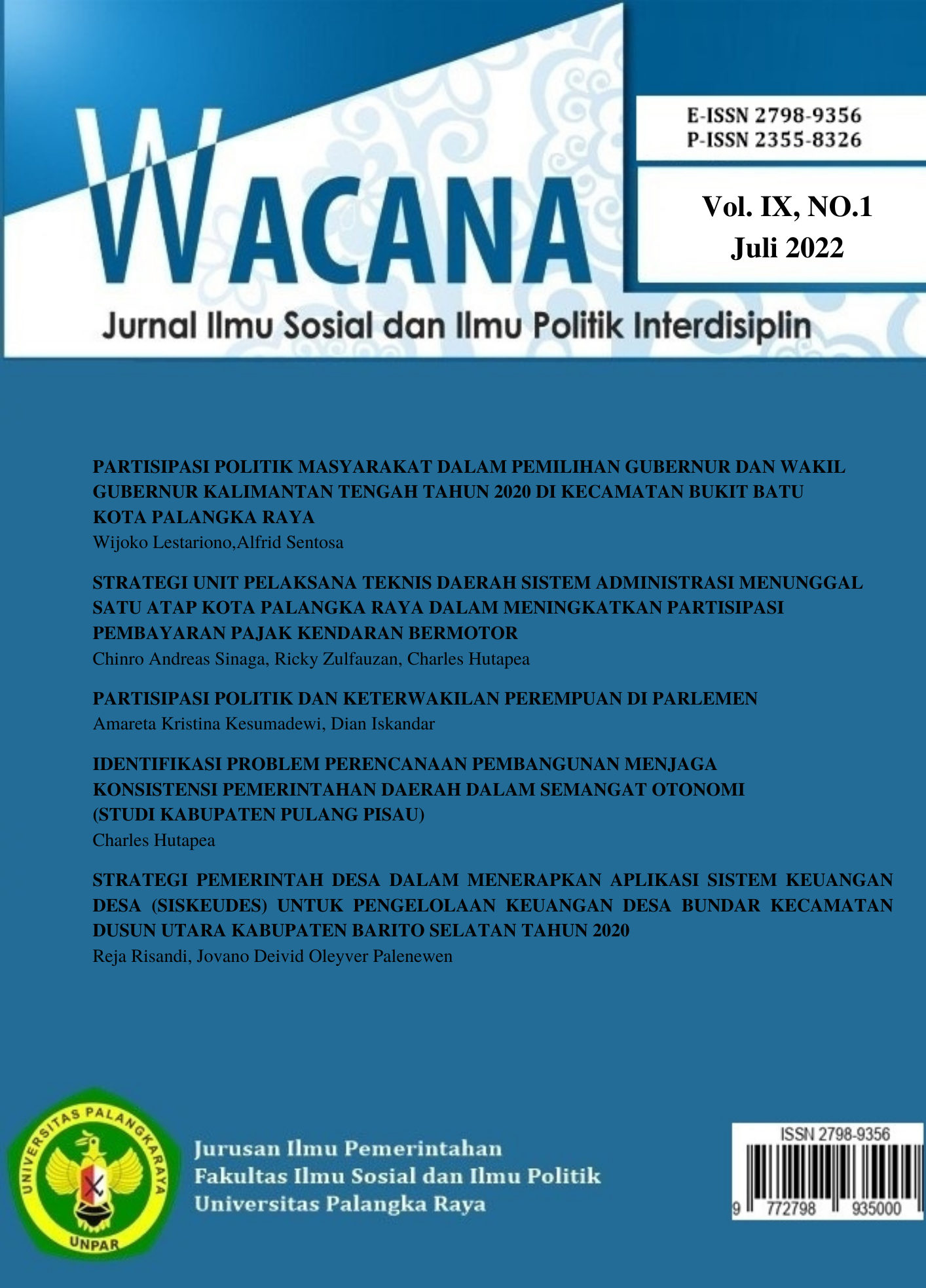 Downloads
How to Cite
Sonya Ulfaritha Lapalu, E. ., & Danianto Ginther Najam, M. . (2022). ANALISIS PROGRAM PENANGGULANGAN KEMISKINAN DAERAH KOTA PALANGKA RAYA STUDI PADA PROGRAM KELOMPOK USAHA BERSAMA (KUBE) MASYARAKAT MISKIN MELALUI USAHA SOSIAL. Wacana: Jurnal Ilmu Sosial Dan Ilmu Politik Interdisiplin, 9(1), 423–431. Retrieved from https://e-journal.upr.ac.id/index.php/Jwcn/article/view/5196