POLITIK PENDIDIKAN: MENAKAR EKSISTENSI MAHASISWA DI LINGKUNGAN SOSIAL
Keywords:
politics of educations, political learning, student existence
Abstract
The conception of politics of education, lectures, practical work (PKLBK) and community service (KKN) are an arena for realizing the general ideals of the nation and state, which are then carried out as well as possible. The method used in this research is participatory action research (PAR), where in each stage of education that is passed by the timeline there is an exchange of interests which generally results in social innovation and student creativity, and ends with the student's existence in the social environment.
Downloads
Download data is not yet available.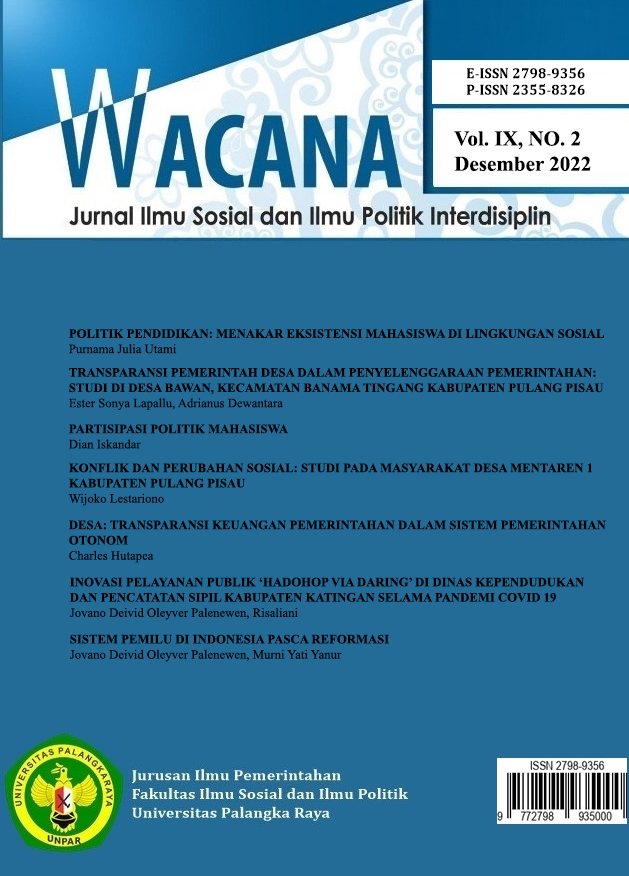 Downloads
How to Cite
Purnama Julia Utami, & Erwani, Y. (2022). POLITIK PENDIDIKAN: MENAKAR EKSISTENSI MAHASISWA DI LINGKUNGAN SOSIAL. Wacana: Jurnal Ilmu Sosial Dan Ilmu Politik Interdisiplin, 9(2), 432–442. Retrieved from https://e-journal.upr.ac.id/index.php/Jwcn/article/view/7468