KONFLIK DAN PERUBAHAN SOSIAL
Keywords:
Conflict, Social Transformation
Abstract
In a plural society as in a village, the form of social interaction can occur in a dissociative process or an associative process. The dissociative process can occur if each community group is unable to resolve itself with other groups and conversely the associative process can occur if the adjustment process can be carried out properly then the social interaction of post-conflict communities in the village will be associative.
Social conflict Basically, it cannot be organized unless it is postponed by reducing the extreme actions that occur, the way, among others, is to prevent conflict from producing something that is detrimental to all parties. In addition, conflict managers immediately pull individuals out of their involvement in a social conflict and include them in other community groups who are running positive programs.
Living in society cannot be separated from social changes, both fast and slow changes, because people cannot live alone without a relationship with their fellow human beings in society.
Downloads
Download data is not yet available.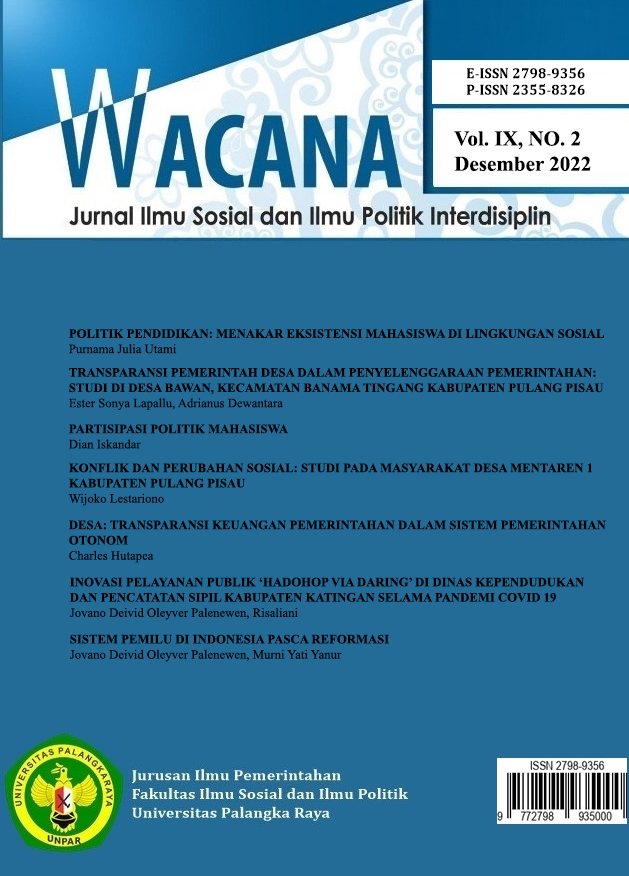 Downloads
Published
2022-12-01 — Updated on 2022-12-10
How to Cite
Alfrid Sentosa, & Lestariono, W. (2022). KONFLIK DAN PERUBAHAN SOSIAL. Wacana: Jurnal Ilmu Sosial Dan Ilmu Politik Interdisiplin, 9(2), 465–477. Retrieved from https://e-journal.upr.ac.id/index.php/Jwcn/article/view/7476 (Original work published December 1, 2022)