PENERAPAN SISTEM PEMILU DI INDONESIA PASCA REFORMASI
Keywords:
Election, Electoral System, Post-Reform
Abstract
After the political reform in 1998, Indonesia held 5 elections, namely in 1999, 2004, 2009, 2014, and 2019. From the implementation of the elections that occurred in each period, of course, the conditions were different. It even has its problems in every election carried out both from regulations, the electoral system, and even technicalities. So that after the completion of the election, an evaluation is always carried out for improvement in the upcoming election. The method used in this study is a descriptive qualitative method. The result of this study is that every election has different characteristics, both from the aspect of electoral law and the electoral process. Although it is also known that every election implementation still has various shortcomings. However, any deficiencies become materials for the improvement of each election in the future, to create quality elections. The electoral system remains an important point in managing the degree of representation in parliament. From the experience of the 5 times holding elections in Indonesia, a representative proportional system is a fixed choice taken by decision-makers. Although each election uses a proportional system, based on experience there are several differences in each election, such as the 1999 election using a closed variant, the 2004 election with a semi-open variant, and 2009, 2014, and 2019 elections purely openly.
Downloads
Download data is not yet available.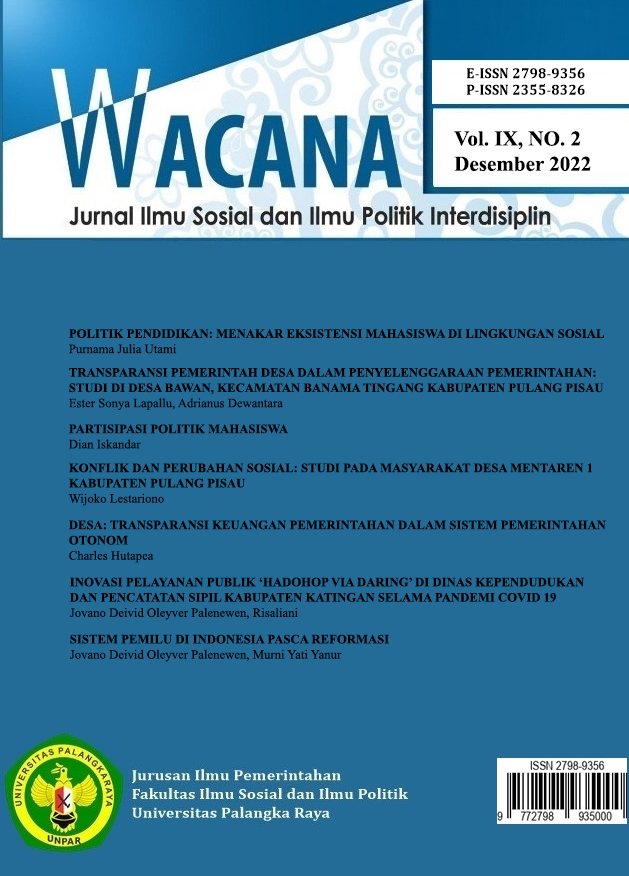 Downloads
How to Cite
Jovano Deivid Oleyver Palenewen, & Murniyati Yanur. (2022). PENERAPAN SISTEM PEMILU DI INDONESIA PASCA REFORMASI. Wacana: Jurnal Ilmu Sosial Dan Ilmu Politik Interdisiplin, 9(2), 502–520. Retrieved from https://e-journal.upr.ac.id/index.php/Jwcn/article/view/7766