PARTISIPASI POLITIK MASYARAKAT DALAM PEMILIHAN GUBERNUR DAN WAKIL GUBERNUR KALIMANTAN TENGAH TAHUN 2020 DI KECAMATAN BUKIT BATU KOTA PALANGKA RAYA
Keywords:
Political participation, Socialization, Regional Head Election
Abstract
The purpose of this study is to examine the political
participation of the people in the Bukit Batu sub-district, the
factors that influence the political participation of the people
in the Bukit Batu district in the 2020 election of governor and
deputy governor of Central Kalimantan, and the City of
Palangkaraya in increasing public political participation.
the political participation of the KPU people. The method
used is a qualitative survey method used. Descriptive
methods and inductive approaches to explore and
understand the meaning of research subjects learn from the
problems they face (Sugishirono, 2018). Data acquisition
technology Conducted through interviews, documentation,
observations from primary data sources, Secondary sources
contain sources identified through the targeted sample:
Head of KPU Palangka Raya City (1 person), Head of
Technical Sub-section for Palangka Raya City Election (1
person), Head of District PPK Bukit Batu (1 person), Head
of PPS Kecamatan Bukit Batu (1 person), Panwascam Bukit
Batu (1 person), Camat Bukit Batu (1 person) and the
Community (10 people). Data analysis techniques with data
reduction, data presentation, and withdrawal conclusion.
Using Miriam Budialjo's theory of political participation in
Basic Political Science (2008), the author analyzes four
aspects of political participation: socialization,
participation in general meetings, participation in elections,
and voting problems. The author finds that there are efforts
to increase public political participation in Bukit Batu
District, Palangka Raya City with the efforts of the KPU in
the form of socializing political knowledge to the community
more actively so that people use their voting rights in the
future period. Conclusion The process of implementing
political participation in the Bukit Batu District community
did not participate in the election due to the COVID-19
pandemic situation, personal activities, lack of political
understanding.
Downloads
Download data is not yet available.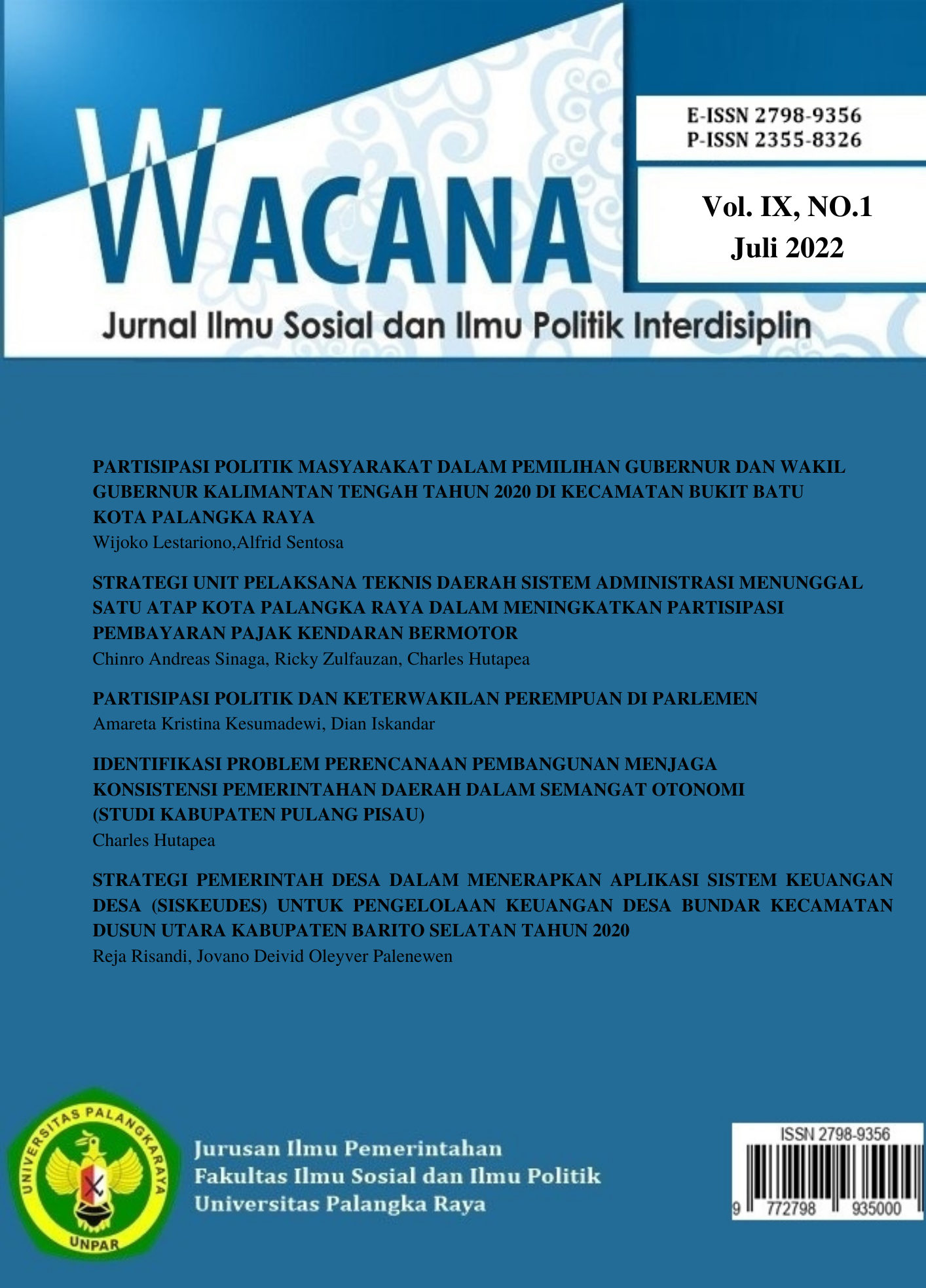 Downloads
How to Cite
Lestariono , W. ., & Sentosa, A. (2022). PARTISIPASI POLITIK MASYARAKAT DALAM PEMILIHAN GUBERNUR DAN WAKIL GUBERNUR KALIMANTAN TENGAH TAHUN 2020 DI KECAMATAN BUKIT BATU KOTA PALANGKA RAYA. Wacana: Jurnal Ilmu Sosial Dan Ilmu Politik Interdisiplin, 9(1), 359–367. Retrieved from https://e-journal.upr.ac.id/index.php/Jwcn/article/view/5081