PENGEMBANGAN LEMBAR KERJA PESERTA DIDIK BERBASIS KONTEKSTUAL PADA MATERI KEANEKARAGAMAN HAYATI KELAS X DI SMA NEGERI 5 PALANGKA RAYA
Abstract
Lembar Kerja Peserta Didik (LKPD) berbasis kontekstual dirancang dan disusun untuk membantu peserta didik agar mampu membuat hubungan antara pengetahuan yang dimilikinya dengan penerapannya dalam kehidupan sehari-hari sehingga materi pelajaran akan menjadi lebih berarti. Penelitian ini bertujuan untuk memberikan gambaran bentuk dan mengetahui kelayakan LKPD berbasis kontekstual pada materi keanekaragaman hayati kelas X di SMA Negeri 5 Palangka Raya. Penelitian ini menggunakan metode penelitian pengembangan atau Research and Development (R&D) dengan model pengembangan ADDIE yaitu Analysis, Design, Development, Implementation, dan Evaluation. Instrumen pengumpulan data dalam penelitian ini adalah angket validasi uji ahli materi, angket validasi uji ahli media, angket validasi uji bahasa, angket respons guru dan angket respons peserta didik. LKPD diujicobakan dalam dua tahap yaitu tahap skala kecil dan skala besar. Hasil penelitian pengembangan LKPD ini telah menghasilkan produk LKPD berbasis kontekstual berbentuk buku dengan struktur yang terdiri dari (1) bagian depan yaitu sampul; judul; lembar redaksi; kata pengantar; daftar isi; daftar gambar; daftar tabel; (2) bagian isi yaitu identitas peserta didik; kompetensi dasar; tujuan pembelajaran; alat dan bahan; cara kerja; tabel pengamatan; wacana; pertanyaan; kesimpulan; (3) bagian belakang yaitu daftar pustaka; profil penulis; dan lampiran. LKPD berbasis kontekstual juga telah memenuhi kriteria sangat layak untuk digunakan dalam pembelajaran di sekolah. Hal ini ditunjukkan dari hasil persentase perolehan nilai kelayakan LKPD oleh ahli materi yaitu sebesar 83,45%; ahli media yaitu sebesar 90%; ahli bahasa yaitu sebesar 83,08%; respons guru yaitu sebesar 91,25%; dan respons peserta didik yaitu sebesar 84,37%.
Downloads
Download data is not yet available.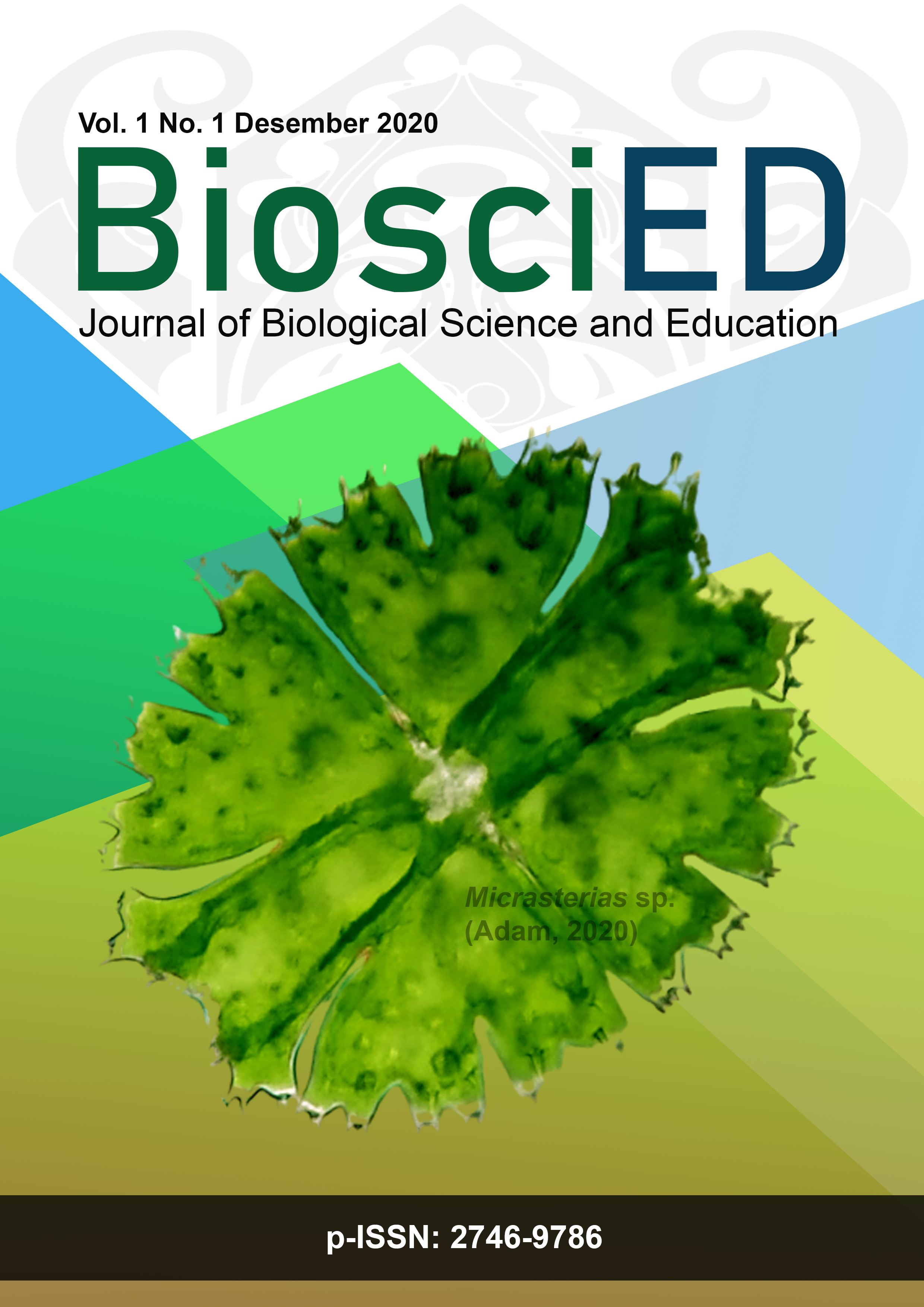 How to Cite
Otis, M. E., Miranda, Y., & Purnaningsih, T. (2020). PENGEMBANGAN LEMBAR KERJA PESERTA DIDIK BERBASIS KONTEKSTUAL PADA MATERI KEANEKARAGAMAN HAYATI KELAS X DI SMA NEGERI 5 PALANGKA RAYA. BiosciED: Journal of Biological Science and Education, 1(1), 25-30. https://doi.org/10.37304/bed.v1i1.2199
Section
Research Articles
Copyright (c) 2021 BiosciED : Journal of Biological Science and Education
This work is licensed under a Creative Commons Attribution 4.0 International License.