EVALUASI PROGRAM KELOMPOK USAHA BERSAMA (KUBE) DI KOTA PALANGKA RAYA
Keywords:
Kelompok Usaha Bersama, Evaluasi, UEP
Abstract
Penelitian ini dilakukan untuk mengevaluasi pencapaian program
KUBE di Kota Palangka Raya, mengetahui manfaat program KUBE,
metode penentuan responden dipilih secara representatif sehingga
responden penelitian ada 32 kelompok yang diwakili oleh ketua kelompok
KUBE. Penelitian ini merupakan penelitian kualitatif dan kuantitatif yang
diuraikan dalam bentuk kalimat sesuai dengan hasil pengamatan yang
terjadi dilapangan. KUBE di Kota Palangka Raya terdiri dari 4 kategori
yaitu gagal, tumbuh, berkembang dan maju. KUBE di Kota Palangka Raya
tidak ada yang mencapai kategori maju, KUBE yang ada di Kota Palangka
Raya masih pada tahap tumbuh, berkembang dan gagal, dari 32 kelompok
yang diteliti terdapat 10 kelompok kategori gagal, 10 kelompok kategori
tumbuh dan 12 kelompok kategori berkembang, dimana pencapaian
Program KUBE di Kota Palangka Raya yaitu 37,50% yang mencapai
tahap KUBE berkembang. KUBE di Kota Palangka Raya dikelompokkan
menjadi 5 jenis yaitu perikanan, peternakan, perkebunan, penyewaan tenda
dan berdagang. Program KUBE telah memberikan manfaat kepada
masyarakat maupun anggota KUBE baik dalam pengetahuan,
keterampilan, sosial maupun ekonomi. Setiap kelompok KUBE sudah
memiliki modal usaha, dimana modal usaha tersebut dikelola untuk
mengembangkan pengetahuan dan keterampilan yang dimiliki, dari segi
aspek ekonomi dapat dilihat dengan adanya peningkatan pendapatan
anggota walaupun belum banyak namun sudah membantu ekonomi
anggota, selain itu dari aspek sosial adanya program bantuan KUBE
menjadikan masyarakat menjalin rasa kekeluargaan yang erat dalam
mempertanggungjawabkan UEP agar berkelanjutan.
Kata kunci: Kelompok Usaha Bersama, Evaluasi, UEP

This research was conducted to evaluate the achievement of the
KUBE program in Palangka Raya City, to find out the benefits of the
KUBE program, the method of determining respondents to be selected in a
representative manner so that there were 32 groups of respondents
represented by the head of the KUBE group. This research is a qualitative
Melianti, H. Ahmad Zaki Yamani, Berkat EVALUASI PROGRAM KELOMPOK USAHA BERSAMA
(KUBE) DI KOTA PALANGKA RAYA
48
and quantitative study that is described in the form of a sentence in
accordance with the results of observations that occur in the field. KUBE
in Palangka Raya City consists of 4 categories, namely failure, growth,
development and progress. KUBE in Palangka Raya City did not reach the
advanced category, KUBE in Palangka Raya City was still at the stage of
growing, developing and failing, of the 32 groups studied there were 10
groups of failure categories, 10 groups of growing categories and 12
groups of developing categories, where The achievement of the KUBE
Program in Palangka Raya City is 37.50% who have reached the
developing KUBE stage. KUBE in Palangka Raya City is grouped into 5
types, namely fisheries, livestock, plantations, tent rental and trading. The
KUBE program has provided benefits to the community and KUBE
members in terms of knowledge, skills, social and economy. Each KUBE
group already has business capital, where the venture capital is managed to
develop the knowledge and skills possessed, from an economic aspect it
can be seen by an increase in member income although not much has
helped the member economy, apart from the social aspect of the KUBE
assistance program make the community build a strong sense of kinship in
holding the UEP accountable for sustainability.
Downloads
Download data is not yet available.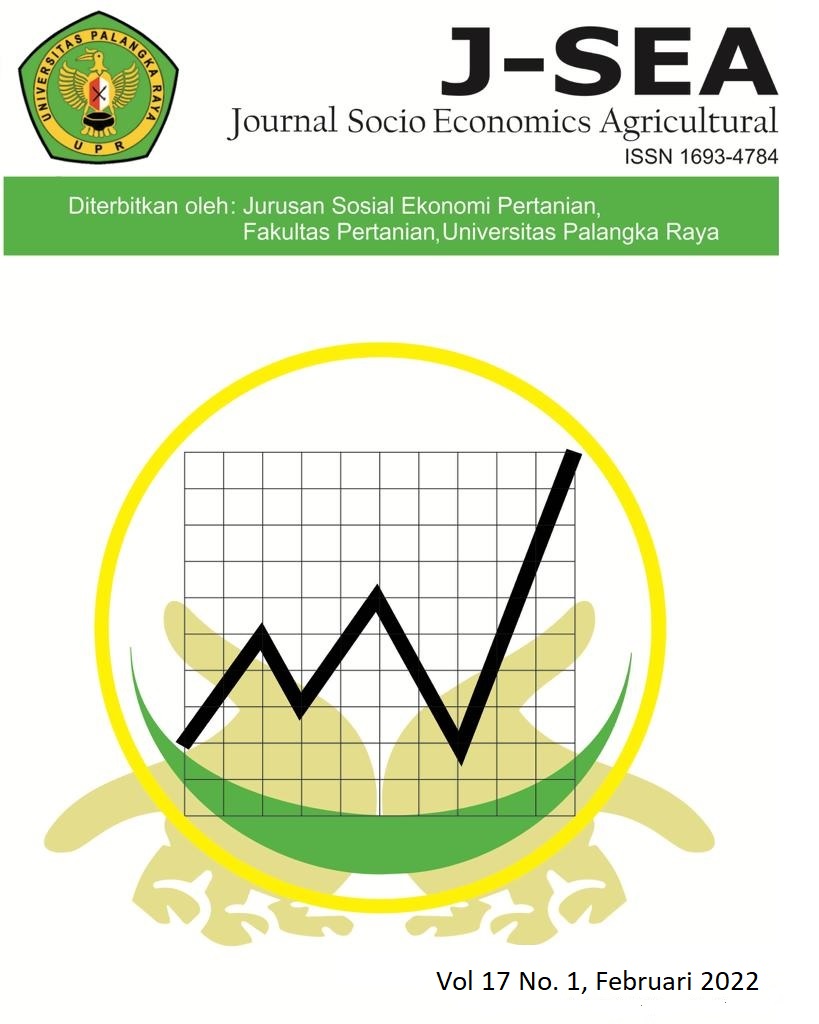 Downloads
License
Copyright (c) 2022 Meliati
This work is licensed under a Creative Commons Attribution-ShareAlike 4.0 International License.