DEVELOPMENT OF SCIENCE INTEGRATED LEARNING TOOLS FOR ELEMENTARY SCHOOL STUDENTS USED DICK AND CAREY MODELS
Pembelajaran terpadu, Modul, Media (Power Point), Panduan Siswa, Panduan Guru
Keywords:
Integrated Science Learning, Modules, Media (Power Point), Student Guide, Teacher Guide
Abstract
Abstract
The research aims to develop the integrated sciences learning device for sixth grade elementary school semester I, such as a module, PowerPoint media, Student Guide, and Teacher Guide. The research and development method used Dick and Carey model throughout nine of ten development stages. The instrument is questionnaires and achievement tests with an Alpha Cronbach reliability coefficient of 0.76.  The formative evaluation through validated by the expert judgment involved the content expert and instructional design expert. Meanwhile, one-to-one validation involved a student and teacher of the elementary school in Elementary Schools Group III in Seruyan Hilir Sub-district, Seruyan District, Central Kalimantan. The result of the content expert judgment, the instructional design expert, and one-to-one validations involved a student and teacher showed the high quality of the instructional device. The result of small group validation showed that the students achieve mastery learning of 100% with the minimal mastery learning criteria of 60 and an average post-test score of 82.33. The instructional device of Integrated Science for the sixth grade of Elementary School Semester I has worthy used in learning of the elementary school.
Downloads
Download data is not yet available.
References
Abdillah, A.F., Degeng, I. N.S., Husna, A. 2020. Pengembangan buku suplemen dengan teknologi 3D Augmented Reality sebagai Bahan Belajar Tematik untuk Siswa Kelas 4SD. JINOTEP (Jurnal Inovasi Teknologi Pembelajaran), 6(2), 111-118. DOI: 10.17977/um031v6i22020p111.
Ayurachmawati, P & Widodo, A. 2016. Analisis kemampuan inkuiri siswa di sekolah dasar. EduHumaniora: Jurnal Pendidikan Dasar, 8(2), 217-227.
Dahlan, M.D. 1990. Model-model Mengajar. Bandung: CV Diponegoro.
Degeng, I.N.S. 2001. Pengembangan modul pembelajaran. Kumpulan bahan pembelajaran menuju pribadi unggul melalui perbaikan kualitas pembelajaran di perguruan tinggi. Malang: LP3 Universitas Negeri Malang.
Degeng, I.N.S. & Degeng, P.D.D. 2013. Ilmu pembelajaran, klasifikasi variabel untuk pengembangan teori dan penelitian. Yogyakarta: Yayasan Taman Pustakan Kristen Indonesia.
Dewi, I.G.A.Y.M., Negara, I.G.A.O., & Suardika, I. W.R. 2015. Pengaruh Model Integrated Learning (Pembelajaran Terpadu) terhadap Hasil Belajar Bahasa Indonesia Siswa Kelas IV SD Gugus IX Darmasaba. E-Jurnal PGSD Universitas Pendidikan Ganesha, Jurusan PGSD, 3(1).
Dick, W. & Carey, L. 1990. The Systematic Desgin of Instruction. New York, N.Y.: Harper Collins Publishers
Dick, W., Carey, L., & Carey, J. 2015. The Systematic Design of Instruction. New Jersey, N.J: Pearson Education, Inc.
Ibrahim, M. 2014. Pembelajaran Sains di Sekolah Dasar berbasis Kurikulum 2013. Premiere Educandum, 4(1), 1-9.
Kemendiknas. 2007. Petunjuk Teknis Pengembangan Silabus. Jakarta: Ditjen Manajeman Dikdas. http://adipwahyudi.blogspot.com/2011/01/ perangkat-penelitian-pengembangan-borg-and.html/.
Mariana, I.M.A. 2001. Kecenderungan Pendidikan IPA. Bandung: PPPG IPA.
Nahak, K. E.N., Degeng, I.N.S., & Widiati, U. 2019. Pembelajaran Tematik di Sekolah Dasar. Jurnal Pendidikan: Teori, Penelitian, dan Pengembangan, 4(6), 785-794.
Parmin, Sajidan, Ashadi, Fibriana, F. 2017. Science Integrated Learning Mode to Enhance the Scientific Work Independence of Student Teacher in Indigenous Knowledge Transformation. Jurnal Pendidikan IPA Indonesia, 6(2), 365-372. DOI: 15294/jpii.v612.11276.
Riduan & Sunart. 2009. Pengantar Statistika. Bandung: Alpabeta.
Rostika, D. & Prihantini. 2019. Pemahaman guru tentang pendekatan saintifik dan implikasinya dalam penerapan pembelajaran di sekolah dasar. Jurnal Pendidikan Dasar, 11(1), 86-94.
Slavin, R.E 1991. Educatianal Psychology: Theory In to Practice (3rd ed.). New Jersey: Prentice Hall.
Wellington, J. 1989. Skill and Processes in Science Education. New York: Routledge.
Zanden & Pace, A. J. 1984. Educational Psychology, Learning, Psychology of: Classroom Management, Random House: New York.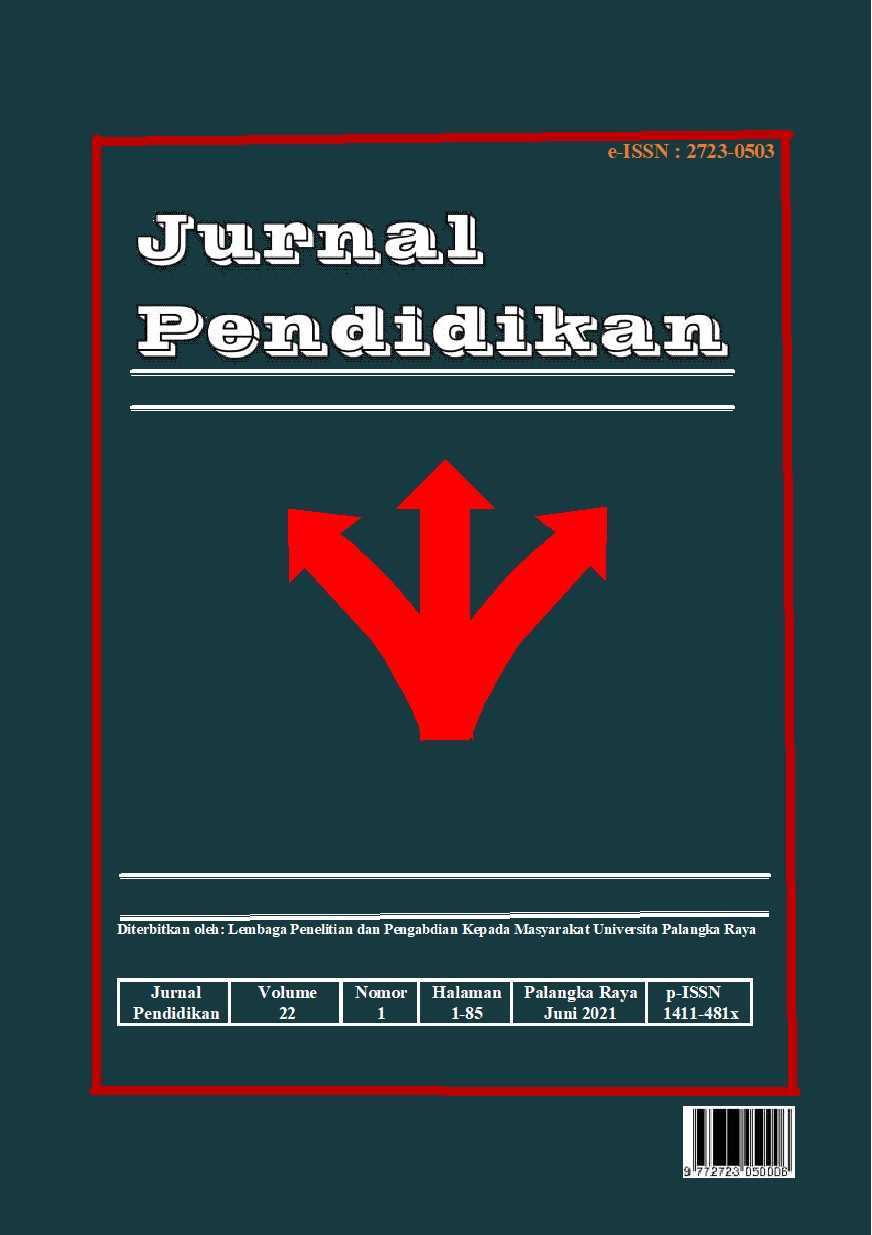 Downloads
How to Cite
Karyadi. (2021). DEVELOPMENT OF SCIENCE INTEGRATED LEARNING TOOLS FOR ELEMENTARY SCHOOL STUDENTS USED DICK AND CAREY MODELS: Pembelajaran terpadu, Modul, Media (Power Point), Panduan Siswa, Panduan Guru. Jurnal Pendidikan, 22(1), 44–62. https://doi.org/10.52850/jpn.v22i1.3320
License
Copyright (c) 2021 Karyadi
This work is licensed under a Creative Commons Attribution-NonCommercial-NoDerivatives 4.0 International License.