EFEKTIVITAS IMPLEMENTASI LESSON STUDY LEARNING COMMUNITY DALAM MENINGKATKAN KUALITAS PEMBELAJARAN
Abstract
Abstrak: Penelitian ini dilakukan guna mendeskripsikan persepsi dosen model dalam efektivitas menerapkan lesson study learning community (LSLC), serta proses monitoring dan evaluasi dalam pelaksanaan LSLC pada proses pembelajaran. Pendekatan yang digunakan dalam penelitian ini ialah pendekatan kualitatif. Informan ditentukan dengan teknik purposive dan snowball sampling. Proses pengumpulan data dilakukan dengan observasi, wawancara serta dokumentasi. Data penelitian yang terkumpul selanjutnya dianalisis menggunakan pola interaktif Miles, Huberman, dan Saldana, meliputi: pengumpulan data, kondensasi data, penyajian data, dan penarikan kesimpulan. Hasil penelitian menunjukkan bahwa implementasi LSLC sangat efektif dilakukan dalam meningkatkan kualitas pembelajaran. Hal ini dibuktikan dengan adanya kolaborasi antar dosen model dalam melaksanakan proses pembelajaran, perkembangan tingkat keprofesionalan dosen dalam melaksanakan pembelajaran mengalami peningkatan yang signifikan sehingga berdampak pada kualitas pembelajaran yang lebih optimal. Selain itu, proses monitoring dan evaluasi oleh tim pengembang LSLC pada tingkat fakultas juga menambah keefektifan LSLC dalam meningkatkan kualitas pembelajaran.
Abstract: This research was conducted to describe the perception of model lecturers in the effectiveness of implementing the lesson study learning community (LSLC), as well as the monitoring and evaluation processes in implementing the LSLC in the learning process. This research using a qualitative approach. Informants were determined by purposive technique and snowball sampling. The data collection process was carried out by observation, interviews and documentation. The collected research data were then analyzed using the interactive patterns of Miles, Huberman, and Saldana, including: data collection, data condensation, data presentation, and drawing conclusions. The results showed that the implementation of LSLC was very effective in improving the quality of learning. This is evidenced by the collaboration between model lecturers in carrying out the learning process, the development of the professional level of the lecturers in implementing learning has increased significantly so that it has an impact on the quality of learning that is more optimal. In addition, the process of monitoring and evaluation by the LSLC development team at the faculty level also adds to the effectiveness of LSLC in improving the quality of learning.
References:
Chong, W. H., & Kong, C. A. (2012). Teacher Collaborative Learning and Teacher Self- Efficacy: The Case of Lesson Study. Journal of Experimental Education, 8(3), 263– 283.
Hendayana, S. (2007). Lesson Study Suatu Strategi untuk Meningkatkan keprofesionalan Pendidik, Bandung: FPMIPA UPI dan JICA.
Muntaqo & Masruroh. (2016). Lesson Study dalam Peningkatan Kualitas Pembelajaran di Madrasah Ibtidaiyah Ma'arif Kejiwan Wonosobo. Belajar: Jurnal Pendidikan Islam, 1(2), 125-144.
Shahren, A., & Khalid, M. (2001). Mathematics Teachers' Perception of Lesson Study as a Continuous Professional Development Programme. Journal of Science and Mathematics Education in Southeast Asia 2011, 34(1), Page 67 – 89.
Tadanugi. (2015). Efektivitas Lesson Study dalam Pembelajaran Matematika. Jurnal KIP, 4(2), 887-894.
Turmudi. (2009). Landasan Filsafat dan Teori Pembelajaran Matematika: Berparadigma Eksploratif dan Investigatif. Jakarta Leuser Cita Pustaka.
Widiyanto. (2018). Revitalisasi Komunitas Pembelajaran dengan Lesson Study dalam Meningkatkan Kualitas Pembelajaran. Inopendas Jurnal Ilmiah Kependidikan, 1(1), 16-28.
Downloads
Download data is not yet available.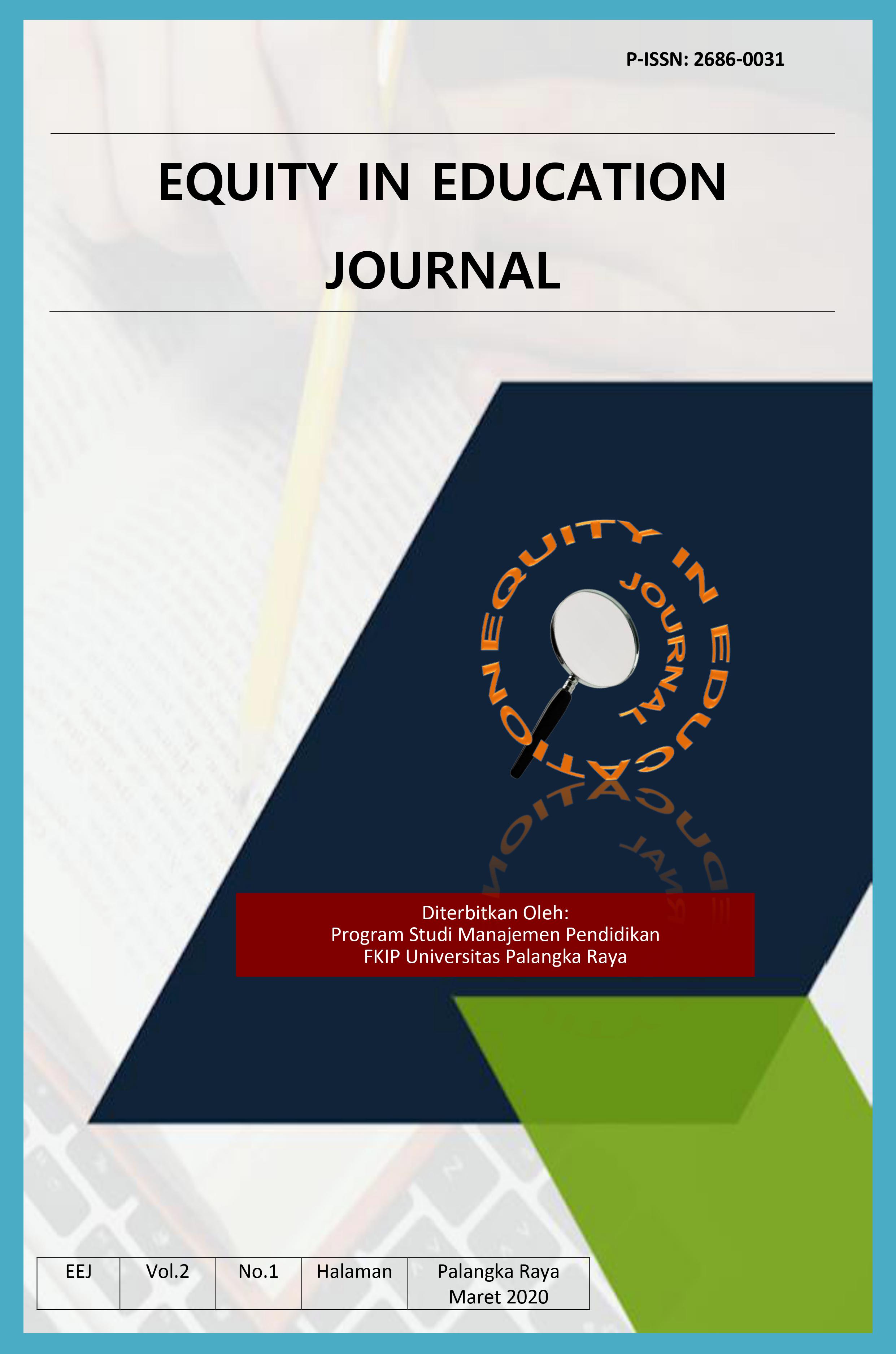 Downloads
How to Cite
Wahyuni, R. (2020). EFEKTIVITAS IMPLEMENTASI LESSON STUDY LEARNING COMMUNITY DALAM MENINGKATKAN KUALITAS PEMBELAJARAN. Equity In Education Journal, 2(1), 11–18. https://doi.org/10.37304/eej.v2i1.1681
License