PEMBINAAN ETOS KERJA GURU DI SMAS GOLDEN CHRISTIAN SCHOOL PALANGKA RAYA
Keywords:
Pembinaan, Etos Kerja.
Abstract
Abstrak: Penelitian ini bertujuan untuk mendeskripsikan pembinaan etos kerja guru di Sekolah Menengah Atas Swasta (SMAS) Golden Christian School (GCS) Palangka Raya. Penelitian ini menggunakan pendekatan kualitatif dengan rancangan studi kasus. Pengumpulan data menggunakan teknik observasi, wawancara, dan studi dokumentasi. Analisis data menggunakan pola interaktif data meliputi: reduksi data, penyajian data, dan penarikan kesimpulan. Pengecekan keabsahan data dilakukan dengan menggunakan derajat kepercayaan melalui teknik triangulasi baik sumber maupun metode. Hasil penelitian mengungkap bahwa dengan pembinaan etos kerja guru oleh kepala sekolah yang dilaksanakan dengan menerapkan berbagai strategi pembinaan melalui berbagai kegiatan pengembangan profesional guru dan dilaksanakan melalui mekanisme dan pentahapan yang jelas; serta ditunjang dengan berbagai faktor pendukung yang tersedia di sekolah dapat meminimalisir berbagai kendala yang dihadapi sekolah dalam membina etos kerja guru, sekaligus mampu menjadikan SMAS GCS sebagai salah satu sekolah swasta pilihan terbaik bagi masyarakat di Kota Palangka Raya.
Abstract: This study aims to describe the coaching of the work ethic of teachers in the Golden Christian School (GCS) Private High School Palangka Raya. This study used a qualitative approach with case study design. Data collection using observation, interview and study of document. Data analysis using interactive data patterns include: data reduction, data display, and drawing conclusions. Checking the validity of the data obtained is done by using a degree of trust through triangulation techniques both sources and methods. The results of the study reveal that with the guidance of the teacher's work ethic by the principal which is carried out by implementing various coaching strategies through various teacher professional development activities and carried out through clear mechanisms and phases; and also supported by various supporting factors that available in schools can minimize the various obstacles faced by schools in fostering teacher work ethics, as well as being able to make GCS Private High School as one of the best choice private schools for the community in Palangka Raya City.
References:
Ali, M. (2009). Pendidikan untuk Pembangunan Nasional: Menuju Bangsa Indonesia yang Mandiri dan Berdaya Saing Tinggi. Bandung: Imperial Bhakti Utama.
Anaroga, P. (2001). Psikologi Kerja. Jakarta: Rineke Cipta.
Arifin, I. (2001, 25-26 Juli). Profesionalisme Guru: Analisis Wacana Reformasi Pendidikan dalam Era Globalisasi. Makalah disampaikan dalam Simposium Nasional Pendidikan di Universitas Muhammadiyah Malang.
Asriani., Murniati, A. R., & Bahrun. (2017). Kepemimpinan Kepala Madrasah dalam Memotivasi Kerja Guru pada MTS Swasta LAM Ujong Kabupaten Aceh Besar. Jurnal Magister Administrasi Pendidikan, 5(2), 121-126. Diterima dari http://www.jurnal.unsyiah.ac.id/JAP/article/view/8361/7333.
Beason, L. (2001). Ethos and Error: How Business People React to Errors. Accessed 19 December 2019, retrieved from http://faculty.winthrop.edu/ kosterj/writ465/samples/beason.pdf.
Chan, M. C., & San, T. T. (2010). Analisis SWOT Kebijakan Pendidikan dan Era Otonomi Daerah. Jakarta: RajaGrafindo Persada.
Fatikah, N., & Fildayanti. (2019). Strategi Kepala Sekolah Dalam Peningkatan Motivasi Dan Etos Kerja Guru Di Sekolah Menengah Atas Negeri Bareng Jombang. Indonesian Journal of Islamic Education Studies (IJIES), 2(2), 167-182. doi: https://doi.org/10.33367/ijies.v2i2.989.
Goldhammer, R., Anderson, R. H., Krawjewski, R. J. (1980). Clinical Supervision: Special Methods for The Supervision of Teachers. New York: Holt, Rinehart, and Winston.
Indrakusuma, A. (2010). Pengantar Ilmu Pendidikan. Surabaya: Usaha Nasional.
Latief, E. 2010. Hubungan antara Amanah, Etos Kerja dan Profesionalisme pada Rumah Zakat Indonesia. Tesis tidak dipublikasikan, Universitas Indonesia: Program Pascasarjana. Diterima dari http://lib.ui.ac.id/file?file=pdf/abstrak/id_abstrak-20342190.pdf.
Manik, R. (2019). Implementasi Pemberian Reward dan Punishment Untuk Meningkatkan Etos Kerja Guru. Jurnal Masalah Pastoral, 7(XX), 80-95. Diterima dari https://ojs.stkyakobus.ac.id/index.php/JUMPA/.
Masaong, A. K. (2013). Memberdayakan Pengawas sebagai Gurunya Guru. Bandung: Penerbit Alfabeta.
Miles, M. B., & Huberman, A. M. (1994). Analisis Data Kualitatif. Buku Sumber tentang Metode-metode Baru. Jakarta: Universitas Indonesia Press.
Mulyani, S. (2016). Pengaruh Kepemimpinan Kepala Sekolah dan Etos Kerja Guru serta Pegawai terhadap Iklim Organisasi pada SMP Negeri 225 Jakarta. Journal of Economics and Business Aseanomics (JEBA), 1(1), 38-56. doi: https://doi.org/10.33476/jeba.v1i1.398.
Mustofa. (2007). Upaya Pengembangan Profesional Guru di Indonesia. Jurnal Ekonomi dan Pendidikan, 4(1), 76-88. doi: https://doi.org/10.21831/jep.v4i1.
Neagley, R. L., & Evans, N. D. (1980). Handbook for Effective Supervision of Instruction. New Jersey: Prentice Hall, Inc.
Nopemberi, A. D. (2015). Fungsi Kepala Sekolah dalam Meningkatkan Kinerja Guru. Manajer Pendidikan, 9(3), 394-403. Diterima dari https://ejournal.unib.ac.id/index.php/manajerpendidikan/article/view/1136/944.
Norris, P. (2003). Still a Public Service Ethos? Work Values, Experience and Job Satisfaction among Government Workers. Accessed 19 December 2019, retrieved from https://wcfia.harvard.edu/publications/still-public-service-ethos-work-values-experience-and-job-satisfaction-among.
Nugroho, P. J. (2017). Home Visiting Supervision (HVS): An Alternative Approach to Increase the Commitment of Elementary Teachers in Remote Areas. International Research- Based Education Journal, 1(1), 39-45. doi: http://dx.doi.org/10.17977/ um043v1i1p%25p.
Nuraini, S. K. (2012). Pengaruh Reward and Punishment terhadap Kinerja Karyawan PT. Perkebunan Nusantara V Afdeling III Kebun Sei Galuh. Skripsi tidak dipublikasikan, Jakarta: Program Pascasarjana Universitas Indonesia. Diterima dari http://repository.uin-suska.ac.id/7997/1/2012_201244KOM.pdf.
Octaviana, M., & Silalahi, D. K. (2016). Kepemimpinan Transformasional Kepala Sekolah. Polyglot, 12(1), 1-9. doi: http://dx.doi.org/10.19166/pji.v12i1.376.
Pidarta, M. (2009) Supervisi Pendidikan Kontekstual. Jakarta: Rineka Cipta.
Pongoh, S. (2013). Etos Kerja Guru: Faktor yang Mempengaruhi dan Dipengaruhi. Surabaya: CV. R. A. De Rozarie.
Prasasti, S. (2017). Etos Kerja dan Profesional Guru. Jurnal Ilmiah PENJAS (Penelitian, Pendidikan dan Pengajaran, 3(2), 74-89. Diterima dari http://ejournal.utp.ac.id/index.php/JIP/ article/view/589.
Purwanto, N. (2004). Administrasi dan Supervisi Pendidikan. Bandung: Remadja Rosdakarya.
Rifai, M. (1982). Pengantar Administrasi dan Supervisi Pendidikan. Bandung: Baru.
Rivai, V. (2006). Kepemimpinan dan Perilaku Organisasi. Jakarta: Radja Grafindo Persada. Robbins, S. P. (1999). Organizational Behavior. New Delhi: Prentice-Hall.
Rose, A. (2005). Ethics and Human Resources Management.Accessed 19 December 2019, retrieved from https://dphu.org/uploads/attachements/books/books_4824_0.pdf.
Sagita, D. D. (2018, 24 Maret). Implementasi Layanan ICS-GD dalam Meningkatan Pemahaman dan Sikap Siswa tentang Nilai-Nilai Kehidupan Islam di SMA Muhammadiyah DKI Jakarta. Makalah disajikan pada Seminar Nasional PendidikanEra Revolusi "Membangun Sinergitas dalam Penguatan Pendidikan Karakter pada Era IR 4.0", Universitas Muhammadiyah Jakarta, Indonesia. Diterima dari https://jurnal.umj.ac.id/index.php/ SNP/article/view/2752/2209.
Saifulloh. (2010). Etos Kerja dalam Perspektif Islam. Jurnal Sosial Humaniora, 3(1), 54-69. doi: http://dx.doi.org/10.12962/j24433527.v3i1.654.
Sarjana, S. (2014). Pengaruh Kepemimpinan dan Kerjasama Tim terhadap Etika Kerja Guru SMK. Jurnal Pendidikan dan Kebudayaan, 20(2), 234-250. doi: https://doi.org/10.24832/jpnk.v20i2.14.
Schermerhorn, J. R. (2010). Introduction to Management. Asia: John Wiley & Sons.
Sergiovanni, T. J., & Starratt, R. J. (1983). Supervision: Human Perspective. New York: McGraw-Hill Book, Co.
Sinamo, J. (2002). Etos Kerja Profesional di Era Digital Global. Jakarta: Institut Darma Mahardika.
Sunardi, S., Nugroho, P. J., & Setiawan, S. (2019). Kepemimpinan Instruksional Kepala Sekolah. Equity in Education Journal, 1(1), 20-28. Retrieved from https://e-journal.upr.ac.id/index.php/eej/article/view/1548.
Sunarto. (2019). Pentingnya Etos Kerja bagi Pengembangan Profesional Guru. Diakses tanggal 15 Desember 2019, dari http://formenews.id/2019/02/10/pentingnya-etos-kerja-bagi-pengembangan-profesional-guru/.
Syamsul, H. (2017). Penerapan Kepemimpinan Kepala Sekolah dalam Meningkatkan Kinerja Guru pada Jenjang Sekolah Menengah Pertama (SMP). Jurnal Idaarah, 1(2), 275-289. doi: https://doi.org/10.24252/idaarah.v1i2.4271.
Tjiptono, F., & Diana, A. 2002. Total Quality Management. Yogyakarta: Andi Offset.
Wibowo. (2009). Manajemen Kinerja. Jakarta. Rajawali Press.
Yamin, M. (2010). Standarisasi kinerja guru. Jakarta: Gaung Persada.
Downloads
Download data is not yet available.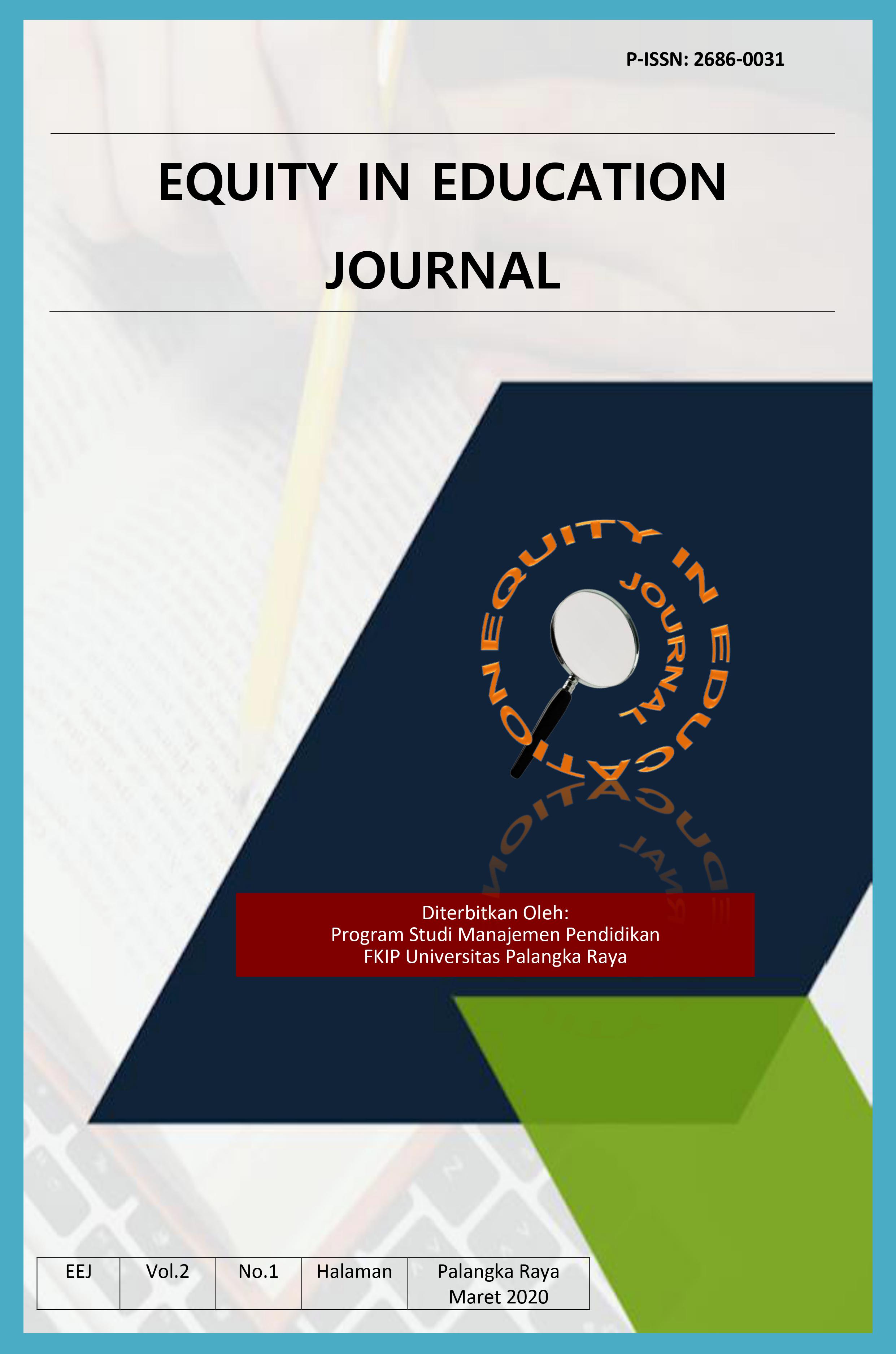 How to Cite
PEMBINAAN ETOS KERJA GURU DI SMAS GOLDEN CHRISTIAN SCHOOL PALANGKA RAYA. (2020). Equity In Education Journal, 2(1), 29-38. Retrieved from https://e-journal.upr.ac.id/index.php/eej/article/view/1683