PENGELOLAAN KANTIN SEHAT DI SDN 6 BUKIT TUNGGAL PALANGKA RAYA
Keywords:
Pengelolaan, Kantin Sehat.
Abstract
Abstrak: Penelitian ini bertujuan untuk mendeskripsikan pengelolaan kantin sehat di SDN 6 Bukit Tunggal Palangka Raya. Penelitian ini menggunakan pendekatan kualitatif dengan rancangan studi kasus. Sumber data penelitian terdiri dari kepala sekolah, guru dan para pedagang kantin sekolah. Pengumpulan data dilakukan dengan teknik observasi, wawancara, dan studi dokumentasi. Teknik analisis data dilakukan dengan tahapan: reduksi data, penyajian data dan verifikasi atau penarikan kesimpulan. Hasil penelitian menunjukkan bahwa: (1) proses perencanaan kantin sehat dilakukan dengan tahapan mulai dari identifikasi kebutuhan layanan kantin sehat hingga penetapan jadwal kegiatan kantin sehat; (2) pengorganisasian kantin sehat dilakukan dengan menetapkan struktur organisasi kantin beserta tugas serta tanggungjawab pengelola kantin; (3) pelaksanaan kantin sehat dikelola sekolah bersama penjaga kantin; dan (4) pengawasan kantin sehat dilakukan secara internal oleh pihak sekolah dan eksternal dengan melibatkan stakeholders seperti: Badan POM, Puskesmas Kayon, dan Dinas Lingkungan Hidup.
Abstract: This study aims to describe the management of a healthy canteen at SDN 6 Bukit Tunggal Palangka Raya. This study used a qualitative approach with case study design. Sources of research data consisted of school principals, teachers and school canteen traders. The data was collected by means of observation, interview and documentation study. The data analysis technique was carried out in stages: data reduction, data presentation and verification or drawing conclusions. The results showed that: (1) the planning process for a healthy canteen was carried out with stages starting from identifying the need for healthy canteen services to establishing a schedule for healthy canteen activities; (2) the organization of a healthy canteen is carried out by determining the organizational structure of the canteen and the duties and responsibilities of the canteen manager; (3) implementation of a healthy canteen managed by the school together with the canteen guard; and (4) supervision of the healthy canteen is carried out internally by the school and externally by involving stakeholders such as: the POM, Kayon Puskesmas, and the Environmental Agency.
References:
Adriani, M., & Wirjatmadi, B. (2013). Pengantar Gizi Masyarakat. Jakarta: Kencana Prenada Media Group.
Daryanto., & Farid, M. (2013). Konsep Dasar Manajemen Pendidikan di Sekolah. Yogyakarta: Gava Media
Februhartanty, J., Iswarawanti, D. N., Ermayani, E., Meiyetriani, E., Laras, I. P., & Astuti, R. D. (2018). Pengembangan Kantin Sehat Sekolah. Jakarta: Southeast Asian Ministers of Education Organization Regional Centre for Food and Nutrition SEAMEO RECFON.
Hanum, S. M. F., & Latifah, F. N. (2019). PKM Kantin Sehat SMP di Kecamatan Porong Kabupaten Sidoarjo Jawa Timur. Jurnal ABDINUS: Jurnal Pengabdian Nusantara, 2(2), 159-168. doi: https://doi.org/10.29407/ja.v2i2.12407.
Mavidayanti, H., & Mardiana. (2016). Kebijakan Sekolah dalam Pemilihan Makanan Jajanan pada Anak Sekolah Dasar. Unnes Journal of Health Education, 1(1), 71-77.
Miles, M. B., & Huberman, A. M. (1994). Analisis Data Kualitatif Buku Sumber tentang Metode-Metode Baru. Jakarta: UI Press.
Novariska, T. (2004). Prinsip Dasar Ilmu Gizi. Jakarta: PT Gramedia Pustaka Umum.
Sagala, S. (2012). Administrasi Pendidikan Kontemporer. Bandung: Alfabeta.
Soemanto, W. (1990). Psikologi Pendidikan Landasan Kerja Pemimpin Pendidikan. Jakarta: PT Rineka Cipta.
Yusuf, L., Yulastri, A., Kasmita., & Faridah, A. (2008). Teknik Perencanaan Gizi Makanan: untuk Sekolah Menengah Kejuruan. Jakarta: Direktorat Pembinaan Sekolah Menengah Kejuruan, Direktorat Jenderal Pendidikan Dasar dan Menengah.
Downloads
Download data is not yet available.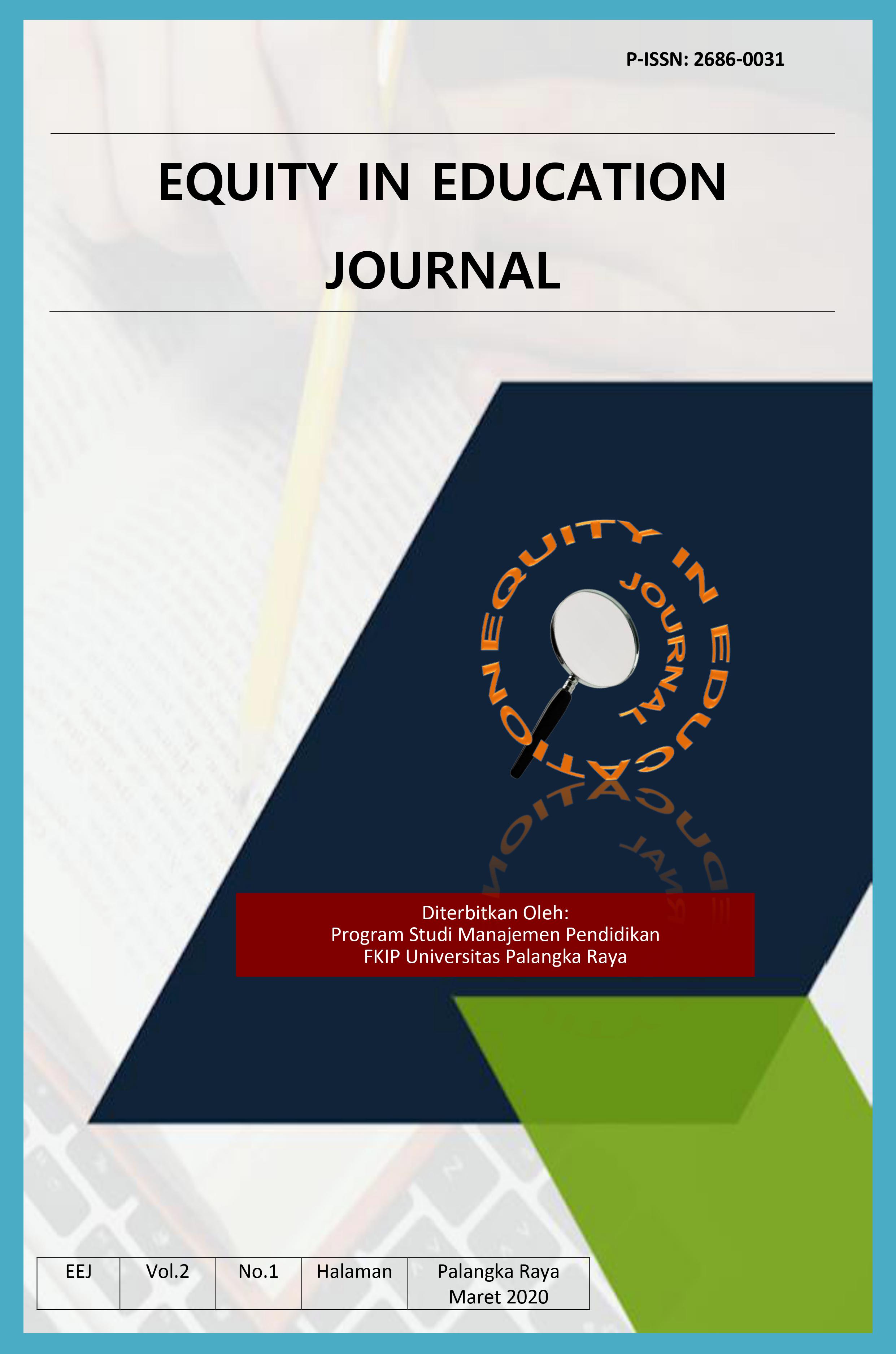 Downloads
How to Cite
Limin, D. L. ., Supriono, J. S., & Berliani, T. (2020). PENGELOLAAN KANTIN SEHAT DI SDN 6 BUKIT TUNGGAL PALANGKA RAYA. Equity In Education Journal, 2(1), 62–67. https://doi.org/10.37304/eej.v2i1.1688
License