Studi Kasus Pasangan Hubungan Jarak Jauh Dalam Membangun Ketertarikan Interpersonal Pada Dasar Afektif
Kata Kunci:
hubungan jarak jauh; ketertarikan interpersonal
Abstrak
Long distance relationship merupakan hubungan terjadi pada pasangan ketika satu dari mereka harus pindah untuk belajar atau bekerja mengakibatkan hubungan mereka beradaptasi dengan perubahan yaitu hubungan jarak jauh. Hubungan jarak jauh memiliki rasa saling menjaga perasaan pasangan sehingga mereka menghabiskan waktu dengan berkomunikasi. Permasalahan komunikasi kadang terjadi yang dapat menimbulkan pengaruh pada emosi baik itu positif maupun negatif pasangan mereka. Penelitian ini mengkaji bagaimana pasangan hubungan jarak jauh membangun ketertarikan interpersonalnya pada dasar afektif. Subjek penelitian ada 2 pasangan dengan total 4 responden untuk mengetahui upaya mereka dalam membangun ketertarikan satu sama lain. Penelitian menggunakan metode wawancara dengan tujuan penelitian untuk mengetahui upaya mereka dalam mempertahankan hubungan jarak jauh dengan membangun ketertarikan interpersonal mereka pada dasar afektif yaitu emosi positif dan negatif yang timbul dari masalah.
Unduhan
Data unduhan belum tersedia.
Referensi
Amelia, F. R. (2020). Long-Distance Romantic Relationships among International Students: "My First Qualitative Research." Studies in Philosophy of Science and Education (SiPoSE), 1(1), 74–86. http://scie-journal.com/index.php/SiPoSE
Brosch, T. (2021). Affect and emotions as drivers of climate change perception and action: a review. Current Opinion in Behavioral Sciences, 42, 15–21. https://doi.org/10.1016/J.COBEHA.2021.02.001
DeJong, H., Fox, E., & Stein, A. (2019). Does rumination mediate the relationship between attentional control and symptoms of depression? Journal of Behavior Therapy and Experimental Psychiatry, 63, 28–35. https://doi.org/10.1016/J.JBTEP.2018.12.007
Gantner, A., Horn, K., & Kerschbamer, R. (2019). The role of communication in fair division with subjective claims. Journal of Economic Behavior & Organization, 167, 72–89. https://doi.org/10.1016/J.JEBO.2019.09.015
Kim, C., & Feng, B. (2021). Digital inequality in online reciprocity between generations: A preliminary exploration of ability to use communication technology as a mediator. Technology in Society, 66, 101609. https://doi.org/10.1016/J.TECHSOC.2021.101609
Lin, R., & Utz, S. (2017). Self-disclosure on SNS: Do disclosure intimacy and narrativity influence interpersonal closeness and social attraction? Computers in Human Behavior, 70, 426–436. https://doi.org/10.1016/J.CHB.2017.01.012
Michael, J., Chennells, M., Nolte, T., Ooi, J., Griem, J., Christensen, W., Feigenbaum, J., King-Casas, B., Fonagy, P., & Montague, P. R. (2021). Probing commitment in individuals with borderline personality disorder. Journal of Psychiatric Research, 137, 335–341. https://doi.org/10.1016/J.JPSYCHIRES.2021.02.062
Phillips, B. E., Theeke, L. A., & Sarosi, K. M. (2021). Relationship between negative emotions and perceived support among parents of hospitalized, critically ill children. International Journal of Nursing Sciences, 8(1), 15–21. https://doi.org/10.1016/J.IJNSS.2020.10.001
Pollmann, M. M. H., Norman, T. J., & Crockett, E. E. (2021). A daily-diary study on the effects of face-to-face communication, texting, and their interplay on understanding and relationship satisfaction. Computers in Human Behavior Reports, 3, 100088. https://doi.org/10.1016/J.CHBR.2021.100088
Sugiyono. (2018). Metode Penelitian Kuantitatif,Kualitatif dan R&D. In ke-26.
Wahyudi, D. (2011). Pembelajaran Ips Berbasis Kecerdasan Intrapersonal Interpersonal Dan Eksistensial. Edisi Khusus.
Zimmer-Gembeck, M., … H. W.-I., & 2017, undefined. (2017). Is parent–child attachment a correlate of children's emotion regulation and coping? Journals.Sagepub.Com, 41(1), 74–93. https://doi.org/10.1177/0165025415618276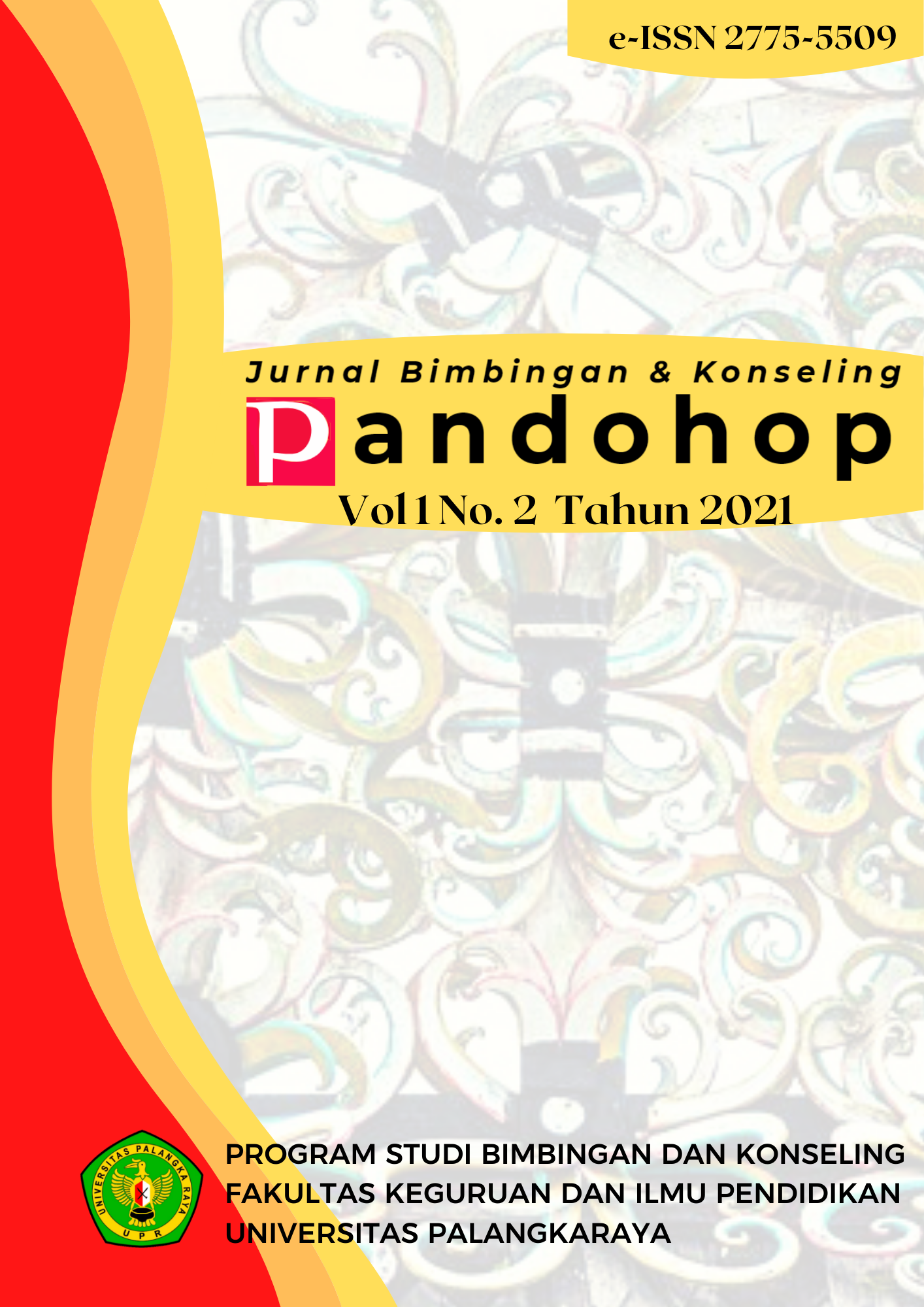 Unduhan
Diterbitkan
17-10-2021 — Diperbaharui pada 20-10-2021
Cara Mengutip
Chiisai, A. P., & Mumpuni, S. D. (2021). Studi Kasus Pasangan Hubungan Jarak Jauh Dalam Membangun Ketertarikan Interpersonal Pada Dasar Afektif. Jurnal Bimbingan Dan Konseling Pandohop, 1(2), 10–22. https://doi.org/10.37304/pandohop.v1i2.3436 (Original work published 17 Oktober 2021)
Lisensi
Hak Cipta (c) 2021 ayu putri, Sesya Dias Mumpuni
Artikel ini berlisensi Creative Commons Attribution 4.0 International License.