MANAJEMEN PEMBELAJARAN BERBASIS PROYEK (PROJECT BASED LEARNING) PADA PROGRAM KETERAMPILAN
Keywords:
Manajemen, Pembelajaran Berbasis Proyek, Program Keterampilan, SLBN 1 Palangka Raya.
Abstract
The purpose of writing this article is to examine Project Based Learning Management in the Skills Program at SLBN 1 Palangka Raya. This research method uses a qualitative approach, primary and secondary data sources, data collection techniques namely interviews, observation and document study. Data analysis used interactive data analysis, including: data reduction, data presentation and drawing conclusions. The results of the study show that Project Based Learning is very good and effective in the Skills Program, proven in its implementation to be able to foster student motivation and creativity both individually and in groups in completing all assigned tasks so that the products produced are of very good quality and variety awards that have been obtained in competitions related to the skills program.
Downloads
Download data is not yet available.
References
Aedi, N. (2016). Manajemen Pendidik & Tenaga Pendidikan. Yogyakarta: Gosyen Publishing.
Al-Tabany, T. I. B., & Trianto, T. T. T. (2004). Mendesain Model Pembelajaran Inovatif, Progresif dan Kontekstual: Konsep, Landasan, dan Implementasinya pada kurikulum 2013 (kurikulum tematik Integratif). Jakarta: Kencana.
Amirullah, H. (2003). Alat Evaluasi Keterampilan: Jurnal Nasional Pendidikan Jasmani dan Ilmu Keolahragaan. Jakarta: Depdiknas.
Arikunto, S., & Jabar, C. S. A. (2013). Evaluasi Program Pendidikan. Jakarta: Bumi Aksara.
Fauzi, (2010). Organisasi Pembelajaran. Bandung: Alumni.
Firmansyah A., & Mahardika B. W. (2018). Pengantar Manajemen. Yogyakarta: DEEPUBLISH.
Koontz, H. (1984). Manajemen. Jakarta: Penerbit Erlangga.
Maharani, L. (2019). Pengaruh Faktor-Faktor Kompetensi Terhadap Kinerja Karyawan Jasa Konsultansi Konstruksi di Pekanbaru. Jurnal Niara, 11(2), 125-134.
Mahendra, I. W. E. (2017). Project Based Learning Bermuatan Etnomatematika Dalam Pembelajar Matematika. JPI (Jurnal Pendidikan Indonesia), 6(1). doi: https://doi.org/10.23887/jpi-undiksha.v6i1.9257
Maulana, D. (2014). Model-Model Pembelajaran Inovatif. Lampung: Lembaga Penjaminan Mutu Pendidikan Provinsi Lampung.
Miles, M. B., Huberman, A. M., & Saldana, J. (2014). Qualitative Data Analysis: A Methods Sourcebook. London: Sage.
Moleong, L. J. (2002). Metodologi Penelitian Kualitatif. Bandung: PT. Remaja Rosdakarya.
Mulyasa, E. (2007). Standar Kompetensi dan Sertifikasi Guru. Bandung: PT. Remaja Rosdakarya
Permedikbud Nomor 22 Tahun 2016 tentang Standar Proses Pendidikan Dasar dan Menengah.
Prihatin, E., Aprilia, I. D., & Permana, J. (2018). Model Manajemen Pendidikan Life Skill pada Anak Berkebutuhan Khusus. Jurnal Penelitian Pendidikan, 18(3), 306-317. doi: https://doi.org/10.17509/jpp.v18i3.15002
Setiawan, Suriansyah, & Sundari. (2021). Manajemen Program Keterampilan (Vokasi) Bagi Anak Berkebutuhan Khusus (ABK) Di SLBN-1 Palangka Raya. Equity in Education Journal, 3(1), 22–29. doi: https://doi.org/10.37304/eej.v3i1.2477
Sudira, P. (2012). Filosofi & Teori Pendidikan Vokasi dan Kejuruan. Yogyakarta: UNY PRESS.
Sudirman, D. (2009). Dasar-Dasar Manajemen. Bandung: Armico.
Sumarnie, Setiawan, & Riko. (2021). Pelaksanaan Penguatan Pendidikan Karakter (Ppk) Di Masa Pandemi Covid 19 Pada Smkn-1 Palangka Raya. Equity in Education Journal, 3(2), 89–95. doi: https://doi.org/10.37304/eej.v3i2.2743
Susanto, A. (2013). Teori Belajar dan Pembelajaran di Sekolah Dasar. Jakarta: Prenadamedia Group.
Terry, G. R. (1977). Principles of Management. Homewood, Illinois: Richard D. Irwin, Inc.
Widiastuti, S., & Mukhtiani, N. R. (2010). Peningkatan Motivasi dan Keterampilan Menggiring Bola Dalam Pembelajaran Sepakbola Mellaui Kucing Tikus Pada Siswa kelas 4 SD Glagahombo 2 Yogyakarta: Jurnal Pendidikan Jasmani Indonesia, 7(1).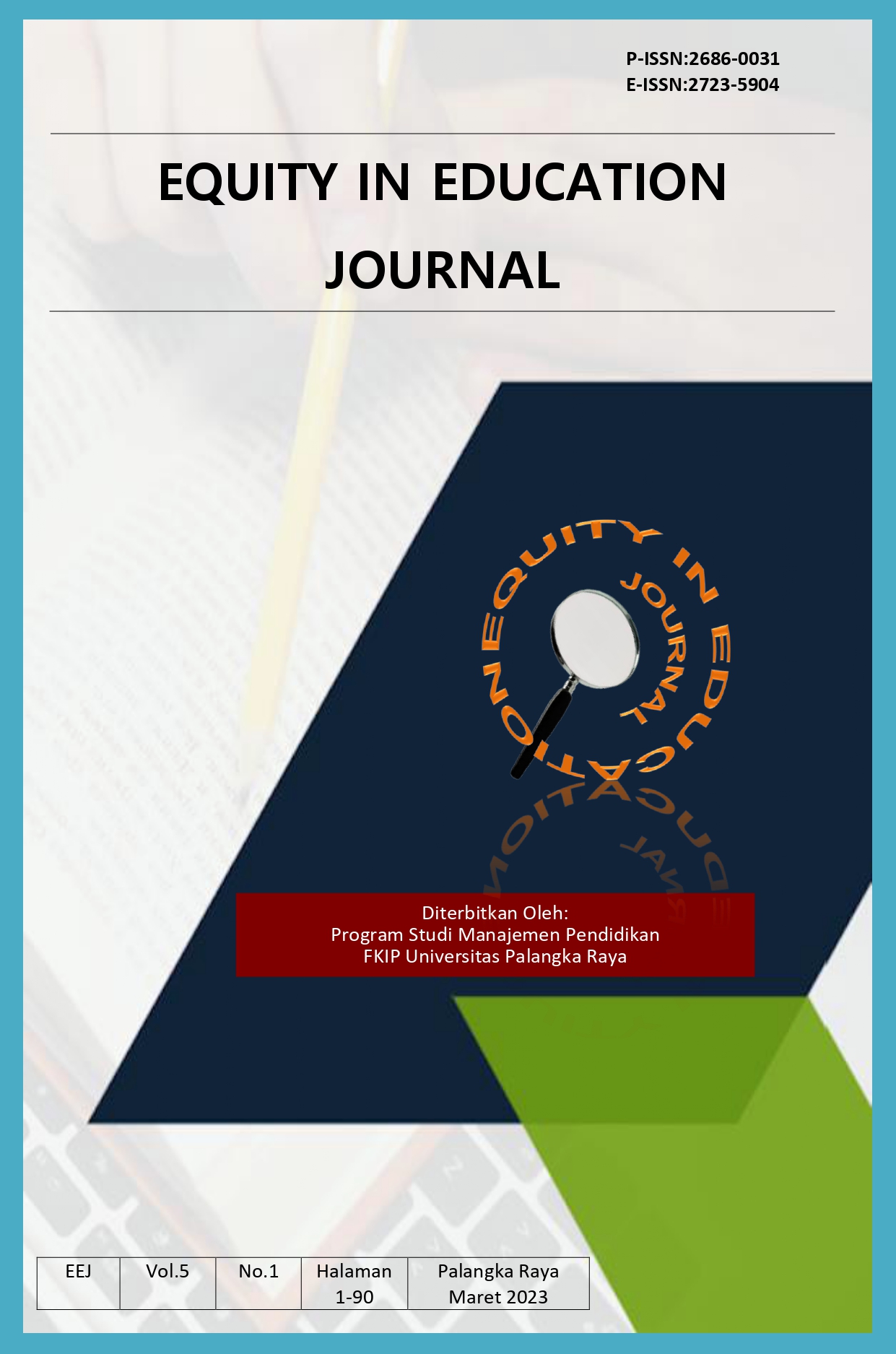 Downloads
How to Cite
Sumarnie, Ernawatie, & Setiawan. (2023). MANAJEMEN PEMBELAJARAN BERBASIS PROYEK (PROJECT BASED LEARNING) PADA PROGRAM KETERAMPILAN. Equity In Education Journal, 5(1), 37–43. https://doi.org/10.37304/eej.v5i1.8393
License
Copyright (c) 2023 Sumarnie, Ernawatie, Setiawan
This work is licensed under a Creative Commons Attribution 4.0 International License.