PENGELOLAAN KANTIN SEHAT BINTANG SATU
Abstract
Abstrak: Penelitian ini bertujuan untuk mendeskripsikan tentang Pengelolaan Kantin Sehat Bintang Satu di Sekolah MTs Negeri 1 Palangka Raya. Menggunakan pendekatan kualitatif dengan rancangan studi kasus, sumber data dalam penelitian ini meliputi: Kepala Sekolah, Pengelola kantin sehat, dan Pedagang kantin sehat. Teknik pengumpulan data menggunakan observasi, wawancara dan dokumentasi. Analisis data dilakukan melalui: Reduksi data, Penyajian data, dan Penarikan Kesimpulan. Pengabsahan data menggunakan teknik triangulasi. Hasil penelitian ini menunjukkan bahwa: (1) perencanaan kantin sehat bintang satu di MTs Negeri 1 Palangka Raya meliputi: penentuan lokasi kantin sehat, identifikasi kebutuhan kantin sehat, penetapan petugas atau pengelola kantin sehat, penetapan anggaran, fasilitas dan jalwal pelayanan kantin sehat; (2) Pengorganisasian kantin sehat sudah sesuai denagn rencana karena setiap anggota sudah mengetahui peran masing- masing, (3) Pelaksanaan kantin sehat bintang satu berjalan dengan baik; (4) Pengawasan kantin sehat dilakukan oleh pihak sekolah beserta stakholder; dan (5) Faktor pendukung adalah tersedianya fasilitas kantin yang memadai sehingga terwujud kantin sehat dan seluruh warga sekolah ingin mensukseskan program kantin sehat; sedangkan faktor kendala yaitu pedagang yang kurang inovasi sehingga terdapat dagangan yang sama.
Abstract: This study aims to describe the management of the One Star Healthy Canteen at MTs Negeri 1 Palangka Raya School. Using a qualitative approach with a case study design, the data sources in this study include: school principals, healthy canteen managers, and healthy canteen traders. Data collection techniques using observation, interviews and documentation. Data analysis was performed through: data reduction, data presentation, and conclusion drawing. The data validation used triangulation technique. The results of this study indicate that: (1) planning a one- star healthy canteen at MTs Negeri 1 Palangka Raya includes: determining the location of a healthy canteen, identifying the needs for a healthy canteen, determining the staff or manager of a healthy canteen, determining the budget, facilities and services for the healthy canteen; (2) The organization of the healthy canteen is in accordance with the plan because each member already knows their respective roles, (3) The implementation of the one-star healthy canteen is going well; (4) Supervision of the healthy canteen is carried out by the school and its stakeholders; and (5) The supporting factor is the availability of adequate canteen facilities so as to create a healthy canteen and all school members wish to succeed the healthy canteen program; while the constraint factor is traders who lack innovation so that there are the same merchandise.
Downloads
Download data is not yet available.
References
Badan POM Republik Indonesia. (2013). Pedoman Pangan Jajanan Anak Sekolah untuk Pencapaian Gizi Seimbang bagi Orang Tua, Guru dan Pengelola Kantin. Jakarta: Badan POM RI.
Daryanto. (2010). Administrasi Pendidikan. Jakarta: Rineka Cipta.
Emzir. (2014). Metode Penelitian Kualitatif, Analisis Data. Jakarta: Raja Grafindo Persada.
Engriyani. (2015). Pengelolaan Kantin Sekolah di Sekolah Menengah Pertama (SMP) Negeri 3 Palangka Raya. Skripsi Sarjana. Tidak Diterbitkan. Universitas Palangka Raya.
Gunawan, I. (2014). Metode Penelitian Kualitatif Teori dan Praktik. Jakarta: PT. Bumi Aksara.
Judhiastuty, F., Dwi, D. I,. Evi, E., Eflita, M,. Indriyana, L, P,. & Ratna, D, A. (2018). Pengembangan Kantin Sehat Sekolah. Jakarta: Southeast Asian Ministers Of Education Organizanition Regional Centre For Food and NutritionSEAMEO RECFON.
Miles, B. M., & Huberman, M. (1992). Analisis Data Kualitatif Buku Sumber tentang Metode-Metode Baru. Jakarta: Penerbit Universitas Indonesia.
Mulyasa, E. (2012). Manajemen Berbasis Sekolah. Bandung: PT. Remaja Rosdakarya.
Nuraida, L., Kusumaningrum, H., Palupi, N. S., Koswara, S., Zulaikkhah, S. M., Madjid, A. S., Ariani., & Triwahyunto, A. (2011). Menuju Kantin Sehat di Sekolah. Jakarta: Dirjen Pendidikan Dasar Kementerian Pendidikan Nasional.
Purwanto, N. (1991). Administrasi dan Supervisi Pendidikan. Bandung: PT. Remaja Rosdakarya.
Sumanto, W., & Soetopo, H. (1982). Pengantar Operasional Administrasi Pendidikan. Surabaya: Usaha Nasional.
Supriono, J. S., Berliani, T., & Limin. D. L. (2020). Pengelolaan Kantin Sehat di SDN 6 Bukit Tunggal Palangka Raya. Equity in Education Journal, 2(1), 62-67. Diterima dari: https://e-journal.upr.ac.id/index.php/eej/article/view/1688.
Syafrudin. (2009). Promosi Kesehatan. Jakarta: CV Trans Info Medika.
Zulkarnain. W. (2018). Manajemen Layanan Khusus di Sekolah. Jakarta: PT. Bumi Aksara.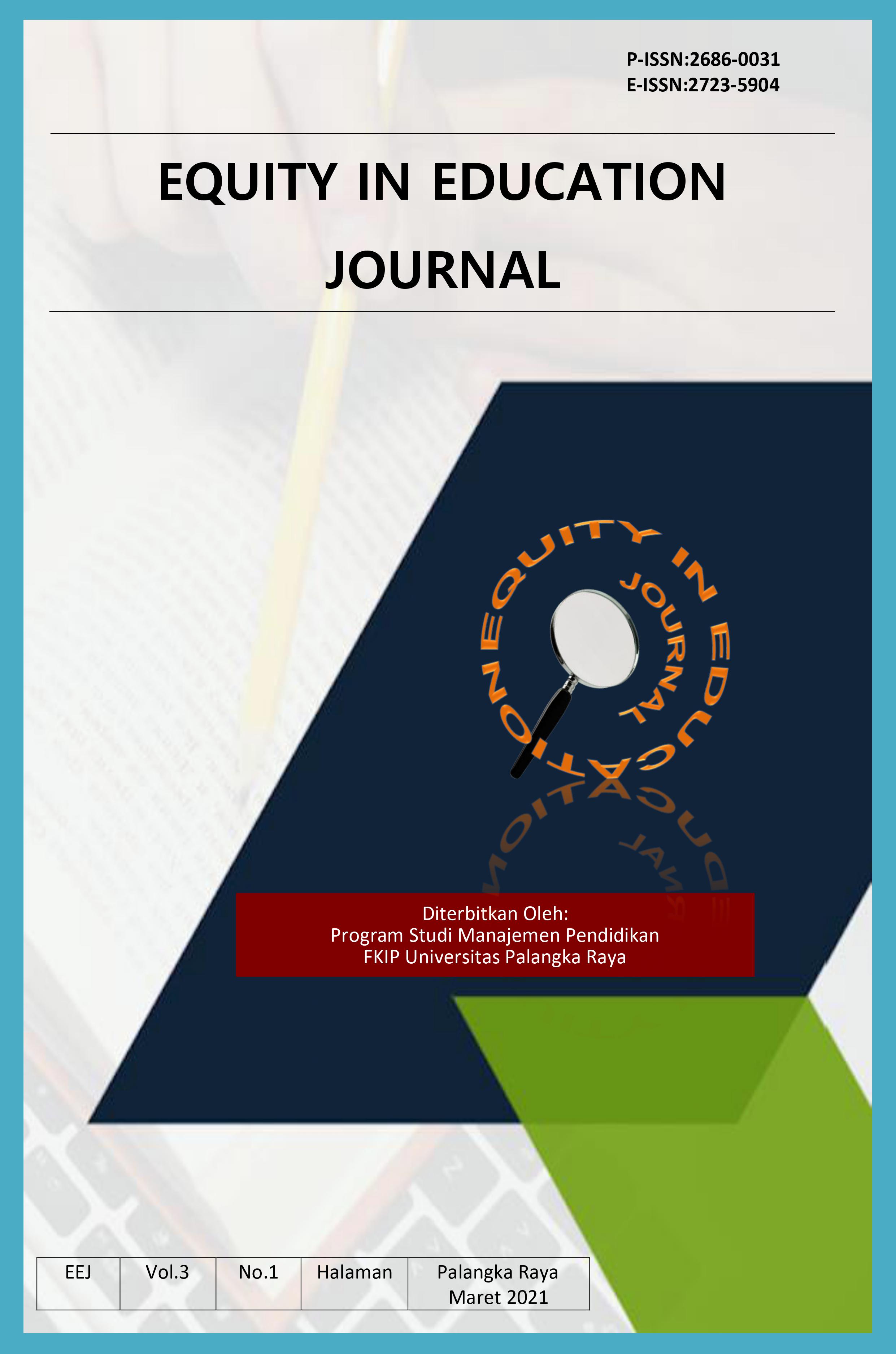 How to Cite
Sitompul, R. P., & Sumarnie. (2021). PENGELOLAAN KANTIN SEHAT BINTANG SATU. Equity In Education Journal, 3(1), 41-46. https://doi.org/10.37304/eej.v3i1.2467
Copyright (c) 2021 Rolan Pernando Sitompul, Sumarnie
This work is licensed under a Creative Commons Attribution 4.0 International License.