IMPLEMENTASI SEKOLAH RUJUKAN PADA SMPN 1 DUSUN SELATAN BUNTOK
Keywords:
Implementasi, Sekolah Rujukan, SMPN 1 Dusun Selatan, Barito Selatan
Abstract
Abstrak: Penelitian ini bertujuan untuk mendeskripsikan implementasi sekolah rujukan pada SMPN 1 Dusun Selatan, Buntok. Penelitian ini dilakukan menggunakan pendekatan kualitatif. Pengumpulan data menggunakan metode observasi, wawancara dan studi dokumentasi. Analisis data menggunakan dengan teknik: reduksi data, penyajian data, dan penarikan kesimpulan. Pengecekan keabsahan data dilakukan dengan menggunakan triangulasi dan member check. Hasil penelitian ini menunjukan bahwa: (1) implementasi sekolah rujukan meliputi: penyiapan sekolah rujukan dengan mengembangkan/melengkapi 8 (delapan) Standar Nasional Pendidikan (SNP) seperti adanya program penerapan sistem penjaminan mutu internal, pengembangan ekosistem pendidikan yang kondusif, melaksanakan penguatan pendidikan karakter (PKK) dan literasi sekolah, pengembangan sekolah menjadi pusat keunggulan, pelaksanaan pengimbasan, melakukan koordinasi manajemen dengan direktorat; dan (2) faktor pendukung dalam implementasi sekolah rujukan adalah kelengkapan guru, sarana prasarana, instrumen pembelajaran, dan sebagainya; sedangkan faktor penghambat terkait dana untuk penyelenggaraan kegiatan/program sekolah rujukan dan terbenturnya pelaksanaan kunjungan pihak sekolah rujukan ke sekolah imbas dengan kegiatan proses pembelajaran di sekolah.
Abstract: This study aims to describe the implementation of the referral school at SMPN 1 Dusun Selatan, Buntok. This research was conducted using a qualitative approach. Data collection using the method of observation, interviews and documentation studies. Data analysis using techniques: data reduction, data presentation, and drawing conclusions. Checking the validity of the data was done by using triangulation and member check. The results of this study indicate that: (1) implementation of referral schools includes: preparation of reference schools by developing / completing 8 (eight) National Education Standards (SNP) such as the implementation of an internal quality assurance system, developing a conducive educational ecosystem, strengthening character education (PKK) and school literacy, developing schools into centers of excellence, implementing pengimbasan, coordinating management with the directorate; and (2) supporting factors in the implementation of reference schools are the completeness of teachers, infrastructure, learning instruments, and so on; while the inhibiting factors related to funds for carrying out activities/programs for referral schools and collisions with the implementation of visits by the referral schools to schools were impacted by the learning process activities at schools.
Downloads
Download data is not yet available.
References
Hasbullah, M. (2015). Kebijakan Pendidikan: dalam Perspektif Teori, Aplikasi, dan Kondisi Objektif Pendidikan di Indonesia. Jakarta: Rajawali Pers.
Kemendikbud. (2016). Petunjuk Teknis Pengembangan dan Pembinaan Sekolah Rujukan. Jakarta: Kemendikbud Dirjendikdasmen.
Margono, S. (2009). Metodologi Penelitian Pendidikan. Jakarta: Rineka Cipta.
Moleong, L. J. (2012). Metode Penelitian Kualitatif. Bandung: Remaja Rosdakarya.
Rusdiana, A. (2015). Kebijakan Pendidikan: dari Filosofi ke Implementasi. Bandung: Pustaka Setia.
Sugiyono. (2009). Memahami Penelitian Kualitatif. Bandung: CV. Alfabeta
Sugiyono. (2010). Metode Penelitian Pendidikan Pendekatan Kuantitatif, Kualitatif, dan R&D. Bandung: Alfabeta.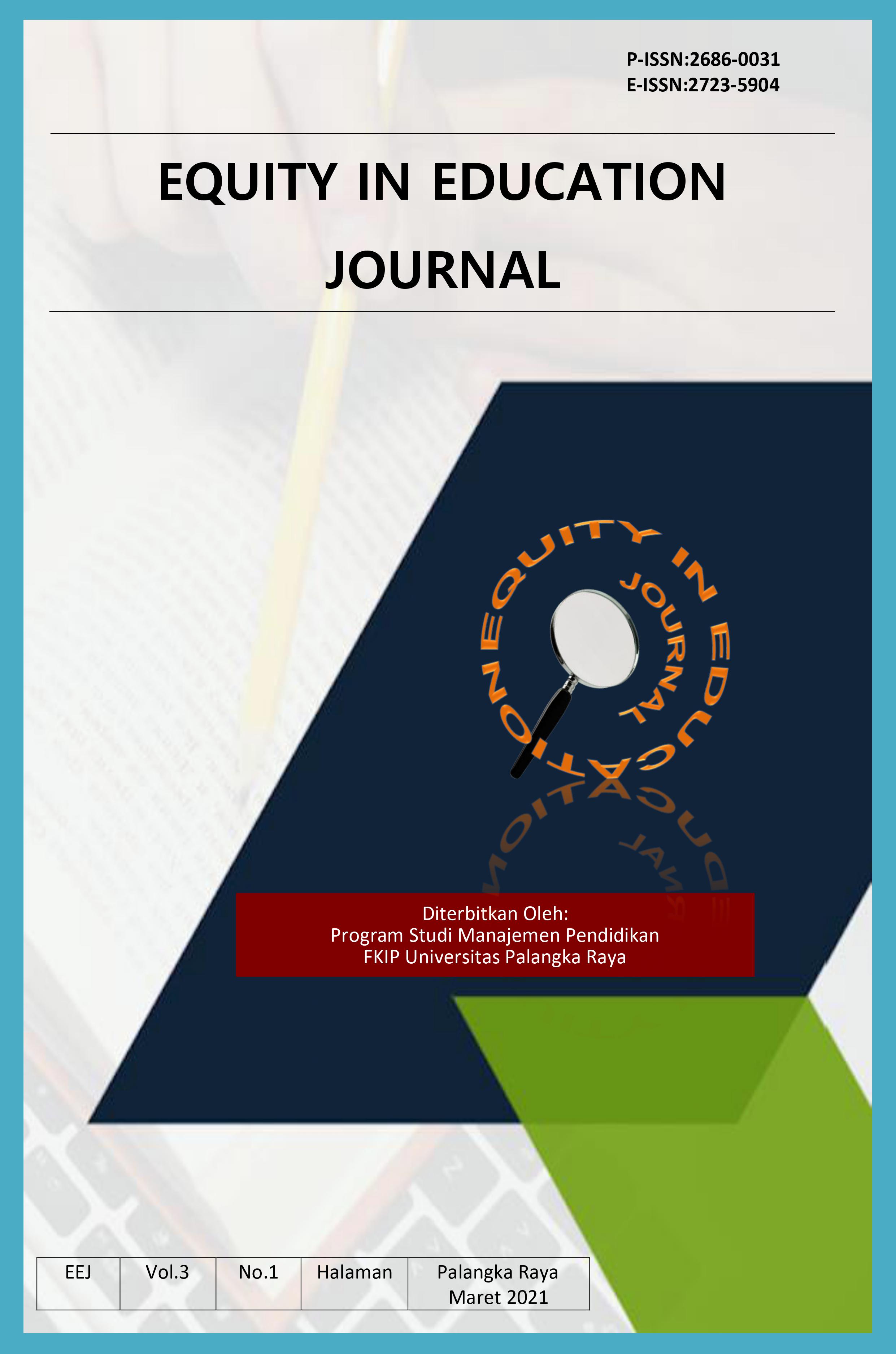 Downloads
How to Cite
Vriani, L., Dagau, E., & Radiafilsan, C. . (2021). IMPLEMENTASI SEKOLAH RUJUKAN PADA SMPN 1 DUSUN SELATAN BUNTOK. Equity In Education Journal, 3(1), 11–15. https://doi.org/10.37304/eej.v3i1.2441
License
Copyright (c) 2021 Livia Vriani, Erenfried Dagau, Christian Radiafilsan
This work is licensed under a Creative Commons Attribution 4.0 International License.