STRATEGI PROGRAM STUDI MEWUJUDKAN LEARNING OUTCOME
Keywords:
Strategi, Learning Outcome, Program Studi, Manajemen Pendidikan, FIP UNG
Abstract
This study aims to determine: (1) adjustment of study program learning outcomes, and (2) study program strategies to realize learning outcomes. This study uses a quantitative approach with explanatory descriptive type. The subjects of this study were 15 lecturers. Data collection techniques using questionnaires, interviews, and documentation. The data analysis technique used is descriptive analysis technique using the percentage formula. The results of the study show that: (1) the adjustment of learning outcomes is in the good category, because it refers to the KKNI which is used as a reference in the assessment; and (2) the study program strategy to achieve learning outcomes is in the good category, through integration strategies in learning, alumni involvement, and curriculum adjustments.
Downloads
Download data is not yet available.
References
Firmansyah, D. (2015). Pengaruh Strategi Pembelajaran dan Minat Belajar terhadap Hasil Belajar Matematika. JUDIKA (Jurnal Pendidikan UNSIKA), 3(1), 34-44. doi: https://doi.org/10.35706/judika.v3i1.199
Kementerian Pendidikan & Kebudayaan (Kemendikbud). (2011). Panduan Tracer Study. Jakarta: Direktorat Jenderal Pendidikan Tinggi.
Keputusan Menteri Pendidikan Nasional (Kepmendiknas) Nomor 232 Tahun 2000 tentang Pedoman Penyusunan Kurikulum Perguruan Tinggi dan Penilaian Hasil Belajar Mahasiswa.
Lubis, A. F. (2020). Manajemen Kurikulum Berbasis Kerangka Kualifikasi Nasional Indonesia (KKNI) di Perguruan Tinggi Islam. Al-Tanzim: Jurnal Manajemen Pendidikan Islam, 4(2), 146-158. https://doi.org/10.33650/al-tanzim.v4i2.1248
Panggabean, S., Widyastuti, A., Damayanti, W. K., Nurtanto., Subakti, H., Kholifah, N., Chamidah, D., Sianipar, L., Ardiana, D. P. Y., Purba, F. J., & Cecep, H. (2021). Konsep dan Strategi Pembelajaran. Medan: Yayasan Kita Menulis.
Peraturan Menteri Pendidikan dan Kebudayaan (Permendikbud) Nomor 49 Tahun 2014 tentang Standar Nasional Pendidikan Tinggi.
Peraturan Menteri Pendidikan Nasional (Permendiknas) Nomor 045 Tahun 2002 tentang Kurikulum Inti Pendidikan Tinggi.
Peraturan Pemerintah (PP) Nomor 17 Tahun 2010 tentang Pengelolaan dan Penyelenggaraan Pendidikan.
Peraturan Presiden (Perpres) Nomor 8 Tahun 2012 tentang Kerangka Kualifikasi Nasional.
Sanjaya, A. (2011). Model-Model Pembelajaran. Jakarta: Bumi Aksara.
Schomburg, H. (2003). Handbook for Graduate Tracer Study. Kassel, Germany: Centre for Research on Higher Education and Work, University of Kassel.
Solikhah, I. (2015). KKNI dalam Kurikulum Berbasis Learning Outcomes. Lingua: Journal of Language, Literature, and Teaching, 12(1), 1-22. doi: https://doi.org/10.30957/lingua.v12i1.68
Suking., A. & Hamid, M. Y. (2019). Evaluasi Kinerja Alumni dalam Mendukung Penguatan Program Studi Akreditasi. JMSP (Jurnal Manajemen Pendidikan dan Supervisi Pendidikan), 4(1), 35-34. doi: http://dx.doi.org/10.17977/um025v4i12019p035
Undang-Undang Nomor 20 Tahun 2003 tentang Sistem Pendidikan Nasional.
Waseso, H. P., & Hidayat, M. (2017). Penerapan Kurikulum Berbasis KKNI Pada Prodi PGMI Unsiq Jawa Tengah. JIP (Jurnal Ilmiah PGMI), 3(1), 33-48. doi: https://doi.org/10.19109/jip.v3i1.1376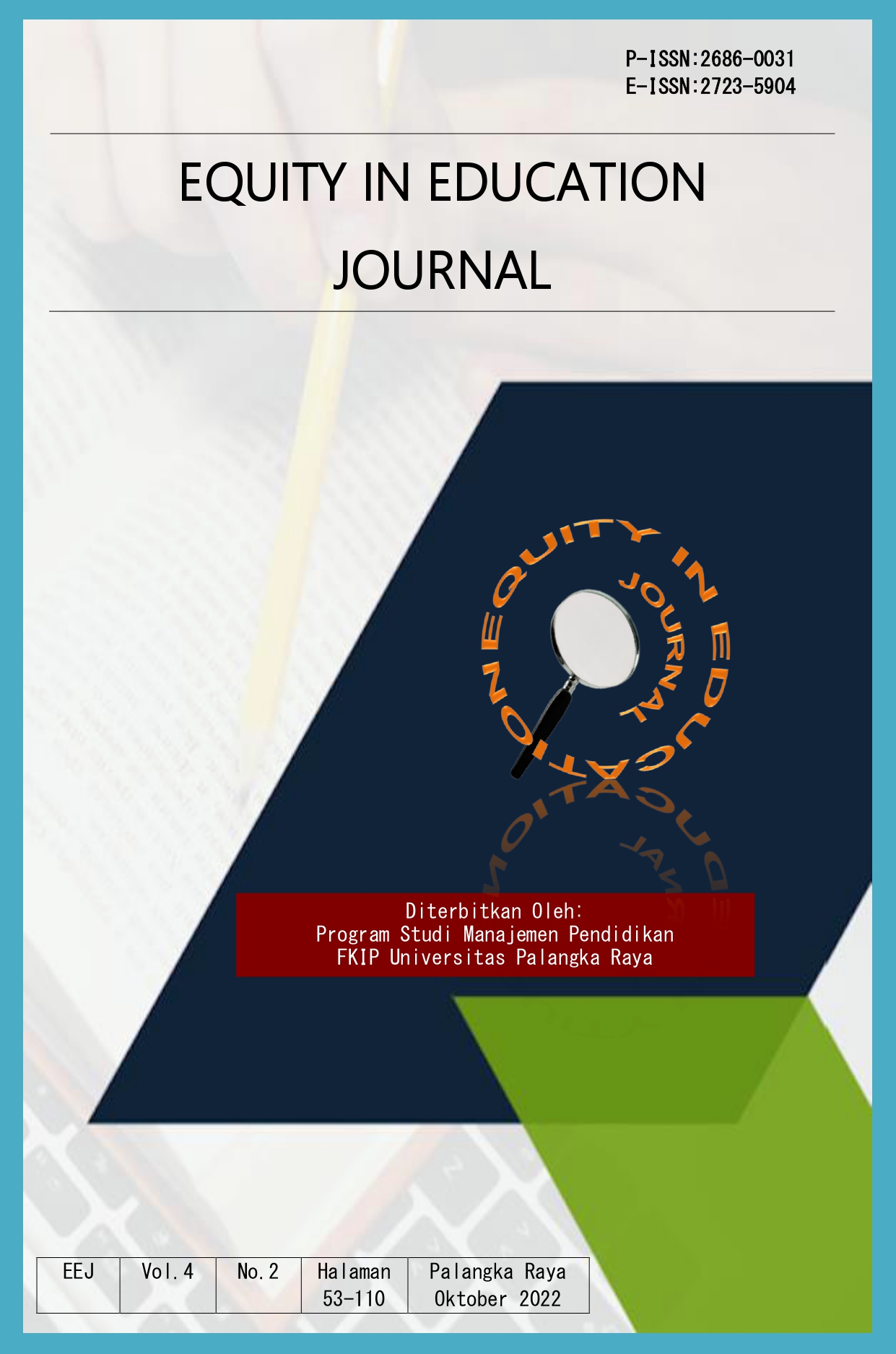 Downloads
How to Cite
Suking, A., Mas, S. R., & Anis, F. (2022). STRATEGI PROGRAM STUDI MEWUJUDKAN LEARNING OUTCOME. Equity In Education Journal, 4(2), 53–58. https://doi.org/10.37304/eej.v4i2.4916
License
Copyright (c) 2022 Arifin Suking, Sitti Roskina Mas, Fikram Anis
This work is licensed under a Creative Commons Attribution 4.0 International License.